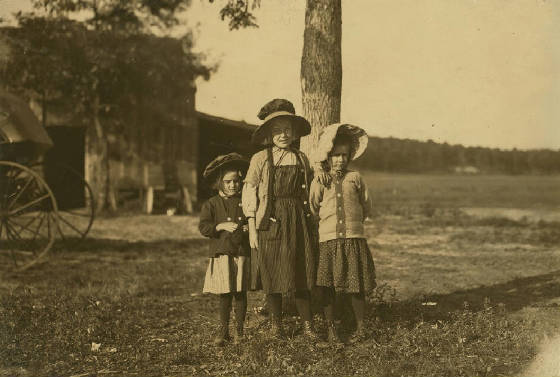 Lewis Hine caption: Bella Roy, said 11 years old. "Been comin' here 7 years, been pickin' since I was 5 years old." Lives 44 Bowler St., Fall River. Sister Jeanette said 6 years old beginning to pick now. Also their cousin Anita (on right hand) 7 years old regular picker. Began last year. Location: South Carver [vicinity] – Smart's Bog, Massachusetts, September 1911.
Lewis Hine caption: Annette Roy, the youngest worker. Said 7 years old. Picked last year. Lives 171 Orange Street, Fall River, Mass. Also Napoleon Ruel, 53 Hopkins Street, Fall River, Mass. Said 9 years old. Location: South Carver [vicinity] – Smart's Bog, Massachusetts, September 1911.
Farmers began growing cranberries in Carver, Massachusetts, and the surrounding area, in the 1870s. By the turn of the century, they were raising a fifth of all the cranberries grown in the United States. Eventually, local residents were no longer interested in doing the harvesting work, so immigrants were recruited, among them French-Canadian and Italian families, young children included, who poured in from nearby factory cities like Fall River and New Bedford, and toiled in the bogs during the annual harvest in August and September. Then they returned to their homes and their jobs in the textile mills. Later, most of the work would be done by the Black Portuguese, or Bravas, who came from the islands of Cape Verde.
The picking was done by hand, or with what are known as scoops or snappers. It was tough, back-breaking work, often performed under a hot late-summer sun. The Roy family of Fall River was one of those French-Canadian families. They appear in several of about 75 photographs that Lewis Hine took in the bogs just west of Cape Cod, in September of 1911.
I had looked at these photographs a number of times, especially the one above, and made a brief search for Bella Roy, finding her in Fall River in the 1920 census. But when I couldn't get any further with it right away, I moved on, hoping someday to go to Fall River (two-hour drive) and scour the city records. Out of the blue one day, I received this email:
"Dear Mr. Manning: Are you still researching information on the children in Lewis Hine's photos? I'm quite sure that my grandmother, Isabella, is in two of the photos from Smart's Bog. Her maiden name was Roy. She was born in 1900, and was from Fall River, Mass. Her sister was Jeanette. My mom recalled her speaking about the picture. Your project looks really interesting. Melissa Belbahri."
Ms. Belbahri and I corresponded for several few months, and then I interviewed her on the phone. She also provided a link to a private genealogy website that includes some details on Isabella Roy's family history.
Isabella Roy was born May 6, 1900, in Fall River, Massachusetts. Her parents were Thomas Roy and Malvina Antaya, who were married in 1890 in Fall River. Thomas, also known at Thomas King in early records including the 1900 census, was born in St. Albans, Vermont, in 1864, and died in Fall River in 1957, at the age of 93. Malvina was born in Nashua, New Hampshire, in 1866, and died in Fall River in 1938, at the age of 72.
The Roys had at least five children: Lillie (1891), Malvina (1892), Bertha (1894), Isabella (1900), and Jeanette (1905). Both parents worked in the cotton mills, once a thriving industry in the area. Isabella (called Bella) married Joachim Pierre Durette (called Peter) on April 20, 1920. They had five children, including Lorraine, the mother of Melissa Belbahri, the woman who contacted me.
In the 1920 census, Bella was working as a speeder tender in a cotton mill, and her sister Jeanette was a doffer. According to her husband Peter's 1942 WWII draft registration, he and Isabella were living in Fall River, at 60 Ridge St, a triple-decker house built in 1900, according to current real estate records. Peter listed his employer as the King Philip Mill, a complex which is now listed on the National Historic Register.
Isabella Roy Durette passed away in Fall River on March 13, 1986, at the age of 85. Her daughter Lorraine died less than a year later. Her sister Jeanette Roy Duff (also in Hine photo) died in Fall River in 1990, at the age of 84. The other girl in the photo, Isabella's cousin Anita (also called Annette) Roy Gifford, died in Bridgeport, Connecticut, in 1977, at the age of 74.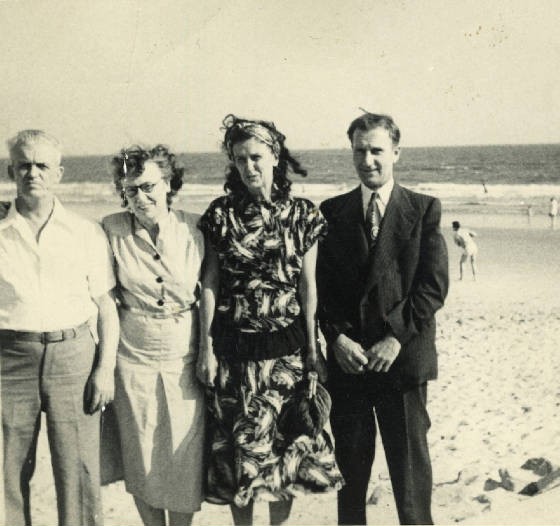 Edited interview with Melissa Belbahri (MB), granddaughter of Isabella Roy. Interview conducted by Joe Manning (JM), on March 20, 2009. Transcribed by Hilary Buxton and edited by Manning.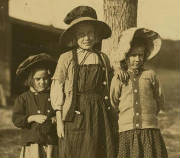 JM: What year were you born?
MB: 1953.
JM: Did you know your grandmother Bella very well?
MB: Not very well. I have some pictures, and she came to visit us in California two or three times. I also visited her in Massachusetts when I was very young.
JM: This is an unusual story for me. You contacted me first, because you already knew about the picture.
MB: I was searching on the Internet about textile mills, and somehow, I found a link to your website. I had bought the book, Spinner: People and Culture in Southeastern Massachusetts, for my mom, and that's how I saw that picture. It was in the book. My mom thought one of the girls was her mom Bella, and she thought she remembered her saying something about being photographed by a famous photographer when she was a child.
JM: What did your mother think of this, the fact that her mother was photographed?
MB: I think she was very proud.
JM: Were you visiting Massachusetts when you found the book?
MB: No. I heard about the book and ordered it, because it was about Southeastern Massachusetts, where my mom grew up. When I got the book, I saw a girl named Roy in it, and she lived in Fall River, so I got really excited. I gave it my mom, and she said she was sure it was her mom. But later we realized it was her aunt, her mom's sister Annette. But her mom was also in the picture.
JM: Did she know that her mom would have been engaged in this kind of work as a child?
MB: No.
JM: Bella and her family were living in Fall River, but in September, they were picking cranberries in South Carver, which is not very far from Fall River. Do you have any idea why the family would have gone to pick at that time? Was there not enough income in the family to support them without doing this as well?
MB: I assume there wasn't enough income. Both parents were French-Canadian immigrants, and they came here to America to work. It must have been hard. (Note: The parents were apparently born in the US, but their own parents were immigrants.)
JM: What was your mother's name, and when was she born?
MB: Lorraine Claire Durette. She was born in Fall River in 1922.
JM: How many children were in the family altogether?
MB: Mom had three brothers, and a baby sister who died.
JM: At the time she was born, what kind of work were her parents doing?
MB: They worked at the textile mills in Fall River. Her father was Pierre Joaquim Durette. He was called Peter. Her mom was called Bella, but her name was Isabella.
JM: Where were they living at the time your mother was born?
MB: I think it was Orange Street, or possibly Bowler Street or Fruit Street.
JM: I'm looking at the pictures now, and one of the captions says, 'Bella Roy, lives 44 Bowler Street,' and another one says, 'Annette Roy, 171 Orange Street.'
MB: Well, then somebody was at Orange Street.
JM: Was it a French-Canadian neighborhood?
MB: Everybody was French Canadian. My mother always spoke to her mother in French. And my mother went to a French-speaking school until she was 18. It was a Catholic school.
JM: What did you mother do after she graduated from high school?
MB: I think she worked in a department store, maybe Sears Roebuck, in Fall River. And then she joined the WAVES during WWII and met my dad in the military.
JM: When did they get married?
MB: They got married in 1944. When my dad was discharged, they went to Philadelphia for a while, and then to Idaho, where he went to college. My parents had the GI Bill to go to school. And then they went to Oregon, where his mom had moved to. And finally they came down to California.
JM: This would have made it difficult for your mother to see her parents very often.
MB: Yes, because in those days people didn't have money to call and travel all the time.
JM: Did your mother have a profession after she got out of the service?
MB: No. She really wanted to finish college, but then she had five kids. Life got a little bit busy for them, and my father died pretty young. He was 51, and was sick with cancer for many years before he died, so she was a saleslady at this emporium and was working evenings to take care of us. She worked very hard.
JM: Did you go to college?
MB: Yes, and I have a full-time career. You know, I married an immigrant. My husband is from Morocco, from North Africa, far from my French-Canadian/Irish roots. When we go to his country, I still see child labor.
JM: Isn't French spoken in Morocco?
MB: Yes. The French colonized it. When he met my mom, she was so excited that he spoke French. That was a beautiful connection.
JM: When did your mother pass away?
MB: 1986.
JM: Did your grandmother Bella work when she grew up?
MB: My sister vaguely remembers that Bella was a telephone operator, but only briefly.
JM: Did she live her whole life in Fall River?
MB: Yes. And I think she was in a nursing home there when she died.
JM: What was she like? What can you remember about her?
MB: She was extremely proud of being French Canadian, although my mom wound up marrying an Irish guy. She was supposedly very musical, loved to sing, and even wrote poems. I don't have any of them, but I believe I heard she once wrote a song about a politician. She was really proud of her sewing and her cooking. Nobody could cook French-Canadian food like her. During the holidays now, my three sisters and I always bake using her cookie recipes, and for birthdays I make a cake from one of her recipes. She was very proud of having really nice clothes when she got older. She would make them. She would always wear a hat and gloves. When she had pictures of her taken, she would write on the back of them about the clothes she was wearing. And she loved her grandkids.
JM: So when was the last time you saw your grandmother?
MB: At least ten years before she died. She visited us in San Francisco.
JM: What do you think about the fact that these pictures were taken for the purpose of trying to awaken the public's consciousness about the problem of child labor?
MB: I don't know how well people were informed then about how the pictures were going to be used. I think people were more private then, about poverty and hardship, and that it was kind of shameful to people in those times. So I have mixed feelings about Hine taking their pictures and then showing them to lots of people. But of course, child labor was so terrible that if it worked to help stop it, then it was a good thing.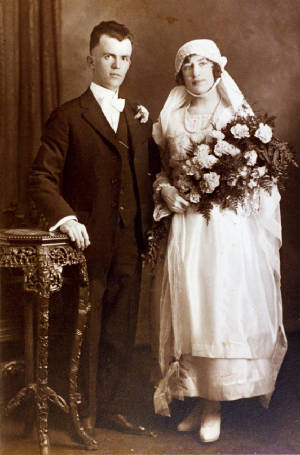 Peter Durette: 1893 to 1964.
Isabella Roy Durette: 1900-1986.
*Story published in 2009.