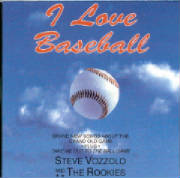 The Making of I Love Baseball, by Joe Manning
The headline in my local paper said: "Manning and Vozzolo Make the Baseball Hall of Fame (sort of)."
It was true. We have lifetime passes to the museum in Cooperstown to prove it. But it's not what you think. We didn't make it as sluggers, pitchers or shortstops; we got in as songwriters. Let me explain.
A few years ago, I met singer-songwriter Steve Vozzolo at a meeting of the Connecticut Songwriters Association. I had just finished serving a very busy three-year term as its president, and I wanted to concentrate on writing again. Steve brought a song demo that I liked, and I asked him to finish a song I had started called "So Long Main Street." He did a great job, and so we began meeting at least once a week to write.
Several years later, Steve told me that the City of Hartford was trying to attract a minor league franchise, and he thought we might try writing a song about baseball that they could use as a promotional tool. My reply went something like this: "We've already got 'Take Me Out to the Ball Game,' so who needs another baseball song?"
Despite my skepticism, I thought about it seriously, and soon recalled one of the most pleasurable things about my childhood, that is, going with my grandfather to see the Washington Senators play at Griffith Stadium dozens of times. One evening while doing the dishes, I composed the following verse in my head:
"I remember my grandpa, his hat in his hand/The Star Spangled Banner being played by the band/The roar of the crowd as the pitcher took aim/When baseball was just a game."
I excitedly called Steve, and he loved it. Within days, he had composed a nice melody, and so we got together and finished the song – then recorded a demo. Several weeks later, we were already writing a song called "I Love Baseball," and that didn't take very long either. We knew we were on a roll when we cranked out "Wait'll Next Year," a novelty song about the Red Sox, and it got some airplay on a local sports talk show. Then the same station played the first two songs when the baseball season opened, and we thought seriously about making an album.
To get some feedback, we decided to send the demos to the National Baseball Hall of Fame in Cooperstown. It seemed like a shot in the dark – we weren't even sure what department to send them to – but several weeks later, we got a nice letter back from the museum's library director. In effect, he said, "We like the songs and we want to put the tapes in the baseball music section of the library. We'll give you lifetime passes to the Hall of Fame in return."
Naturally, we took them up on it, and that's what led to the newspaper article about us. By that time, we had already written "Triple-A Blues," a song about a veteran pitcher who seems forever stuck in the minors, but still hoping for one last shot at the big time. The Hall of Fame took that one, too.
Steve had a friend who co-owned L & R Productions, a recording studio and production company in the Hartford area. We went to see him, and he and his business partner were interested in working with us on an album. It was a good fit, because L & R was widely known for writing jingles for minor league franchises all over the country. So we struck a deal and started to work.
We kept writing, and had a dozen songs written and one song finished in the studio by the end of the baseball season. Since we both had day jobs and a family, we had to grind it out one evening a week. This turned out to be an advantage, because we had the chance to think through each song and arrangement carefully, learning from our mistakes, and re-recording songs when necessary. We were beginning to create a consistent style, what is often referred to as "Americana" – a fusion of folk, ragtime, jazz, rhythm & blues, rock, and Tin Pan Alley.
We tried to avoid writing novelty songs, instead concentrating on meaningful lyrics about various aspects of the game, such as Little League ("Big Game Tonight"), the Negro Leagues ("Black Diamond Days"), and one of my favorites, "Before the Giants Moved to Frisco." I told Steve that my mother had thrown away all my baseball cards after I went into the Air Force, so we wrote "My Mother Threw Mine Away," and it wound up as one of the most popular songs on the album.
The guys at L & R suggested we do our own version of "Take Me Out to the Ball Game," just out of respect for the song. Steve found some sheet music with the original lyrics to the lesser-known verses, so we did the whole song as it was written in 1908. In a last-minute moment of inspiration, we called in our families, including the kids, to sing one rousing chorus at the end.
It took almost three years to finish the project, what with all our other responsibilities, but it was a lot of fun. Paul Lombardo and Tom Russo at L & R are great musicians, and they had the knack for finding just the right people when we needed a cello player, some horn players, even an accordionist. One of my fondest memories is the many late dinners I had at the Quaker Diner in West Hartford on my way home after a session at the studio.
Every so often, we hear some of the tunes on ESPN and National Public Radio, and that's always a thrill. A lot of people have used the songs for videos about their local Little League or high school team. And perhaps, at the very moment I am writing this, some visitor at the Baseball Hall of Fame just came across one of those demo tapes we traded for our lifetime passes. Somehow, I think we got the better of that deal.
Below is a short essay I wrote for the CD booklet
"I remember my Grandpa, his hat in his hand"
In 1947, my grandfather took me to Griffith Stadium to see the Washington Senators play. They lost.
"The Star Spangled Banner being played by the band"
There would be many more games and many more losses before the Senators finally moved to Minnesota. I loved every inning. I saw Satchel Paige put out the fire in both ends of a twi-nighter. I saw Mickey Vernon double off the right field wall on the last day of the season to win the batting championship. I saw Gil Coan steal home on Ellis Kinder. And I saw Harmon Killebrew. "Killer" Killebrew.
"The roar of the crowd as the pitcher took aim"
You knew the Senators were going to lose. So I was able to watch and listen and learn about the little things that make baseball such a beautiful game: the double play; the batter out front on a change-up; the catcher staring into the dugout when the pitcher runs out of gas; the sun, the shadows, the wind, the wall and the wet grass.
"When baseball was just a game"