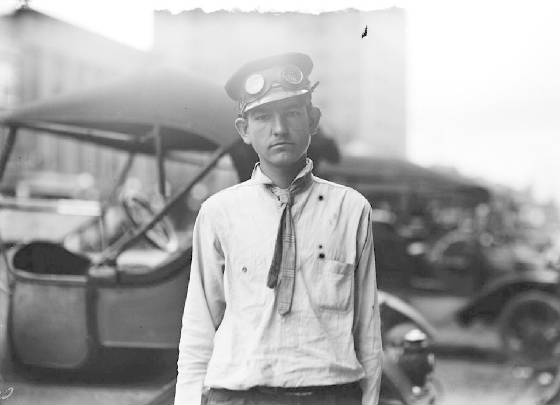 Lewis Hine caption: Willie Cheatham, Western Union messenger #1. Says he is 16 years now; been messenger for 6 years. Late Sunday night, October 4th, I talked with him, still on duty, until 10 P.M. "You bet I know every crooked house in town. Went to school with one of those girls when she was straight. Her mother died and she went bad. Some young girls were there too. I go out to Red Light some with messages and packages, and if I want to, I bust right in and sit down." Hard face. Location: Montgomery, Alabama, October 1914.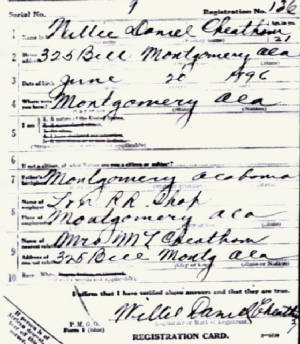 William (Willie) Daniel Cheatham, Jr. was born in Montgomery, Alabama, June 20, 1896, the son of William and Mattie Cheatham. By 1910, his father had died, and his 15-year-old brother, John Comer Cheatham, was working for the railroad. Not long after he was photographed by Lewis Hine, Willie also went to work for the railroad. In the 1920 census, his occupation is listed as "steam railroad shop worker." He and his mother were living then at 325 Bell Street in Montgomery, with brother John and his wife Birdie.
In 1930, still in Montgomery, Willie is living with his wife, Lady, and his 3-year-old daughter, Alice Marie. He and Lady married about 1924. He apparently worked his whole life for the railroad, for when he died, he was receiving a railroad pension. He passed away in a hospital in Birmingham, Alabama on February 13, 1984. He was 87 years old.
I was able to contact a daughter, who knew very little, but she told me that Willie (known as Bill) played the drums and banjo, and was in a local orchestra. He had two brothers and a sister, and because his father died when he was young, all four children had to drop out of school and go to work. His greatest pleasure was fishing with his buddies.
*Story published in 2007.