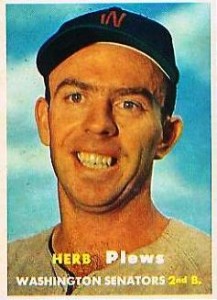 "The Nats swept their second doubleheader in five days when they defeated the Kansas City Athletics at Griffith Stadium last night, 5-4 and 10-9, before 7291 spectators. The double victory boosted the Nats into a third-place tie with the Boston Red Sox. The second game saw the Nats score four runs in the eighth to overcome a 9-6…" -Washington Post, June 4, 1958
According to the Farmers' Almanac website, it was a beautiful day in Washington, DC on Tuesday, June 3, 1958. The high temperature was a perfect 75, probably even cooler when I got off the school bus in Dowell, Maryland, a little village in Solomons, 60 miles south of the Nation's Capital. I was finishing up my junior year, and looking forward to another summer of hanging out and playing baseball. But on the 10-minute walk down the dirt road to my house, all I could think about was the doubleheader the Senators were playing against Kansas City, at Griffith Stadium.
My lowly Nats had won four of their last five, including a pummeling of the Yankees in both games of a Memorial Day doubleheader. That had been quite a day in our house. I still remember it vividly, as well as the few days of baseball excitement that followed. A recent search on Baseball-Reference.com confirmed, surprisingly, that my memories were almost entirely accurate. But the search also filled in some of the details I had long forgotten. Both are represented in this story.
On Memorial Day, which was a Friday, we had the traditional cookout and oyster roast in our front yard along St. John's Creek, as the radio blasted out six or seven hours of play-by-play from the screen porch. Outboards and other small boats frequently buzzed by and drowned out a pitch or two. My father and I hung on every word from announcer Bob Wolff, as we became more and more convinced that the Senators were really going to pull it off, at Yankee Stadium no less. In the first game, we came from behind with six runs in the eighth inning, and won 13-8. In the nightcap, Jim Lemon had two home runs, Pete Ramos pitched a complete game, and we won 7-2. We were elated. Then we took two out of three from the Orioles over the weekend.
Now it was the Tuesday twin bill with the Athletics. It had already started, and I was anxious to find out what was happening. I unloaded my books, grabbed a Coke, flopped down on my bed and turned on the radio. The Senators were leading 5-0. One of my favorite players, infielder Herb Plews, already had two hits. By the time Mom had dinner ready, they had hung on to win 5-4. A half-hour later, I was back in my room for the second game.
"Herb Plews, Nat's third baseman, had a bad time in the second game of last night's doubleheader when he made four errors against Kansas City, three of them in the seventh inning. The four errors tied an American League record for most misplays by a third baseman in one…" -Washington Post, June 4, 1958
The Senators took a quick lead, but at the end of the sixth inning, they were one run behind. Then the impossible happened – or maybe just the improbable. In the top of the seventh, Plews made three errors at third base, letting in two runs. Now it was 9-6. It was embarrassing, and I felt really bad for him. Manager Cookie Lavagetto went out to the mound to settle down the pitcher, and asked all the infielders to join him on the mound. Bob Wolff described the scene, and said something about Cookie talking directly to Plews. I was afraid he was going to pull him out of the game. But when Cookie strode back to the dugout, Plews returned to third.
Going into the bottom of the eighth, we were still behind by three runs. I was poised for a rally. The first two batters got on, and Plews came up. Amazingly, the fans gave him a huge ovation, and my heart skipped. Then another improbable thing happened. Plews smacked a double, and it was 9-8. The crowd, well, all 7,000 of them, went wild. I ran down the stairs, frantically spit out something to my father about it, and raced back up. A couple of batters later, two more runs came home, and it was 10-9. That's how it ended up. The Senators had taken six of their last seven, and had vaulted into third place.
Plews was traded to Boston the next year. I graduated and went off to college. Two years later, the Senators moved to Minnesota. And now, 50 years later, I live in Massachusetts and root for the Red Sox. Several months ago, I got to thinking about Plews, wondering what happened to him, if he was still around, and what he remembered about the legendary "night of the three errors." I found out he lived in Colorado, and a few minutes later, I was on the phone with him.
What do you say in that kind of situation? Well, I just told him I grew up a diehard Washington fan, and that for a few short years, he was one of my favorite players. He seemed genuinely delighted. After a few minutes, I proposed doing an article about him for this website. He quickly agreed, and we arranged a recorded telephone interview. After I hung up, I was kind of stunned. "Wow," I said out loud, "I just talked to Herb Plews."
"Herb Plews, the CIO shortstop, topped batters in the first round of the A division of the American Legion Junior Baseball League with a fat .600 average. Plews has registered hits in six of his 10 official times at bat, maintaining the loop-leading pace he hit in the 1944…" -Independent Record (Helena, MT), May 31, 1945
For the record, Herbert Eugene Plews was born in Helena, Montana on June 14, 1928. The left-handed hitting infielder was a star in American Legion ball, and then enrolled at the University of Illinois, where he had a stellar career as a shortstop. After his graduation in 1950, he was signed by the Yankees and played briefly in the minor leagues, before being drafted into the Army. Following his discharge in 1953, the Yankees sent him to Birmingham (Class A), and then to Norfolk (Class B). In 1954, he went back to Birmingham, but the following year, he was moved up to the Triple-A team in Denver, where he played for Ralph Houk, who later managed the Yankees, Detroit and Boston. Plews had been a consistent .300 hitter, had good speed, and was a solid prospect. But prior to the 1956 season, he was traded to the Washington Senators, where he played four seasons, mostly part-time, at second base and third base.
On June 11, 1959, he was traded to the Red Sox, who sent him down to Minneapolis about a month later. He spent the next few years in the minors, finally retiring at the end of the 1965 season. He worked in several cement plants in Montana and Colorado for many years, until his retirement. His wife, Shirley, passed away in 2009. They were married nearly 54 years. He has one son and several grandchildren.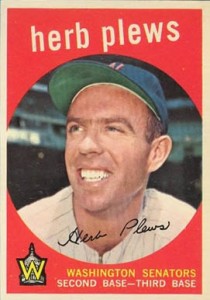 Interview with Herb Plews, conducted in May 2010.
JM: How did you work your way up to the big leagues?
Plews: I went to the University of Illinois. After graduating from there in 1950, I signed with the Yankees. After playing briefly for their minor league team in Kansas City, I was drafted into the Army, and got out in 1953. The Yankees sent me to Birmingham, and then to Norfolk. I played three years in the minors. The final team I played for was Denver, which was Triple-A. But next season, the Yankees traded five minor leaguers to the Washington Senators for a pitcher named Mickey McDermott. I was one of them, so I wound up playing for the Senators.
JM: Signing with the Yankees must have been pretty exciting. You must have been thinking about how you might wind up playing with Berra and Rizzuto and those guys. Did you envision yourself taking Rizzuto's place at shortstop when he retired?
Plews: Not really. The Yankees had their team pretty well set, with some players who were even younger than I was. By the time I got to Washington, I was about 28 years old.
JM: You were a big star with the University of Illinois, and then you signed with the Yankees. So when you finally wound up with the Senators instead, that must have been a disappointment. They were a pretty bad team at that time.
Plews: I soon found that out. And the Yankee minor league teams were very good. If we didn't finish first, we were right near the top. But when I got with Washington, it was a whole different situation.
JM: Was that discouraging?
Plews: Well, it wasn't, in a way, because I was thankful I was there and in the majors. I probably would have never made it with the Yankees. This gave me the opportunity, and I was glad to have it. Charlie Dressen was the manager my first year there. Years ago (1945), when I was in high school, I was chosen for the Esquire Game in New York City, and Charlie was a coach on the team from the West (Ty Cobb was the manager). And now, I couldn't believe that Charlie was my manager. I don't know whether he remembered me, but he said he did. I doubt that. I always liked him and got along with him well.
"He's learning the ropes now. When he came to us he couldn't pull a ball at all. Casey Stengel, who knew about Plews because he played in the Yankee farm system, used to wave his infielders to the left when Plews was up because he couldn't hit to right. We had a surprise for Casey midway in the season. I've got some pretty good coaches and they went to work teaching Herb how to hit a ball into right. So one day when Casey was out there waving his fielders towards left field, Plews bounced one off the right field wall." -Charlie Dressen, quoted in the Independent Record (Helena, MT), November 11, 1956
Plews: Playing with Washington was different. You wouldn't think the pressure would be on you with a team that was in the cellar. But gosh, if you didn't win the game and you didn't get some hits, you were liable to be out of the lineup. If you won, and you got a hit or two, you could figure that you would be playing the next day. So the lineup was changing all the time, not with the regulars, but with players like me.
JM: Was that Charlie's managing style? You'd go 0 for 8, and he'd bench you?
Plews: Charlie wasn't so much that way, but later on it became that way, after Cookie Lavagetto took over. But I'm not complaining at all. I was tickled to death to be there, glad to be playing with the Senators. They had some great loyal fans. The organization treated me well. I can't say anything bad about them.
JM: During the time you were with Washington, I was growing up in the DC area, and I was able to get to many games at Griffith Stadium. That would have been from about 1946 to 1960.
Plews: So you might have seen me play.
JM: Of course, I did, both at the stadium and on the TV broadcasts. It was frustrating to root for the Senators, because they were always losing.
Plews: It was hard. You could get discouraged, but we were playing our hearts out.
JM: I looked up a lot of the box scores and game summaries in the Washington Post archives. When you came up in 1956, you didn't play much at the beginning of the season, but then they put you in as a pinch hitter one day in early May, and you got the first successful pinch hit for the team that season.
Plews: I remember that. I hit it through the box. That was against the Yankees, and Jim Konstanty was the pitcher.
JM: That was after Konstanty had those great years with the Phillies. You were with the Senators for three full years, but you were traded to Boston in 1959 (June). What do you remember most about your days with Washington?
Plews: I played with some good ballplayers there, like Roy Sievers and Jim Lemon and Pete Runnels and Clint Courtney. The pitching staff was good, with the two Cubans, Ramos and Pascual. Chuck Stobbs was there, and Russ Kemmerer and Tex Clevenger and Dean Stone. I think we had a fine pitching staff, really. It just seemed like we would have a well-pitched game, but we wouldn't get any runs. You know how it goes; if we did get some runs, we couldn't hold the lead. It seems like everything was against us all the time.
JM: Dick Hyde, the relief pitcher, had one really great year (1958).
Plews: Yes, he did. In 1960, Dick and I were going to be traded to the Red Sox. When the time came, he was having some arm trouble. When I went up to Boston, they asked me about him, and I said, 'Well, he's been throwing well, but right now, his arm is a little tired.' After that, the Hyde part of the deal fell through, but I still went to Boston. As it turned out, I would have been better off if I had stayed with Washington. Boston wasn't doing all that well. There was a lot of pressure on Mike Higgins, the manager. They fired Higgins just a couple of weeks after I got there. Bucky Harris, the general manager, went out and got Bill Jurges, who was a coach in Washington when I was there.
Bill was okay, but we never hit it off very well. I knew that as soon as he became manager, that I was going to be on my way out. He no sooner got there, and he sent me down to Minneapolis. Gene Mauch was the manager then. If Mike Higgins would have stayed with Boston, I would have been fine. All you had to do was hustle for him, and you had it made. So at my age, not being a big slugger or anything, I knew my time was up and that I probably wouldn't make it back to the majors. So my career was cut short. If I had stayed a little longer, I would have qualified for a pension.
"Infielder Herb Plews, who hails from East Helena, Mont., and sometimes is called Montana's third senator, was traded Thursday by the Washington Senators to the Boston Red Sox. In the four player deal, Boston sent relief pitcher Murray Wall and infielder Billy Consolo to Washington, in exchange for Plews and relief pitcher Dick Hyde. Plews is in his fourth season of major league baseball, all to date with Washington. The Senators have used him primarily as a pinchhitter this season after playing…" -Montana Standard (Butte), June 12, 1959
JM: What was your natural position?
Plews: Second base.
JM: But you didn't play second base all that much, as far as I remember.
Plews: No, I didn't. I played second at Norfolk. The next two years, I played third, and then when I got to Washington, they moved me to second again, but sometimes I played third.
JM: You have to make a different kind throw from third.
Plews: That's right. I still threw a little sidearm. But I liked third. And I wasn't very adept at shortstop. I didn't have that great arm you need. I liked second the most. I liked making the double plays.
JM: You hit for a very good average in the minors and at Illinois as well, but you didn't hit nearly as well in the majors.
Plews: Well, I wasn't going to hit .300 in the big leagues. I was pretty consistent in the minor leagues, but I was playing all the time. I only played part time in the majors. You're in and out, and you wind up putting pressure on yourself in that situation. The pitching was much better in the majors, of course. You don't find any fellows throwing much harder in the majors, but they have much better control. But I ended up at about .270 (lifetime average was .262). That's pretty good for an infielder.
"Herb Plews and Roy Sievers each had four hits Friday night as the Washington Senators overhauled a 4-0 New York lead to defeat the American League leading Yankees 6-5. Yogi Berra drove in four of New York's runs with his 27th home run and…" -Wisconsin State Journal, September 8, 1956
JM: Were you married when you were playing for Washington?
Plews: Yes. My wife and I spent the summers in Mt. Ranier (Maryland), in a little complex of apartments. A majority of the players lived there, so the wives had somebody to be with when we were on the road. It worked out very well.
JM: Did you have to work in the off-season?
Plews: We went back to Montana to my hometown of Helena and I always had a job at the post office. That worked out well. I was a mail carrier, going out on my routes. During the winter, it was kind of tough at times, cold and slippery. You were out there about five hours every day. The routes were quite long, and I did plenty of walking.
JM: When you were traded to Boston, did you move?
Plews: We went up to Boston for just a short time. I only played there for about a month. When they sent me down to Minneapolis, we lived there till I finished out the season. The next year, I was sold to Toronto, in the International League. They had a nice ball field, and we had a fine team. The year after that, I went out to Hawaii, in the Pacific Coast League, and I spent three years with them. My last year in the minors (1965), I was with Tacoma and Little Rock. And that was it.
"Then the (Hawaii) Islander home run barrage started, and before the final out they had scored seven runs and the tying run was on third base. In the big ninth, Jack Hiatt and Herb Plews banged out home runs…" -The Bulletin (Milwaukee), May 5, 1964
"Bill Sorrell rapped out four hits Friday night and paced Arkansas to its third straight Pacific Coast League baseball victory, a 4-3 decision over Spokane. Sorrell singled off Indian reliever Mel McGavok with one down in the ninth to send home Herb Plews with the winning…" -Spokesman Review (Little Rock), June 13, 1965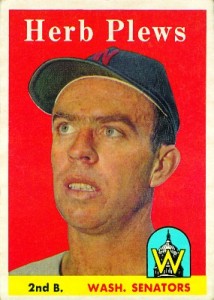 JM: I remember very well a Senators game in 1958. I was listening to it on the radio. You made three errors in one inning. Do you remember that?
Plews: I was playing third base that night. For some reason, Eddie Yost wasn't playing that night, so they put me in there. I had a heckuva time. If I caught the ball, then I didn't throw it well to first. Everything was going against me. The last error I made, Lavagetto came out on the field, and I thought he was going to take me out. I was hoping he wouldn't, and he didn't. And then in the eighth inning, I got a base hit, and we won the game. We were playing against Kansas City. I was good friends with Harry Craft. He'd been in the Yankee organization. He was managing Kansas City. Before the game the next day, he called me over and said, 'Don't let that bother you.' I thought that was pretty good of him to say that.
JM: I remember that game vividly. In the seventh inning, you made the three errors. There were a few boos, and I felt bad for you. You were one of my favorite Senators. In the bottom of the eighth, there were two men on base. You came up to bat, and the crowd gave you a huge ovation, like they were trying to make you feel good. And then you hit a double and drove in two runs. It was a very exciting moment.
Plews: The fans were great.
"Becquer doubled to open the eighth. Chrisley batted for Clevenger and walked. Plews atoned for his three misplays by rapping a 2-run double. Pearson beat out a…" -Washington Post, June 4, 1958
JM: The records show you were on a hot streak. According to the box scores, you had gotten a lot of hits over the past few weeks.
Plews: For gosh sakes, you know more about it than I do. I don't remember that. But I sure remember the three errors.
JM: On March 3, 1956, before the season started, sportswriter Bob Addie wrote a column in the Washington Post, and he said somebody told you when you were at Denver that you looked like a combination of Nellie Fox and Billy Goodman, that all of you were left-handed spray hitters that played second base, and that all of you were about the same height and weight. The only difference was that you wore glasses. I can remember Konstanty wearing glasses, but there weren't very many others wearing them.
Plews: There was Eddie Joost, the shortstop. Clint Courtney wore glasses, and he was our catcher. Nowadays, they all wear contact lenses.
JM: Bill Gold, also in the Washington Post, wrote in February 1956, 'This boy Plews has a tremendous amount of hustle. It makes you young again just to watch him.'
Plews: My Dad told me, 'You don't need any natural ability to hustle.' My dad was a pitcher, semi-pro. That's how I got to love baseball. He used to hit me grounders a lot. He was trying to instill confidence more than anything else. He was always pulling for me. He wanted me to go on to college. It was important to him that I got an education, and then if I wanted to pursue baseball further, he was all for it.
JM: Did your parents see you play any major league games?
Plews: Yes. They came to Washington one time. That was a great trip for them.
JM: There was no guarantee that when they went to a game, that you were going to play in it.
Plews: That's true. They stayed a week on a home stand, and I played.
JM: Did you get any big hits at that time?
Plews: I don't recall. I didn't get many of those.
"Herb Plews' bases-loaded single in the last half of the ninth inning scored Rocky Bridges and gave the Washington Senators a 4-3 victory over the Detroit Tigers. The victory lifted the Senators out of the American League cellar and into…" -Montana Standard (Butte), June 8, 1958
JM: I found a list of all the players on the Washington roster in the four years you were with them. I want you to tell me a little about some of them. Let's start with Rocky Bridges.
Plews: He was quite a character. You couldn't help like him. He had a good sense of humor. He was a good little infielder, kind of chunky built. I had a good time with Rocky. Everybody liked him.
JM: I remember his baseball card. He had a big chaw in his mouth.
Plews: He always did.
JM: Did you chew tobacco?
Plews: Never.
JM: Ed Fitzgerald?
Plews: Courtney was doing most of the catching when I was there, but Eddie was a fine catcher himself. I remember one time when we were playing the White Sox in Chicago, and Billy Pierce was pitching a perfect game. There were two outs in the ninth, and Eddie came in to pinch hit. He lined it to right and spoiled it for Pierce. After the game, the sportswriters came to the locker room and gave him a bad time. I think they wanted Eddie to stand there and take three strikes. They couldn't understand that he was up there to get a hit. Isn't that something? Gosh, you didn't want a no-hitter thrown at you.
JM: I watched that game with my father on TV. I was all excited that I had a chance to witness a perfect game for the first time. Normally, I would be rooting for the Senators, but I was rooting for Pierce. They made a big deal about Lavagetto being the manager who made the decision to bat Fitzgerald. They said it was a strange coincidence that Lavagetto was the pinch hitter that broke up Bill Bevens's no-hitter in the 1947 World Series.
Plews: That's right.
JM: I remember that Clint Courtney once had a hard time throwing the ball back to the pitcher.
Plews: Yes, I remember. I don't know what got into him. He could still throw to second base okay. He was bouncing it, or throwing it over the pitcher's head. He couldn't figure it out. When he was playing catch, he was fine. It went on for a few games. You've heard of this kind of thing happening to infielders. It happened to Chuck Knoblauch when he was with the Yankees. Suddenly, he couldn't throw the ball to first base. But Courtney finally got it straightened out. He sure took a ribbing about it. Clint was a dandy, a very likable fellow. He'd give you 100% out there every night. He was a little bulldog out there.
JM: Whitey Herzog?
Plews: I played with Whitey at Denver.
JM: Was he the same kind of crazy character then that he turned out to be as a manager? He could get pretty hotheaded.
Plews: I don't remember him being hotheaded then. He had a good sense of humor. He was one of the fellows that was traded with me to the Senators. He sure did well as a manager.
JM: Pedro Ramos?
Plews: He was called Pete. He was a great pitcher and a great athlete. He could run. In spring training, he was always running races with other players. He raced against Richie Ashburn, and he couldn't keep up with Pete at all. The runners would get the jump on him, and maybe for about 20 yards they would be ahead of him, but then Pete just exploded.
JM: He hit a few home runs.
Plews: Yes. And he fielded his position well. Both those Cuban fellows, Ramos and Pascual, were good fellows. You could count on both of them. They were tremendous pitchers.
JM: I remember that Pete was a bit temperamental.
Plews: Well, I guess you could say that he expressed himself more freely than Pascual.
JM: I saw Pascual strike out Ted Kluszewski four straight times in one game. He was playing for the White Sox then. That was in 1959, because that was the year the White Sox lost to the Dodgers in the World Series. I was sitting in the upper deck over the third base dugout at Griffith Stadium. Ted would come up to bat wearing those extra short sleeves so he could display his huge arms and shoulders. I could look down and tell from where I was sitting when Pascual was throwing one of his great overhand curves. Every time he got two strikes on Ted, Pascual would turn the ball over, and you knew Ted was going swing at it and miss. It was really funny.
Plews: He had a really good curve ball. You don't see that as much now. Everything is a slider nowadays.
JM: Faye Throneberry?
Plews: He came over from the Red Sox. I had played with his brother Marv in the minors. Faye could run, he had a good arm, and he hit with power. In batting practice, he could put on a show. He spread them all over. But in a game, it seemed like he just swung through the ball. So they sent him to the eye doctor, and he ended up wearing glasses. But that didn't do much good. He had the ability, but he just couldn't put it together. He had a great swing, but he couldn't make contact. Maybe it was because he never got a chance to play regular. That means an awful lot to a ballplayer just to know that he's going to be in the lineup every night. Then you can relax and get yourself ready.
JM: Pete Runnels?
Plews: He was a terrific hitter. He was with us until 1958, when he was traded to Boston. That year, he and Ted Williams were in a race for the batting championship. It came down to the final series, and Pete was ahead of Williams by about three or four points. We played Boston in that series, so I was there when Williams pulled ahead of Pete on the last day.
JM: Jim Kaat?
Plews: I played with him just a short time. He had just come up as a rookie then. He was a tall and lanky boy. You could tell right away that he had a real live arm. He developed into a marvelous pitcher. And he was a peach of a fellow. He was the nicest kid.
JM: You played with Roy Sievers in his last few years at Washington.
Plews: Him and Jim Lemon were good hitters. Roy could hit the ball to right-center, or pull it, wherever he wanted to hit it. Lemon had some good years with Washington, too. The game was different in those days. Nowadays, it seems like everybody can hit it to the opposite field, and the ball just seems to jump out that way. In my day, boy, to hit the ball in the opposite direction for a home run was unusual. Even small guys can hit home runs to the opposite field now. I don't understand it.
JM: What about Harmon Killebrew?
Plews: He had just come up when I was there. After I left, he really became a special player, especially with Minnesota. I saw him as a young kid, and he already had tremendous power. He improved by learning to hit the high pitch. He wasn't a tall boy, but he had huge shoulders.
JM: Zoilo Versalles?
Plews: I saw him just a little bit. That little fellow could sure play shortstop. And as little as he was, you couldn't believe that he could throw the ball that hard. It was amazing how he could go deep in the hole and then throw a bullet to first base. Gosh, this is great to be able to talk about these fellows with you.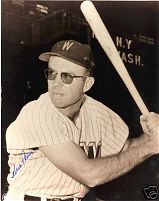 JM: Do you keep up with some of the guys you played with?
Plews: At Christmas, I get a card from Eddie Yost. He lives in the Boston area. He was a fine player.
JM: He batted leadoff, and he would always take the first pitch. But one time, I saw him cross up the pitcher by swinging at the first pitch, and he hit a home run.
Plews: Maybe he should've swung at more of them.
JM: Do you watch a lot of baseball?
Plews: All the time.
JM: Who do you root for?
Plews: Well, this year, I'd like to see Minnesota get in there and go all the way.
JM: Why Minnesota?
Plews: I don't know. They've got the new stadium now. I like (Joe) Mauer and (Justin) Morneau, and their pitching looks pretty good.
JM: Don't you root for the Rockies? After all, you live in Colorado.
Plews: Oh yes, I root for them, as far as the National League is concerned. I like our manager, Jim Tracy. He seems like a fine fellow to play for. He's fair, and the fellows respond to him well. He sticks with the players; that's what I like. He doesn't break their confidence.
JM: I can understand why you point that out. You didn't have that luxury when you were with the Senators.
Plews: I think the whole style of managing has changed since the old days. Today, the manager is more like one of the players. In my day, you didn't dare saying anything against him. Whatever the coaches and the manager said, that was it. You couldn't voice your opinion. Nowadays, the players have a little more to say to the manager. I liked all my managers in the minors. I played for Ralph Houk, and he was a great fellow. I played for Mayo Smith and for Mickey Owen. When I got to the big leagues, I expected the managers to be like them.
JM: Who is the best ballplayer you ever saw?
Plews: I had great respect for Yogi Berra. He never left a man on third with two out. He was a remarkable player; and what a great person. He was a workhorse. He would catch doubleheaders. He could sure pull that ball. If you were a runner on first base, you'd better be alert, because he could drill that ball down the first base line like a shot.
JM: You played with Ted Williams a short time when you were with Boston.
Plews: I never talked one-on-one with him, but he loved to talk to a group of fellows about baseball. You could ask him any questions you wanted then. I admired him. When he took batting practice, everybody stopped what they were doing and watched.
JM: Do you have any of the uniforms you wore?
Plews: No. I never owned any of them. I was lucky to get an old cap. We didn't get to keep anything.
JM: What was your number when you played with the Senators?
Plews: My number was 25. I don't remember what my number was with the Red Sox. I wasn't there very long.
JM: I understand that you lost your wife recently.
Plews: Yes. It will be a year in July. We were married 54 years. I knew Shirley in high school, but we never dated. When I got out of the service and finished my first year in the minors, she was still around, so we got together. She loved every minute of my career. She went with me everywhere I went.
JM: Do you have any children?
Plews: Just one son, and he lives over in Japan. He married a Japanese girl he met in college here, and they have two children. I spent two months with them recently. He took me to the Japanese Baseball Hall of Fame. But if I get to see him once a year, I'm lucky.
JM: Did he play baseball when he was growing up?
Plews: Not much. When he was young, he went out and played to please me, but I could see he wasn't having any fun. So I told him that if he didn't like it, that was okay with me.
JM: Looking back now on your baseball career, does it bother you that you didn't go farther?
Plews: All in all, if I had to do it over, I'd do the same thing. It turned out fine. I enjoyed every minute of it, and the people I got to meet and associate with were nice to me.
"In all the years I've been in baseball, Herb stands out as the greatest hustler I have ever observed." -Ralph Houk, manager of the Denver Bears, from a 1956 article in the Denver Post
"You've gotta have heart/All you really need is heart/When the odds are sayin' you'll never win/that's when the grin should start"
-from the musical Damn Yankees
**************************
A surprise email from one of Herb's old friends.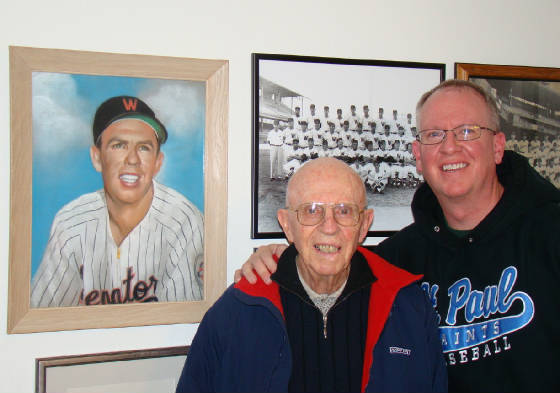 "I just got done reading your story on Herb Plews. My wife and I have been very lucky to be friends of Herb and Shirley's for many years, residing just down the street from them in Longmont, Colorado, prior to their move to Boulder almost five years ago. My wife and I had dinner with Herb last night. We spent three and a half hours with the former spray hitting utility man. As I know you garnered from your phone conversations with him, Herb is one of the finest men you'll ever meet. While we're nearly 40 years younger than he is, he graciously insisted on holding doors for us at the retirement community where he lives, and wasn't happy about our paying for dinner at his favorite Boulder Chinese restaurant. 'I get Social Security, you know!'"
"Thank you for publishing your awesome interview with Herb. At 82 years young, he's as sharp as ever. In over three hours of talking life and baseball last night, there was but one single name of someone that he could not recall…for about 30 seconds…after which he gave me a big smile, pointed at me and told me the name. Herb wasn't surprised when I told him about a trip to Fenway Park my 16-year-old son and I took in late September. During the Fenway stadium tour, I asked the guide if he happened to have ever heard of Herb. Alas, he had not, though Herb got a kick out of the fact that I'd even asked."
"One of my favorite stories that Shirley told us once was that she was at a baseball card show in the Denver area some years ago. When she asked a particular dealer if he had any of Herb's cards, he replied that he didn't carry "commons." You probably had to know the wonderful Shirley Plews to get a great feel for her reply: 'He's no common, he's my HUSBAND!' She was a truly, truly wonderful lady. I'm so glad to know that you remember Herb and decided to look him up." -Larry Stauss, December 19, 2010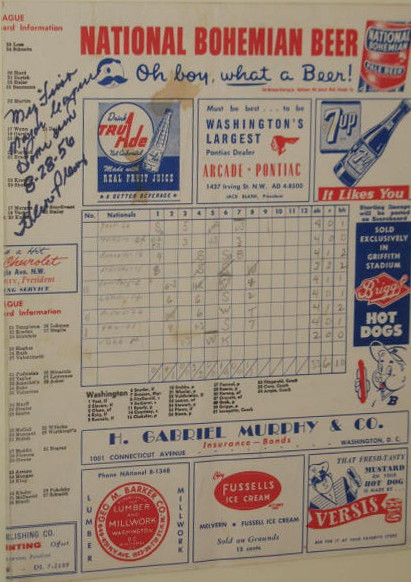 Scorecard for first game of doubleheader at Griffith Stadium in Washington, on Aug 28, 1956. Herb hit his first major league home run in the game. He also hit a triple and drove in two runs. The final score was Washington 6, Chicago 2. In the second game, Herb had two more hits and two more RBIs, but the Senators lost 5-3.

"Outfielder Roger Maris of the Cleveland Indians hits second and Herb Plews of the Washington Senators at the same time in the third inning of today's first game of a doubleheader. Plews managed to get off the ball, above his head, but not in time for the double play. Maris was forced." -caption to AP wire photo, June 23, 1957
*Note: The Senators lost both games, 14-2 and 7-5. Plews played both games and had three hits in seven at bats.