The following was published in 1906, in Historical Homes and Institutions and Genealogical and Personal Memoirs of Berkshire County, Massachusetts:
Fred Forest Dowlin, who is known as a man of high attainments and as one who has achieved success at the bar, was born in North Adams, June 19, 1868, being a son of Marshall R. and Sophia (McGoon) Dowlin. The father (Marshall) was a native of Bradford, New Hampshire, and there, grew to years of maturity and resided until 1861, when he removed to Concord, where he learned the harness maker's trade. About 1864 he took up his abode in North Adams, and with the exception of about four years while engaged in business in Westfield, he resided here until his life's labors were ended in death, passing away November 3, 1904. In addition to the success which he achieved as a harness maker, he invented several articles which proved valuable and brought him handsome returns, one of the most prominent of these being the Dowlin hook swivel for headstalls, while another was the Dowlin double-purchase trunk strap. Some of the articles which he invented were manufactured by himself and some by others, he receiving royalties. He was an energetic and straightforward business man, a staunch Republican, and for many years a member of the Methodist church. As a citizen, neighbor and friend, he was upright, kind and charitable, and as husband and father he faithfullv fulfilled every obligation. At his death he left his widow and three sons, Ralph, who succeeded to his father's leather goods manufacturing at North Adams; Dr. Winfred M., of Claremont, New Hampshire; and Fred F., whose name introduces this review.
Fred Forest Dowlin received his early educational training in the public schools of North Adams, this being supplemented by a course of study in St. Joseph's College, Ottawa, Canada, and subsequent attendance at Troy Conference, from which institution he was graduated. His professional studies were pursued in the Boston University Law School, where he received the degree of B. L.
Returning to North Adams he entered into a partnership association for the practice of law with E. H. Beer, under the firm name Beer & Dowlin, and this was continued for twelve years, when the partnership was dissolved June 1, 1903. Mr. Dowlin's especial value to the place of his nativity is in the extent and character of his building operations, which resulted in the erection of some of the most notable and beautiful of the business blocks and residential structures of North Adams. In the boldness of his conceptions and the vigor and success of his achievements in this direction, Mr. Dowlin stands alone, having accomplished more than any other one man in this most substantial of all lines of progress. He built the Dowlin block, one of the handsomest buildings in the city. It is located on Main Street, six stories high, eighty feet front and contains seventy-two thousand square feet of floor space, which is devoted to the use of stores, offices, clubs, society rooms and bachelor apartments. Its front elevation is of Rutland blue and white marble; it is supplied with an electric elevator, electric lights and all modern improvements and is entirely fire proof. Another notable structure for which he is partly responsible is the Beer & Dowlin block at No. 85 Eagle Street, erected in 1893. It is a four-story granite structure fronting on Eagle and Luther streets, while still another is the Dowlin block on Holden street, built by Mr. Dowlin in 1896. It is a four-story brick building with white marble trimmings. Mr. Dowlin has also erected over one hundred and twenty-five dwellings in the city. The Dowlin block and other property are now owned by the Dowlin Realty Trust, Judge C. T. Phelps, Charles W. Ford and Fred F. Dowlin, trustees. In the line of his profession he has also achieved a high degree of success, and has been engaged on many trial cases. He was the junior counsel for the defense in the celebrated O'Neil murder case tried in Greenfield, Massachusetts, and of which the state published a complete report, this being one of the first cases of its kind so published.
On the 8th of September, 1892, Mr. Dowlin was united in marriage to Julia I. E. Royce, a daughter of George and Martha A. Royce, of Orwell, Vermont. She became the mother of one son, Marshall R., who died in infancy, and her death occurred on the 13th of October, 1893. On the 14th of September, 1898, Mr. Dowlin married Jennie Belle Bingham, a daughter of Mr. and Mrs. David B. Bingham, of North Adams, Massachusetts. Mr. and Mrs. Dowlin have two children, Fred Forest, born June 13, 1899, and Glendore Marshall, born July 30, 1903; a third son. Myrle, died in infancy.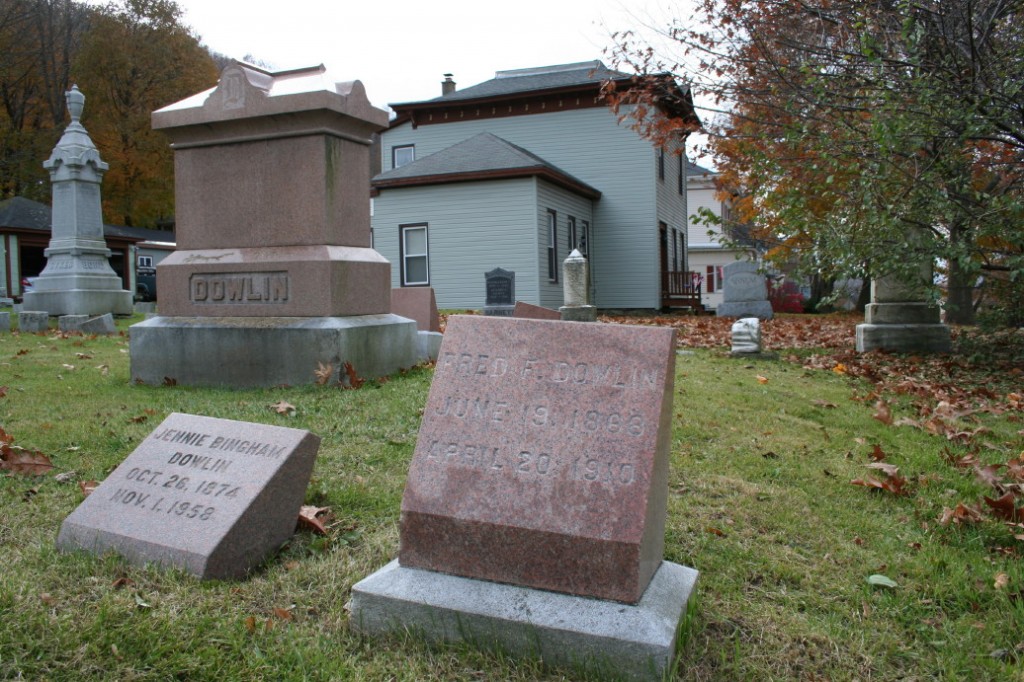 Mr. Dowlin passed away in 1910, of kidney failure, while visiting relatives in New Hampshire. He was only 41. His wife Jennie died in 1958. I could not locate any descendants.