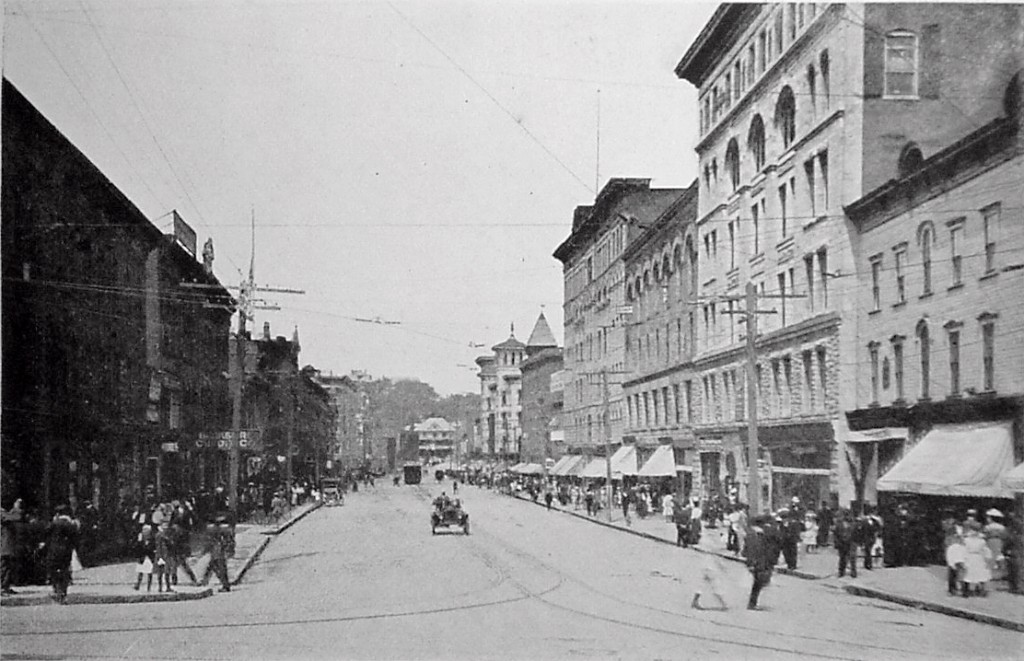 Leo W. Frisby lived in the Dowlin Block for about three years, from 1919 to 1921, as recorded in the North Adams directories, but his apartment number was not listed. He was born in Castleton, Vermont, on April 11, 1895, according to his official Vermont birth record. His father Herman, a Maryland native (some records say Pennsylvania), was a horse trainer. He married Vermont native Lydia A. Hunter in Castleton, on September 30, 1896. He was 39, and she was 17. It was Herman's second marriage.
The family moved to North Adams around 1910, where Herman continued to train horses. They lived at 371 West Main Street. They had four children, Leo being the oldest. Lydia died in 1913 at the age of 33, from a bleeding ulcer. That same year, Leo, about 15, quit the eighth grade and went to work as a teamster (probably a wagon driver), worked at several local hotels, and then joined the North Adams Fire Department. In 1918, he was drafted and served in World War I.
"Sergeant Leo Frisby is the title now possessed by the former relief driver for Hose 1 of this city. Letters have been received by local friends telling of the promotion of Mr. Frisby, as well as a large photograph of Camp Dix. Leo Frisby left this city in August as a private and was sent to Camp Dix, N.J. That his diligence and attention to military affairs has won promotion will be pleasing to his many friends. Sergeant Frisby is a member of the headquarters company of the 63rd pioneer infantry." –North Adams Transcript, November 23, 1918
When he was discharged in late 1918, Leo got a job as a clerk at the Berkshire Hotel on Bank Street, and was also hired as an exercise instructor for the fire department.
"Members of the fire department at the State Street headquarters have formed a physical culture class. With Leo Frisby, who was recently mustered out of army service where he was a sergeant, as instructor, Chief Henry J. Montgomery and his assistants are participating in athletic exercises each afternoon at 2 o'clock. Quarters in the large room over the hose house have been fitted with gymnasium equipment and promptly at 2 o'clock each afternoon, the windows are raised and the sessions begin."
"The exercises comprise running and jumping, club swinging, chinning the bar, and other work. This program of work has been followed out for the past week and the firemen are most enthusiastic. Boxing bouts are among the new sports planned to be added to the program. Mr. Frisby is a competent instructor and is introducing many of the exercises in use in the United States Army." –North Adams Transcript, January 1, 1919
His experience as a fireman quickly turned out to be very useful in his job at the hotel.
"A slight fire, thought to be due to accidental tossing of a match or lighted cigarette into a pile of lace curtains in a corridor of the second floor of the Berkshire Hotel, caused a slight blaze there this morning. Leo Frisby, night clerk at the hotel, a former member of the fire department, upon smelling smoke went to the scene of the blaze and was prepared to spray the fire with the contents of an extinguisher. The damage caused by the fire was slight." –North Adams Transcript, January 16, 1919
When Leo moved to the Dowlin Block that year, he apparently was the first African-American to live in the building. I established that by compiling the names of all black persons listed in the 1880, 1900 and 1910 North Adams censuses (the 1890 census was destroyed by a fire), and then looking for those names in the city directories from 1902 to 1920 to see if any of them lived in the Dowlin Block. Leo was the only one.
Leo apparently returned to the fire department for a short time, and then got a job as a lineman and electrician for the local trolley company. In 1925, he married Maude Dion, of North Adams. She was white.
Maude was born Maude Nelson, in Ausable Forks, New York, in 1895, and moved to North Adams in 1914. A year later, she married Peter Dion, a painter. At the time, Maude was working at Arnold Print Works. Their only child, Francis Edmond Dion, was born on July 5, 1916. Peter had a son, William, from a former marriage, but he did not live with them. In 1919, Peter died, leaving Maude to raise her young son. She married Leo six years later. They did not have any children of their own. They raised Francis, and lived in a number of apartments in North Adams.
In 1931, Leo took a job as a lineman and maintenance worker for the Northern Berkshire Electric Company, where he worked until 1960. Maude died in 1944, at the age of 48, from complications caused by a thyroid operation. Leo died on March 26, 1963, at the age of 67. His obituary states, in part:
"He was a member of St. Francis Church, the Holy Name Society, Frank R. Stiles Post of the American Legion, and the WANA Club of Massachusetts Electric Company. In his youth, he was an amateur boxer, and a long-distance track runner."
His stepson, Francis Dion, died in Adams, in 1999. Francis served in the Marines during World War II. He worked at the Warren Wire Company in Pownal, Vermont; and the General Cable Corporation in Williamstown, Massachusetts. He married Yvonne Morin in 1941. She died in 1967. He was survived by four children, eight grandchildren and six great-grandchildren. He is buried in Bellevue Cemetery in Adams. I could locate only two descendants of the Dion family, but neither knew anything significant about Leo or Maude.
Chapter Six: Demolition and plans for the renovation of the Dowlin Block