Chapter Seven: Epilogue
A lot of strange and wonderful serendipitous events occurred during my search for Addie, but I was still not prepared for one final event, strange, but not so wonderful.
On March 28, I attended a meeting in North Adams. While waiting for it to start, I struck up a conversation with the woman sitting next to me. The subject turned to genealogy when she told me that her grandparents had come through Ellis Island when they emigrated to the United States in the early 1900s, and then they had moved to Hoosick Falls, where she is now living. I mentioned my search for Addie and how it had taken me to her hometown. "It's an interesting place," I said, "and I love Dougherty's Restaurant. I can't wait to take my wife there."
"Oh," she said, "Dougherty's burned down three days ago. The whole building burned to the ground. It's a terrible tragedy. Fortunately, no one was in the building at the time."
I was shocked. In fact, it was all I could think about during the meeting. When I got home, I found an article about it in the Albany Times-Union. The article ended with even more shocking news. "This is the second landmark restaurant in the area that has burned down recently. Last month, the Golden Krust Bakery in Cohoes was destroyed by fire."
Two historic restaurants had burned down, both of them places I had eaten lunch at only several months before, during my search for Addie.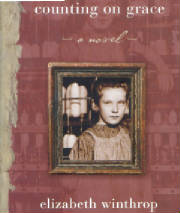 In April, Counting On Grace was released to critical acclaim. Elizabeth had given me a copy of the final manuscript just after I started the search, but I didn't want to read it until my work was completed. I figured that I might get the fictional Grace and the real Addie mixed up. But Carole read it, and she kept telling me she couldn't wait until I did, too.
So I sat down with it a few days after interviewing Addie's family. I read it in one marathon session. It was that good. It was strange to read about Grace, yet see Addie in my mind, knowing what I knew about her life. They were different stories, of course, but the girls were similar – strong willed, feisty, and able to stand up against long odds. Both of them are part of my life now.
In May, Elizabeth made a presentation about the book and the search for Addie at the Solomon Wright Public Library in Pownal, before an overflow crowd that included many of Addie's descendants. In September, Smithsonian Magazine published her article about the search.
And finally, Elizabeth made sure that Addie's name was corrected, both at the Library of Congress, which displays Addie's photograph on its website, and on the sign at the site of the former North Pownal Manufacturing Company, where she worked. I have come to appreciate the town of Pownal, especially for the many ways its citizens honor their history. Recently, Pownal Elementary School students participated in a research project that resulted in a book of the town's history, called The ABC's of Pownal.
I go to Pownal often, drawn there by the site where Lewis Hine photographed that anemic little spinner nearly 100 years ago. When I sit on that bench by the river, I think of the day I called out to her, "Addie, tell me where you are." Now I know she heard me.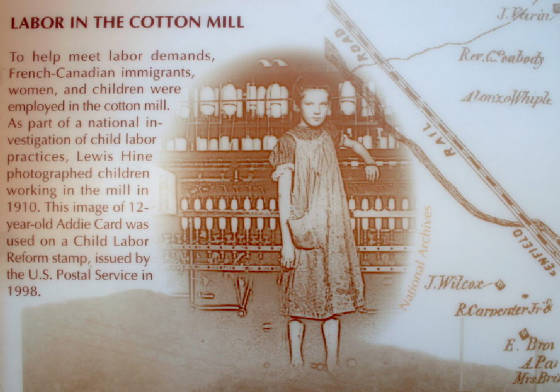 September 26, 2010: Stories like this never end. I received a startling email this morning.
"My name is Heather, and I live in Canada. My husband and I, doing family research today, stumbled across your story of Addie Card. In Chapter 3, you posted a picture of a headstone for an Addie Card, but not the Addie in the child labor picture. Both of them are in our family tree, so they are related. Their common ancestor is James Card and his wife Ruth Havens. James is the 6th great-grandfather of your Addie, and the 5th great-grandfather of the other Addie. That makes the two Addie Cards, 6th cousins once removed. Thank you for your story. It is great to have someone of such significance in my tree."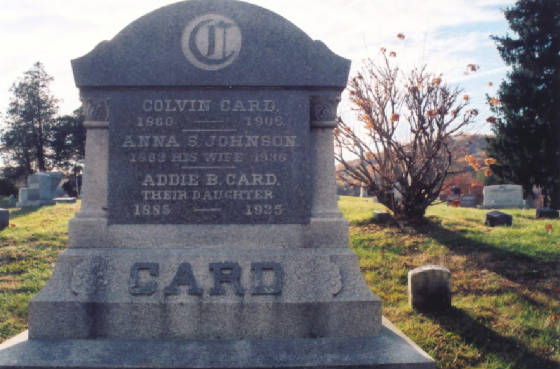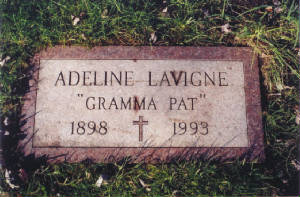 And one more surprise. Also in September of 2010, while looking at the Pownal Historical Society website, I saw a photograph of the class of 1908 at the Oak Hill School. The girl, in the front row, second from the left, looked exactly like Addie when I blew it up. I called Ken Held, director of the society, and he also thinks she's Addie. So did Elizabeth Winthrop. In the interview with Addie's descendants, they stated that Addie told them that she had to quit school in the fourth grade to go to work. In 1908, she would have been 10 years old, until her 11th birthday on December 6. This might have been her final year in school.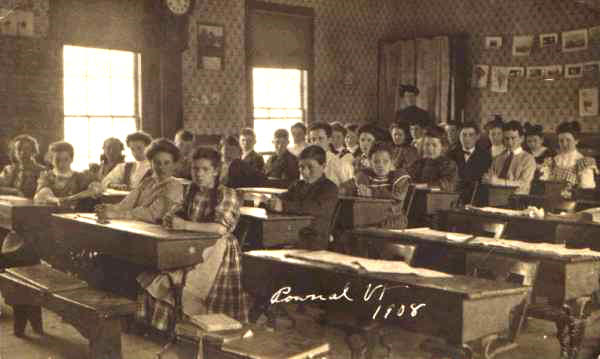 *Story published in 2007, and updated several times.