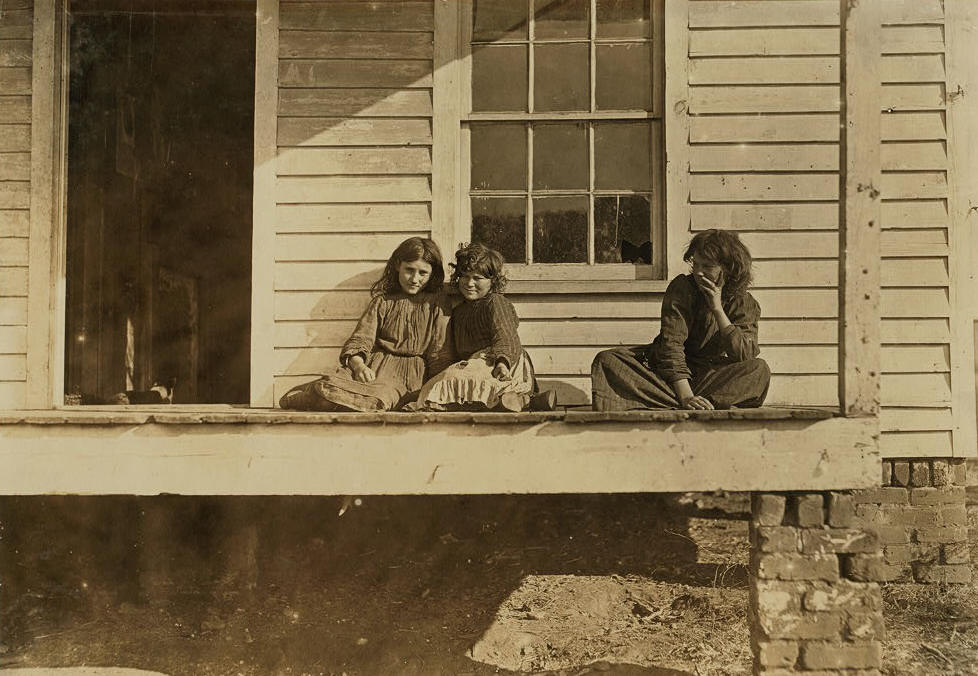 Lewis Hine caption: Wylie Mill, Chester, S.C. Girl at end of porch Daisy Estis (Couldn't spell her name) Worked 2 years. other two not in the mill. No school within reach. All chewed tobacco. Location: Chester, South Carolina, November 1908.
I thought this was a lovely picture when I first saw it, even with the implied circumstances. But given what I have learned since then, I find the photograph to be terribly heartbreaking.
Hine might have taken it on a Sunday, since that was probably the only day of the week that Daisy did not work. He would have spotted the girls while he was walking in the neighborhood, armed with his big Graflex camera. What were they thinking when he confronted them? Daisy looks either pensive or sad. She could have been just weary, since it was typical for mill girls to work 60 or more hours a week. Hine once wrote that the child labor practices at the Wylie Mill and others in South Carolina were among the worst he had seen.
Census information is often poorly recorded and confusing. In 1900, Daisy's year of birth was given as 1894. In 1910, it was about 1897. So she could have been anywhere from 11 to 14 years old in the photo. When I blow up the photo, the young girl in the middle looks exactly like Daisy, only a few years younger. She was almost certainly Cora, who would have been eight years old in 1908, according to the 1910 census. There were no other sisters in either census that would have been the right age. If you assume that the girl on the left was another sister (it could have been a friend), the girl was either Lonnie, Estelle, or Sallie.
Daisy was the daughter of Carter and Frances (Allen) Estes, who were married about 1886. They had at least 10 children. In the 1900 census, they are listed as living in Chester, and their four oldest children were listed as working in a cotton mill. By 1910, Daisy had lost her mother, who apparently died between 1908 and 1910 (possibly in childbirth), since a two-year-old daughter, Edna, is listed. Her mother might have already passed away when Daisy was photographed. That fact alone changes the way I look at the photo.
Sometime after 1910, Carter and Daisy (and perhaps the rest of the family) moved to Gastonia, North Carolina, one of the major centers of the textile industry at that time. The city is about 45 miles due north of Chester. On June 18, 1915, Carter died in Gastonia, of pneumonia.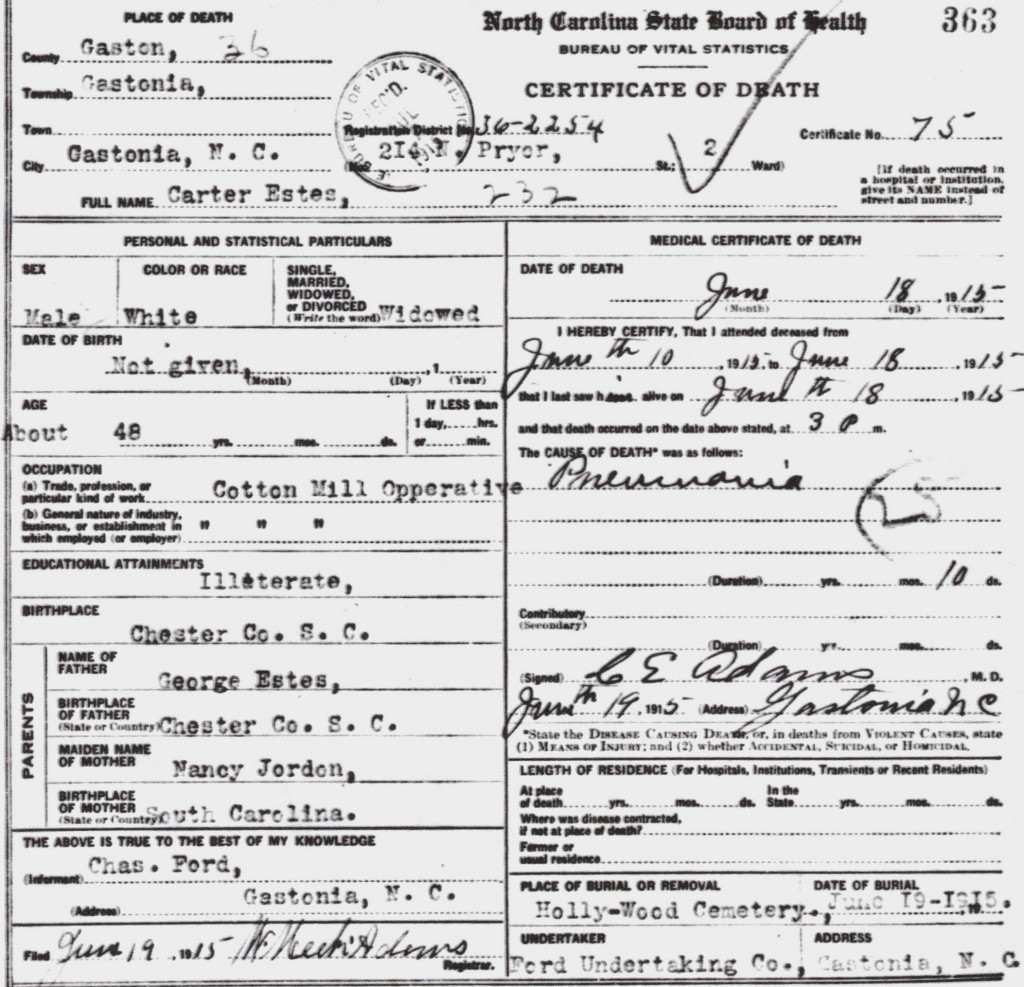 Only 10 months later (April 14, 1916), Daisy died of "purple fever," which was a common name for spinal meningitis. The death certificate listed "neglect" as a contributing cause. At that time, Daisy was married, her last name being Burton, but her husband was not listed on the death certificate. Both she and her father are buried at Hollywood Cemetery in Gastonia.
Except for the oldest son, Elzie, I was unable to find further records of any of the children. Perhaps they were farmed out to relatives, given that both parents died young, but they nevertheless do not appear in anyone's household in either the 1920 or the 1930 census. And because many of the daughters would have married, they would have had different last names. I could not find anyone named Burton (or Barton) in the 1920 Gastonia census who could have been Daisy's husband.
After a few weeks of research, I found the marriage record for one of Elzie's children. That led me to a third-generation descendant who has posted some of the family history on the Web, but nothing more about Carter Estes and his family. I sent her the photo, but she had never heard of Daisy.
Alas, there appears to be no one who knows anything at all about Daisy or the two sisters in the picture. That's what makes the photograph so haunting now. Whatever happened to the children in this family? Where did they go? How long did they live?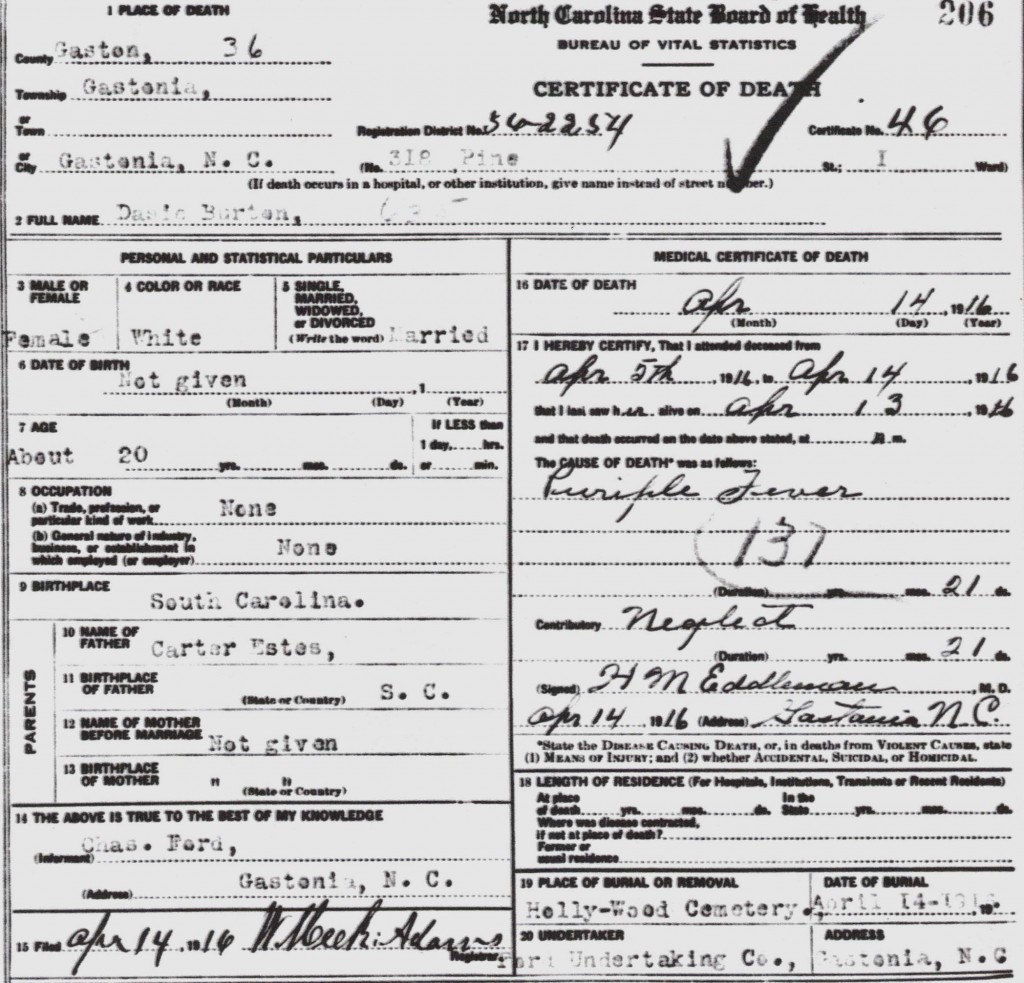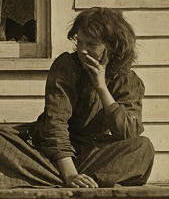 *Story published in 2010.