"My mother got married when she was about 15. Daddy was much older than her. He was 5′ 2" tall, but when my mother married him, she could walk underneath his outstretched arm." -Clinton Willis, son of Mell Young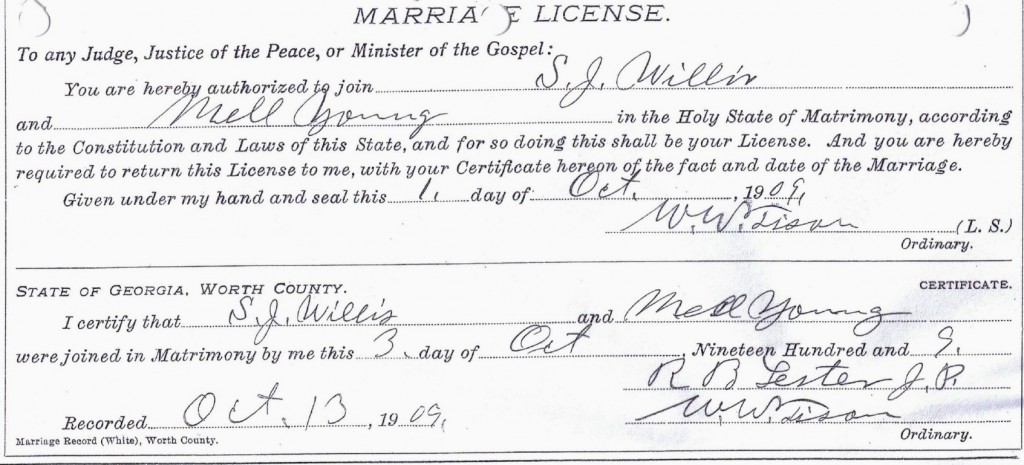 Mell Diantha Young, the oldest child in the Hine photo, was born in Worth County, Georgia, on April 4, 1894. She married Samuel Jeremiah Willis in Worth County on October 3, 1909, less than six months after seven of her brothers and sisters were placed in the orphanage. A year later, she and her husband and his parents were living in New River, Berrien County, 30 miles south of Tifton. Sam was a farm laborer. In 1920, Mell and Sam, their two children, Perry and Katie Lou, and her mother Catherine were living on a farm in Ashburn. By 1930, they were living on a farm in Cook County, just west of the Berrien County line. They had three additional children: Jesse Elbert, Roland and Ira Clinton. Also living with them was Effie, the daughter of Mell's deceased sister, Georgia. But Mell's mother Catherine was living Ashburn. After 1930, two more children were born, Nancy and Nelson.
Sam died in 1946, at the age of 64. They were living in Albany then. Mell died in Albany on May 6, 1971, at the age of 77. She and Sam are buried next to her mother Catherine in Riverside Cemetery.
I interviewed her son, Ira Clinton (called Clinton) Willis. It was one of the first interviews I did, and what he told me helped me locate the descendants of some of Catherine's other children.
Excerpts from my interview with Clinton Willis, son of Mell Young. Interview conducted on January 27, 2011.
"I was born in 1927. My first memories were from when we were living in Lenox (Georgia). Then we moved to Albany. My mother said she worked in the cotton mills, but never told me she worked as a child. She didn't say much about her life growing up. When I was a teenager, I drove my parents down to visit some of their relatives. My grandmother Catherine lived in Ashburn. We went through Poulan and Albany and down to Sylvester, toward Tifton, and my mother talked about working in the mill in Poland, which is in Worth County."
"My mother got married when she was about 15. Daddy was much older than her. He was 5′ 2" tall, but when my mother married him, she could walk underneath his outstretched arm. She grew up to be just a bit taller than him. Both my parents were very quiet people. I never heard them argue. They were Christian people. They belonged to numerous churches, Pentecostal and Baptist and Salvation Army. But we were poor, so they couldn't go to church much because they couldn't dress properly. I grew up with the Salvation Army teaching. My mother had seizures, so she couldn't be around a hot stove and stuff like that. After we were grown, she had a doctor that got her into herbal remedies and vitamins, and they almost stopped her seizures completely."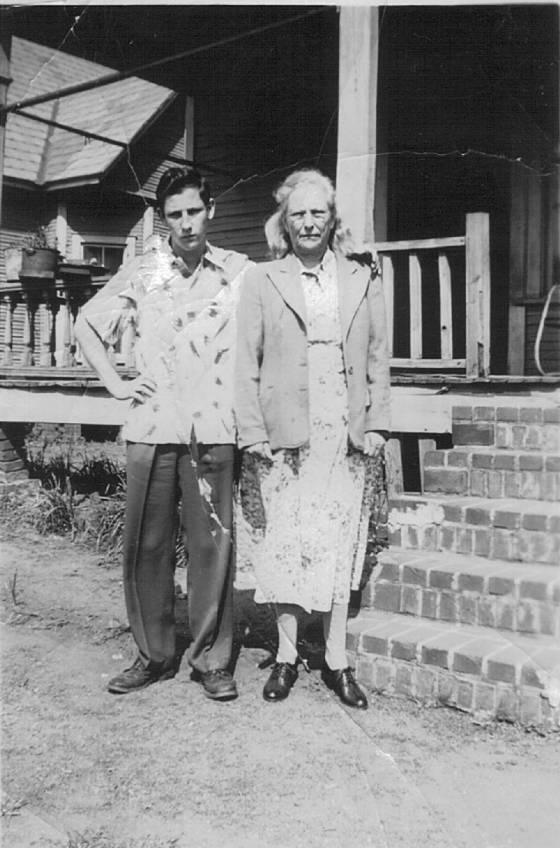 "My mother had seven children, five boys and two girls. She also had one boy who died as a baby. My parents were not educated. I think Mama had a third-grade education, and Daddy had a second-grade education. But Daddy was smart in math. He could step off acreage on a farm and tell you how many acres it was. And he could build anything he wanted to. He would measure boards from thumb to finger and know exactly how many inches long they were."
"My daddy was a farmer and a sharecropper. We sold peanuts on the street to make a living during the Depression. I started doing that when I was eight years old, and did it till I was 14. And then I started running the elevator at the bank building in Albany. When I was 16, I started working for the railroad, and that's where I worked the rest of my life."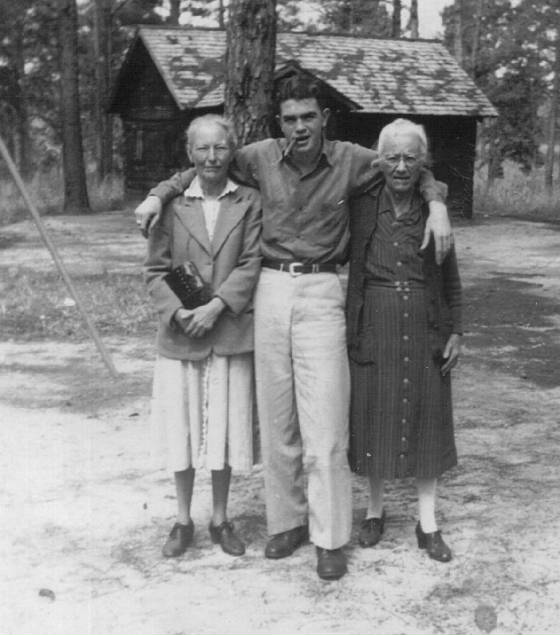 "My grandmother (Catherine) used to live with us from time to time. She had a small pension from her son Alex. I think he was in WWI (It was probably an allotment). Sometimes when she ran out of money, she'd come to live with us. Most of the time, she lived alone, and I never knew her to have a job. When I was a teenager, she moved to Albany, and that's where she passed away. She was as spry as she could be. I was told that she was full-blooded Cherokee. The family was secretive about it, because they were rounding up the Indians to send them out west to reservations, and she was afraid they might do that to her."
"I met her son, my Uncle Jesse, once. He was the baby of the family. We were living in Lenox, and he came through on his way to Orlando. He played with me and put me on his shoulder. I never heard from him after that."
"After WWII, Mattie (Catherine's daughter) left Albany and went to California. Her oldest daughter, Johnnie Lee, had married a military man and moved to California, and then Mattie and the rest of the family moved out there. She used to make a lemon cheesecake that was my favorite, and she gave me the recipe. I still make it. Aunt Mattie had three daughters, Johnnie Lee, Ione, and the other I can't remember (Clyde, a girl). Johnnie Lee was married to Frank Barfield, and they had a son named Leonard, who was born in Albany. Ione was married to Pat Patterson."
"I met Mary once in Americus. She was married to a Williams. I don't know what happened to her. Alex was one of the older boys. He was pretty young when he died (he died in 1969). Eddie Lou died in Americus. We went up to visit her once."
"We called (Catherine's son) Seaborn 'Uncle Jake.' When I was 10 years old, Daddy decided he was going to sharecrop. We moved to Worth County, and Uncle Jake and my grandmother (Catherine) moved out to the same farm and farmed part of it. Uncle Jake ran a beer and barbeque joint somewhere between Albany and Augusta. It might have been in Millen (It was in Baxley). He had a daughter that helped him out in the restaurant. Ella, who seemed older than the others, married a Cogan. She had two daughters, Mary and Margaret. She lived in Phenix City, Alabama. They came to live with us for a few months, and then they went back to Alabama."