Lewis Hine caption: Lawrence Purdie (right end) has been spinning in the mule room of the cotton mill at Matoaca, Va., for two years. His brother, next to him, helps in the mill. The others in the photo are not working yet. The father is not at work now as work is slack. Location: Matoaca, Virginia, June 1911.
This was not an easy search. I verified the names in the photo by using the 1910 census, and later from a descendant. I found the death record of one of the boys and obtained his obituary from the library in Petersburg, Virginia. When I saw the name of the funeral home, I called them, and a very nice man looked in his records and found a number of other deaths for the Purdie family. Then I got their obituaries, but almost all of the survivors have since died, or I can't find them. Another problem was some of the records spelled Purdie either Purdy or Perdie. I never was able to establish which spelling was historically correct. For this story, I will use Purdie.
The five children in this photo were the sons and daughters of William and Mary Purdie. Mr. and Mrs. Purdie were born in Virginia, and married around 1890. They had 10 known children: (oldest to youngest) Walter, James (or Harry), William, Lawrence, Joseph (or Early), Edward, Hessie Mae), Agatha and Millard.
Both parents and most of the children worked at the Matoaca Cotton Mill. By 1920, Lawrence had married Nevie Perkinson, and they were living with his parents and working in the cotton mill. By 1930, Joseph (Early) had married Florrie Kersey, had baby daughter Bertha, and were living with Florrie's parents in the same Matoaca neighborhood as other Purdies.
Florrie's sister, Marinda, later married Edward Purdie, and in 1930, Edward and Marinda were still living in Matoaca, and had two sons and two daughters. Edward worked at Seward Luggage Co., in nearby Petersburg. Lawrence also worked at Seward Luggage, and he and Nevie lived in Matoaca. They had no children, and were to remain childless.
Lawrence Benjamin Purdie was born July 13, 1896, in Richmond. He worked at Seward Luggage Co. and American Hardware. He died in 1958, in Matoaca. His wife, Nevie, died in 1972, in Matoaca.
Joseph Early Purdie was born about 1898. His wife, Florrie, died in 1978. They had six children. I contacted the last surviving child, who said that she was very young when her father died, and she can't remember what year it was, or much else about him.
Edward Purdie was born about 1900, and died in 1976, in Matoaca. His wife, Marinda, died in 1976. They had at least eight children.
Hessie Purdie was born in 1903, and died in 1981. She married Louis Vairo, who died in 1979. Her sister Agatha was born in 1907, and died in 1996.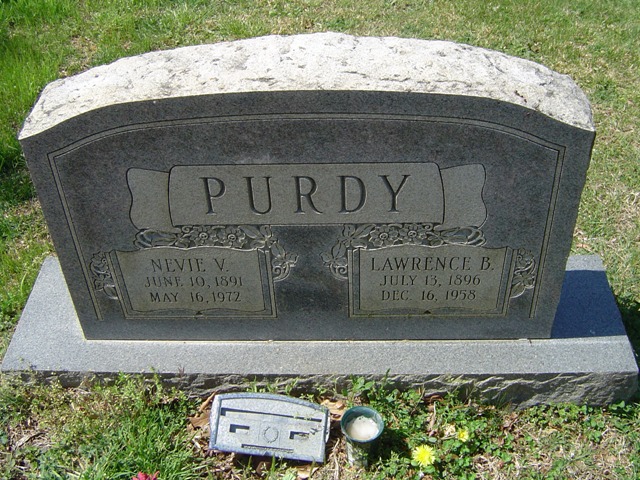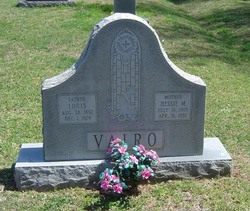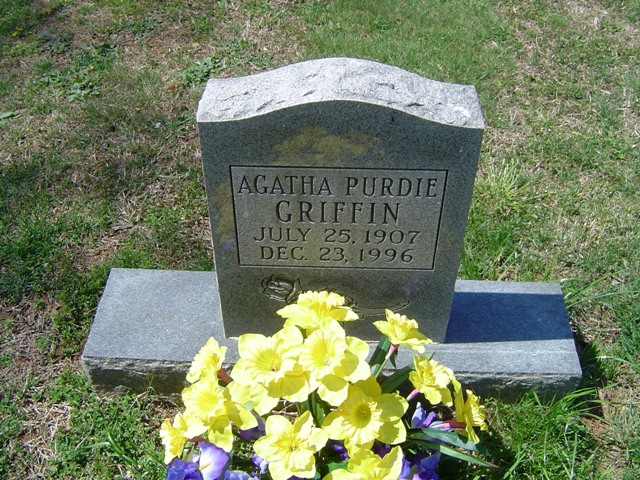 The three gravestones above are at East Motoaca Cemetery. Courtesy of FindAGrave.com.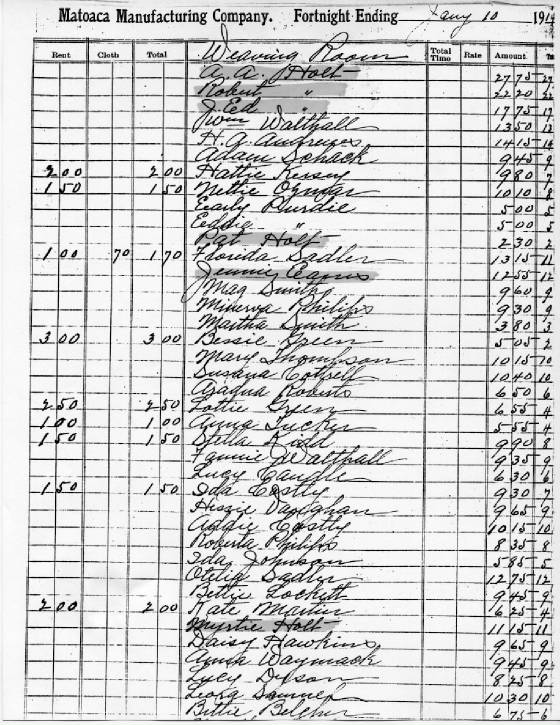 At the first link below, you can see historic photos of the Matoaca Cotton Mill, and a ledger from January 1914, showing pay records for a two-week period (also shown above). When I looked at them, there was a nice surprise. Among the workers listed in the weaving room are Purdie brothers Early (Joseph Early) and Eddie (Edward). At that time, Early would have been about 16 years old, and Eddie would have been about 14.
*Story published in 2010.