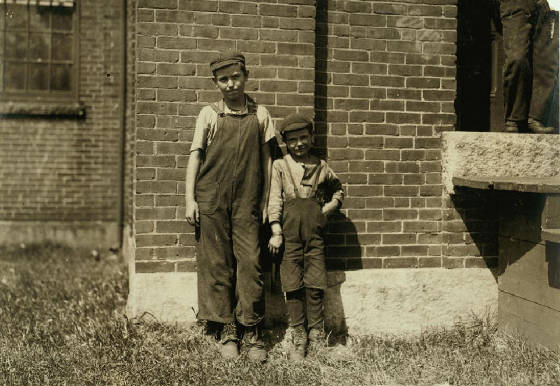 Lewis Hine caption: Left, Frank Chebarro, admitted 13 years old; been making bands all summer in Glenallen Mill. Said, "I wouldn't go to school until they come after me." Also brother Edgar, 8 years old, who "helps" brother. "He picks up bobbins and things like that." Location: Winchendon, Massachusetts, September 1911.

"He never liked to have his picture taken." -Edgar's son, Leo
When Lewis Hine was documenting child labor, very young workers such as Edgar often told him that they were "just helping" a brother or sister, rather than actually being employed. Many of these children would have been prime recruits for the mill owners, and it would have served their interests to have them hanging around the mills, occasionally sweeping or picking up trash. Some of these youngsters may have welcomed the opportunity, which might have made them feel important or "grown up," like their older siblings. Frank was the oldest boy, so that would not have been the case for him, but he may have helped his mother or father at the mill when he was Edgar's age.
I initially had trouble finding any record of these boys. There was no one in the birth, marriage or death records in Winchendon Town Hall with the last name of Chebarro. Lois Abare, the town clerk, suggested I try Charbonneau. It proved to be good advice. In the 1910 census, I found brothers Frank and Edgar with the last name spelled Charbano. Their parents were Henry and Delina.
According to a brief family history posted on the Internet, Henry was born about 1871, in Greenville, New Hampshire; and Delina (Adelina Laviolette) was born about 1873, in Grand Isle, Maine. They married in 1897, in Greenville. They had six children, including Frank, born in 1898, and Edgar, born in 1903.
By 1920, the family (spelled Charbonneau in the census) had moved to Easthampton, Massachusetts. But in 1930, Frank was living in Rindge, New Hampshire (just over the border from Winchendon), with his wife Melvina and their four children. Frank died in Winchendon in 1940, at the age of 42. According to his obituary in the Fitchburg Sentinel, his survivors included his wife, five sons and three daughters, and brother Edgar, of Easthampton. He had been living in Winchendon about 11 years, and was employed by the New England Woodenware Co., as a teamster. Frank still spelled his name Charbonneau. I was unable to locate any of his direct descendants.
At the city hall in Easthampton, I found Edgar's death record (this time spelled Charbano). He died in 1959, at the age of 56. According to his obituary, he left his wife Loretta, and two sons, Raymond and Leo. Ten years later, Loretta passed away. I located Leo in Florida, called him, and sent him the photo. Oddly enough, his spells his name Cherbano. The following is my interview with him.
Edited interview with Leo Cherbano (LC), son of Edgar Charbonneau, conducted by Joe Manning (JM), on January 17, 2009.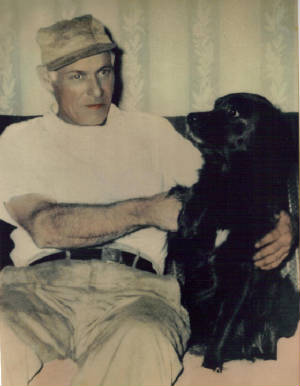 JM: What did you think of the photo of your father?
LC: I was amazed. I never suspected he would be in the Library of Congress.
JM: Did it look like him?
LC: Yes, it did. But I didn't recognize his brother. I'm not even sure I knew he had a brother.
JM: Did you know that he had lived in Winchendon?
LC: He talked about Winchendon a couple of times, but I don't think I was ever sure about whether he actually lived there.
JM: What do you think about the fact that your father was working in a mill at the age of eight?
DC: He must have had a very rough life if he had to work to help provide for the family.
JM: Did he ever mention that he had to work as a child?
LC: I remember him saying that he had worked all his life. It didn't seem like he had much schooling. There was lot of child labor going on back then. That wasn't a good thing, I guess.
JM: When were you born?
LC: 1939.
JM: Where was you family living then?
LC: Easthampton.
JM: When you were growing up, what did your father do for a living?
LC: He was what they called a junk dealer. He used to buy stuff from people and then resell it. He was a handy man for a summer camp at Pine Island Lake (Westhampton, Mass). And he also ran a candy store, which was right next to the Majestic Theater.
JM: Did he own the candy store?
LC: He owned the business, but he rented the storefront. The only property he owned was two streets over from where the store was, a small barn-like structure between two houses. That's where he stored the salvage he bought. He eventually lost it because he defaulted on the loan. He also had a small store and restaurant about 30 miles from Easthampton. There were a lot of lakes there. I don't remember what it was called or exactly where it was.
JM: What were your parents like?
LC: My father was very honest. He was not demanding, but he liked to have things done right. He was a pretty good businessman, but he cared for his family first. My mother was a very nice person, and very easygoing.
JM: Did your mother work when you were growing up?
LC: Most of the time she was home, but she worked some at the store in Easthampton. We all worked at the other store near the lakes.
JM: Did you know that your ancestors lived in New Hampshire in the late 1800s, and eventually made it down to Winchendon around 1900?
LC: No, I never knew that. I never even knew my father's parents.
JM: Did your father have anything that he really loved to do when he wasn't working?
LC: He didn't do many outside activities. He had to work a lot just to keep the family going.
JM: Did you go to college?
LC: I got 12 credit hours of college when I was in the military. I was in the Army 22 years. I started as a mechanic, repairing tanks. I was in Korea twice, Germany twice, and in France. I got out in 1978. Then I worked 20 years as a senior security officer at Parrish Medical Center, in Titusville, Florida. I retired in 1999.
JM: Your family's name was originally spelled Charbonneau. How did your name wind up being spelled Cherbano?
LC: I don't know for sure. I guess maybe it was just too long to spell. Someone along the way in my family must have shortened it. But my brother and I put Charbonneau on my parents' gravestone. In fact, my brother still spells his name that way.
JM: Do you have any photos of your father?
LC: I have a few, but you know, he never liked to have his picture taken.
JM: Is there anything else you want to tell me about your father?
LC: He was a great man. I miss him. I used to help him with his scrap business. I enjoyed that. I miss having him to talk to. He didn't talk too much, but he would give you direct answers. He didn't beat around the bush. If he had something to say, he was going to say it. I'm glad I'm like him in lots of ways. I like to do things right the first time. He was a pretty decent mechanic. I picked a lot of that up from him. I'm also a workaholic. I've worked most of my life, just like him.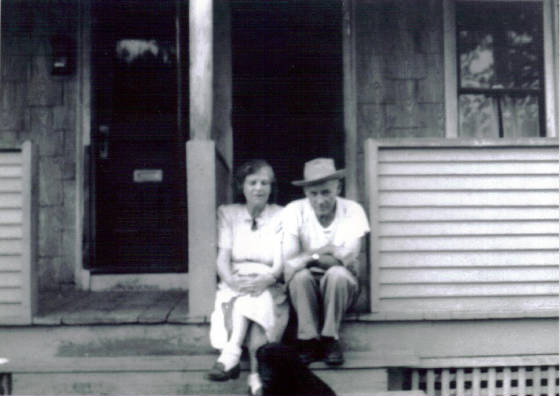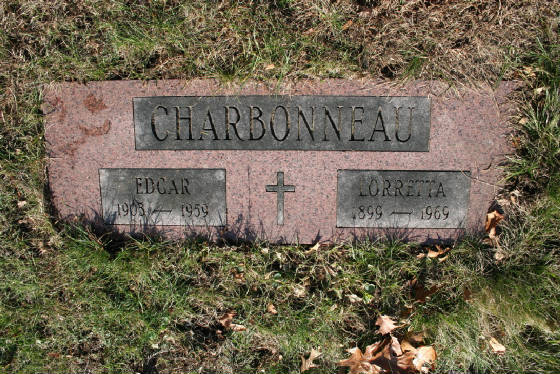 *Story published in 2009.