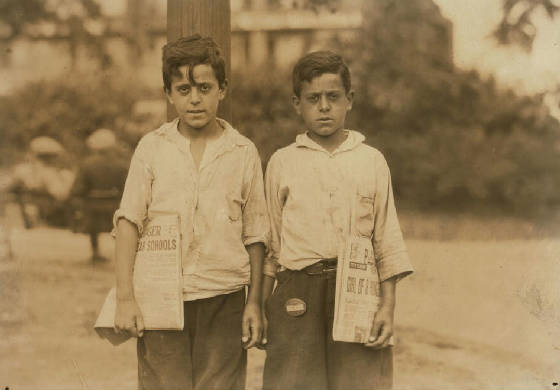 Lewis Hine caption: Eddie and Carmine Zizza, twelve year old twins who make $1.50 a day. They belong to a family of 13 children many of them newsboys, August 1st, 1924. Location: Newark, New Jersey.
"He worked for the A & P food market for over 30 years. He was a vegetable man. They used to call him 'The Blade,' because he carried a vegetable knife in his back pocket." -Sandra Nalepka, daughter of Carmine Zizza
"He was a little dynamite Italian gambler. He was quite a dude. He had such a personality. People loved him." -Edna Robbins, daughter of Edward Zizza
New Castle News (PA) on July 29, 1924, three days before the boys were photographed.
A New York Times article about newsboys, published October 13, 1929, more than five years after the above photograph, explained that on Saturday nights, it was common to see many boys selling as late (or as early) as 2:00 AM. According to the Children's Bureau, some of these boys were as young as four or five and were on the streets as late as 11:00 PM. The article goes on to say that teachers complained that newsboys often fell asleep in class. Medical experts testified that fourteen percent of the newsboys examined in several cities had heart disease, a proportion three times greater than similar groups of children. The newsboys also disproportionately suffered from other medical problems. The experts attributed this in part to irregularity of meals, since the boys are often worked during family meal times.
On May 19, 1902, Raffaela Zizza, about 26 years old, stepped off a ship called the Aller, which had sailed from Italy to Ellis Island. A native of Ariano, Mr. Zizza was headed to Newark, New Jersey, where his brother Nicola (later called Nicholas) lived. No more than several years after, he married Gabriella (later called Bertha), who had come to the US in 1899. In 1905, they had their first child, Nicholas. They were to have 12 more, the last, Ralph, born in 1921. Among them were twin boys, Carmine and Edward, born on June 7, 1911.
According to his 1918 WWI draft registration, Mr. Zizza was a laborer for Newark Transfer, a railroad that connected New York City to northern New Jersey, including the city of Newark. Sometime between 1921 and 1930, he passed away, because in the 1930 census, wife Bertha is listed as a widow. She was living in a house at 51 North Sixth Street, with 12 of her children still at home, including Carmine, who worked at a bottling plant, and Edward, who was a meter tester.
Six years earlier, Lewis Hine had traveled to Newark, where he had previously taken pictures in 1909, 1912 and 1923, mostly of boys engaged in various street trades. Almost all of Hine's child labor work was done between 1908 and 1917, but in 1924, the National Child Labor Committee asked him to check up once again on the newsboy situation. By that time, child labor had declined substantially in factories and coal mines, but not among newsboys. It was a hotly debated issue in large cities such as New York and Newark, and Hine wanted to show once again that the problem had not gone away. He found the Zizza twins selling the Star-Ledger, on Friday, August 1.
Carmine (later called Carmen) Zizza was born on June 7, 1910, according to Social Security records, but the family claims it was 1911. He married Jennie Russo in 1938. They had four children. Carmen died November 2, 1991, at the age of 80. Jennie died in 1995. Edward Zizza was born the same date. He married Anna Elizabeth Lisanti in 1934. He died on January 28, 1945, at the age of 33. Anna married two more times, and passed away in 2000, at the age of 86.
I found Carmine's death record and obituary, which connected me to his daughter, Sandra Nalepka. She put me in touch with Edward's daughter, Edna Robbins. Both live in New Jersey.
Edited interview with Sandra Nalepka (SN), daughter of Carmen Zizza. Conducted by Joe Manning (JM) on January 23, 2011. Transcribed by Celeste Ramsey and edited by Manning.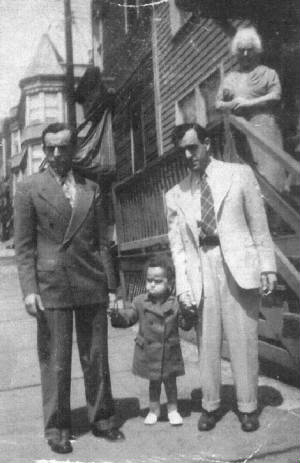 JM: What did you think of the photo of your father and uncle?
SN: I thought it was great. It was great to see my dad so young. I've never seen him that young before. He looks just like my brother.
JM: When were you born?
SN: In 1945.
JM: What did you think about the fact that he was selling newspapers at that time?
SN: Well, I knew he had a hard life, according to what his mother told me.
JM: I found him in the 1930 census, and he's living with his mother, Bertha, who was a widow.
SN: Right. Her real name was Gabriella.
JM: Do you know when you're grandfather died?
SN: No, I don't. He was pretty young though. His mother was left with 13 children when he died.
JM: In the 1930 census, there was Nicholas, Anna, Thomas, Bertha, Edward, Carmen, Rose, Josephine, Emily, Lucy, Pauline, and Ralph.
SN: There was also Margaret. I think she was married by that time.
JM: Was his name Carmen or Carmine?
SN: He was Carmine when he was baptized, but he always went by Carmen.
JM: What was your mother's name?
SN: Jennie. My parents married in 1938.
JM: Where were your parents living when you were born?
SN: Steven Crane Village, a housing project in Newark.
JM: Where did your father live as a child?
SN: He lived on North Sixth Street. That where my grandma's house was. She was still living there when I was growing up.
JM: What kind of a house was it, and what part of Newark was it in?
SN: It was an older house, in a nice section near Sacred Heart Cathedral. It had a backyard. My grandmother owned it.
JM: Did your father have a nickname?
SN: Yes. He worked for the A & P food market for over 30 years. He was a vegetable man. They used to call him 'The Blade,' because he carried a vegetable knife in his back pocket. He was also known as Pops.
JM: When did you leave Newark?
SN: In 1956. I was 11. We bought a house in Parlin, New Jersey, which is part of Sayreville. It was a seven-room ranch, in a brand new development. It only cost $13,000.
JM: Did your father have any other job besides the one at A & P?
SN: After my father retired, he and my husband became co-owners of a sporting goods store, which my husband still owns. It's called the Millstone Sport Shop. My husband is a hunter and a fisherman. It was his dream to own a sports store. He wanted to get out of working for Coca-Cola. So my father helped him get started. My husband still worked at Coca-Cola, just for the benefits, because we were a young family. My dad ran the store during the day, until my husband came home from work. He worked at the store nights and weekends.
JM: Did your father enjoy working at the store?
SN: Yes. He met a lot of people. But he was never a hunter or a fisherman.
JM: How many years did your father work at the sports shop?
SN: About 10 years.
JM: What did he do after that?
SN: He kept busy taking care of his grandkids. He spent a lot of time with them.
JM: When you were growing up, what kinds of things did you like to do with your father?
SN: My dad used to take us up to Lake Hopatcong for family picnics. And we used to go down to the shore.
JM: Did your father speak Italian?
SN: Yes, but not to me. I never spoke Italian. My grandfather — my mother's father — lived with us, and he used to get mad when my father spoke Italian. He would say, 'You're in America now.'
JM: Did your father have any hobbies or things that he liked to do when he wasn't working?
SN: He loved to garden. He loved to grow flowers and vegetables. He also loved to gamble. He liked the horse races at Monmouth Park. And my mother did, too. When the casinos came to Atlantic City, they used to take day trips there. They went to Las Vegas about three times.
JM: How many children did your parents have?
SN: They had three girls and a boy.
JM: How many are still living?
SN: All of us. (Son Ralph died several months after this interview).
JM: Have they all seen the picture?
SN: Yes. And my son put it on Facebook. And the strangest thing; my youngest grandson is learning about labor laws in his sixth grade class. So I gave him the picture of his great-grandfather.
JM: In the 1930 census, your father was listed as working as a bottler at a mineral water company. Did you know that?
SN: No, but I know he worked for the CCC (Civilian Conservation Corps).
JM: What did your Uncle Edward do?
SN: I never knew him. He died in 1945. All I know is that he worked for Coca-Cola. When I called his daughter Edna about the picture, she got so excited. Then she found it on the Internet and started crying, but she was happy.
JM: How far did your father get in school?
SN: I am not sure, but he was smart. He could have been a mathematician. My mother was real smart, too. They made sure all of us kids graduated from high school.
JM: Did you have a career?
SN: I worked for 10 years as a clerk in a department store. Now I work for a book publishing house.
JM: When did your father die?
SN: In 1991. He retired when he was about 65, and lived to be 80. My mother died four years later. They were married 53 years. I loved my dad, and my mother was tops. She had a lot of influence on my father. She never gave up on him. He liked to gamble, so much sometimes that he would gamble away the milk money. But she finally straightened him out. He was a kind, loving, gentle man. He lived for his children. He was born poor, he died poor, but he always gave. If you were a stranger on the street and wanted the shirt off my father's back, he would give it to you.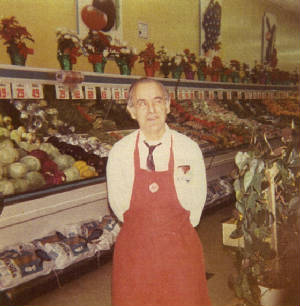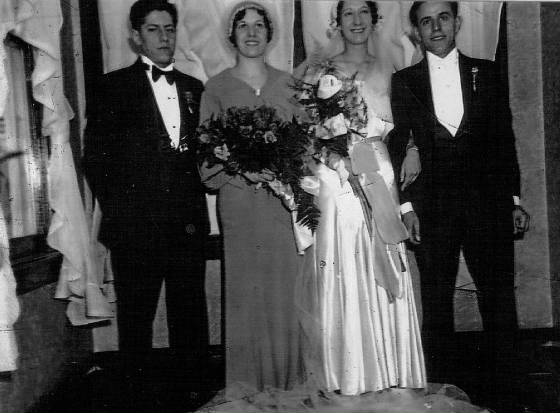 Edited interview with Edna Robbins (ER), daughter of Edward Zizza. Interview conducted by Joe Manning (JM) on March 4, 2011.

JM: What did you think of the picture?
ER: I recognized his big eyes right away. I was absolutely dumbfounded and thrilled. I just started crying. It hit me right in the heart to see these two little boys having to work to support their family. He was one of 13 children. The picture touched me tremendously. I can't tell you what it meant to me. He died of pancreatic cancer in 1945, when I was 10 years old. He was only 33. They thought he had appendicitis, but he died in the hospital two days after he was admitted. I really mourned him for a long, long time. I always thought I looked like my mother, but after seeing the picture, I think I look more like my father.
JM: Did he ever mention that he worked as a newsboy?
ER: Not that I remember.
JM: How many other children did your parents have?
ER: Just a daughter that they lost a year before my father died. She was only 18 months old.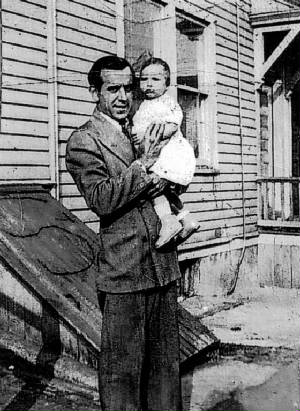 JM: How did your mother get by after your father died?
ER: She was only 30 years old then. She was working for Westinghouse at the time, in Bloomfield (New Jersey), where we were living. She continued working till she retired. She remarried when I was 15 years old.
JM: What did you do when you grew up?
ER: I didn't finish college. I got married at age 20, had three children by the time I was 26, and divorced at the age of 44. I worked with retarded children when I first started working, and then I worked for McDonnell-Douglas, and then I worked for a hospital. I was an administrative assistant.
JM: Did you live in Newark when you were a child?
ER: Yes. We lived in one of those three-story blocks. It was a small apartment on the second or third floor. And then we moved to Vailsburg, which is a neighborhood in Newark. The apartment was on the first floor. Then we moved to Bloomfield.
JM: Did you know both of your father's parents?
ER: I knew his mother. My father was young when his father died. His mother lived for a long time after my father died.
JM: What do you remember about your father?
ER: He was a little dynamite Italian gambler. He had a gambling problem. He worked for Coca Cola. He was quite a dude. He had such a personality. People loved him. He drove a truck, and then they had to put him in the factory because he was a bad boy when he was driving the truck. When he gambled and lost money, my mother had to take the brunt of it. She had to pay the shylocks (loan sharks). That's the way it was back then. You couldn't gamble without shylock money. When he won, it was wonderful. We'd have the greatest time in the world. But most of the time, you lose.
My parents loved to go to the theater. We'd go into New York City to see the shows. Olsen and Johnson were two comedians that performed at Radio City Music Hall. We went to see them, and they asked for a volunteer to come on stage, and guess who went? My father, of course. They loved him because he fooled around with them and really made their day.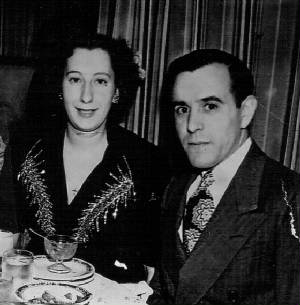 ER: He loved to clean the house. He always had a dish towel over his shoulder. I still do that when I clean and cook. That's an Italian thing. I don't ever recall him going to church, but my mother did. He visited his mother every Sunday.
The last remembrance I have of my father was on New Year's Eve in 1944. We were at my aunt's house. My father had finally given up gambling. He was on the road to recovery. They had bought a nice Buick. We were sitting at the bar in my aunt's basement, the three of us, and we were so happy. We knew that everything was going to be great from then on. He died 29 days later.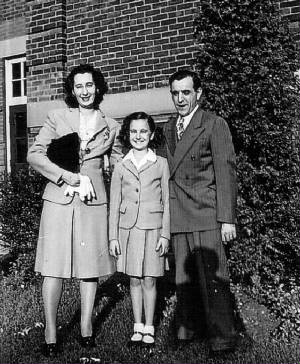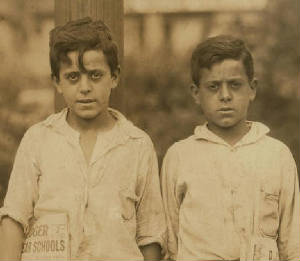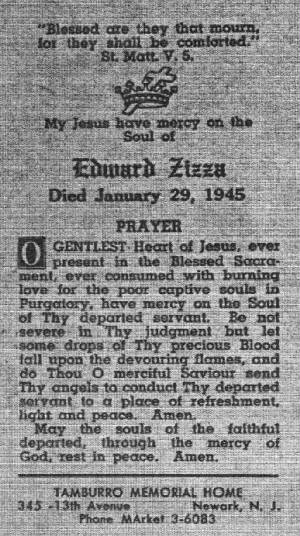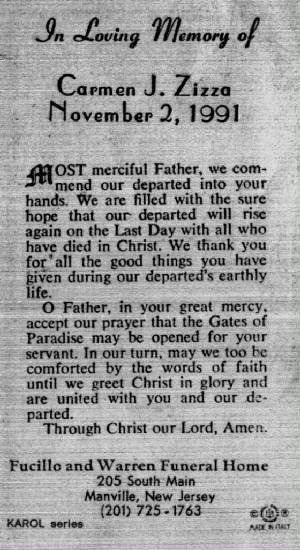 *Story published in 2011.