Lewis Hine caption: Danny Mercurio, newsboy, 150 Scholes Alley, Washington, DC, April 1912.
In mid-April of 1912, the National Child Labor Committee sent Lewis Hine to Washington, DC, to photograph boys and girls engaged in the street trades, most of them newsboys as young as five years old. While he was there, the Titanic sank (April 14), resulting in a sudden increase in the number of newsies hawking "extras," sometimes several times a day and late at night. Many of the boys were Jewish and Italian immigrants who stood on street corners near the Capitol, the White House, and other government buildings. Dante Mercurio was one of those boys, and the above picture of him has become one of Hine's best-loved photographs. As the articles below show, there was considerable discussion about child labor in the District of Columbia at that time, which would have been the reason that Hine was sent there.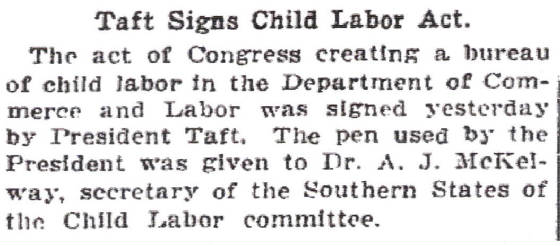 The Children's Bureau was formally created in 1912 when President William Howard Taft signed into law a bill creating the new federal government organization. The stated purpose of the new Bureau was to investigate and report "upon all matters pertaining to the welfare of children and child life among all classes of our people."
The signing of this law culminated a grass-roots process started in 1903 by two early social reformers, Lillian Wald, of New York's Henry Street Settlement House, and Florence Kelly, of the National Consumer's League. Along the way, their efforts picked up support from President Theodore Roosevelt, among other prominent supporters, before finally becoming law nine years after they launched the initiative.
After several false starts in Congress, the successful bill was sponsored by Senator William E. Borah. The bill authorized the creation of a 16-person organization, with a first-year budget of $25,640. Initially part of the Department of Commerce, the Children's Bureau was transferred to the Department of Labor in 1913. The law also called for the Bureau to be headed by a Chief, who would be a Presidential appointee, subject to Senate confirmation. The first Chief of the Children's Bureau was Julia Lathrop. -courtesy of Social Security Administration website
**************************
The regulation of child labor in the District of Columbia along lines so strict that it practically would stop children under 14 years of age from engaging in any kind of work for pay, and materially restrict the employments to which older children would be eligible, was recommended to Congress yesterday in a bill introduced in the House by Representative James M. Cox, of Ohio. Heavy fines and jail sentences are prescribed for violations. Children under 14 years cannot be employed to do work of any kind during school hours.
The bill prohibits any boy under 12 years of age or any girl under 14 years of age from selling newspapers in the streets, or any other trade or occupation performed in the street. The bill prohibits the sale of newspapers by children before 6 o'clock in the morning.
Heavy penalties, to be inflicted by the juvenile court, are provided also for these violations. The bill was referred to the District of Columbia committee. -excerpted from Washington Post article published on April 13, 1912, two days after Dante was photographed.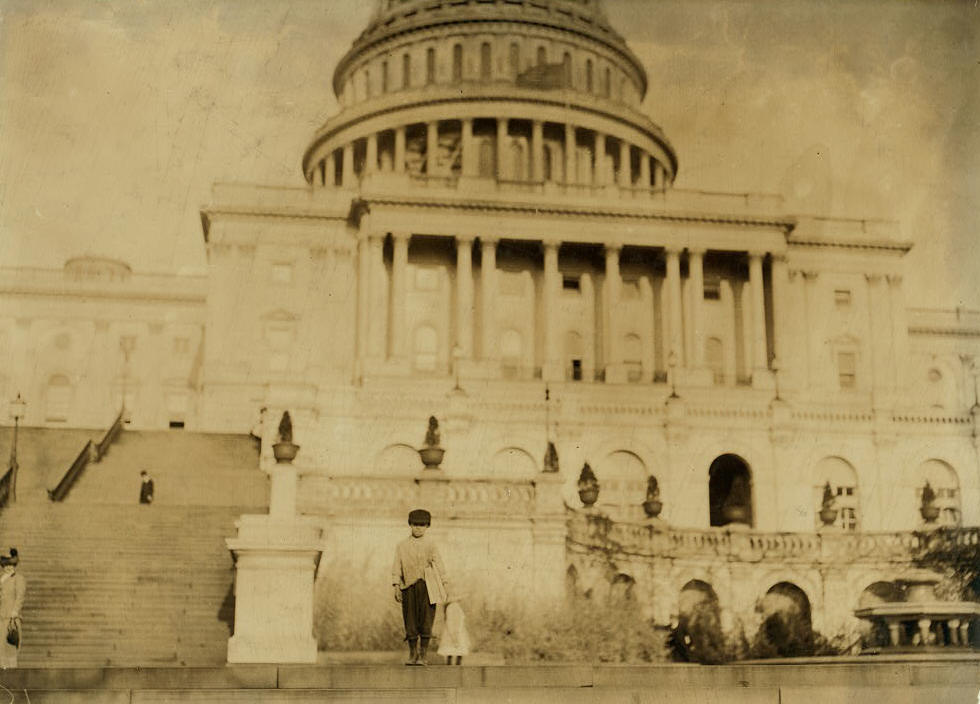 Lewis Hine caption: Dan Mercurio, 9 yrs. old newsie, a chronic truant, selling on Capitol grounds, said he made 8 cents to-day. Lives 150 Schottes Alley. Began at 7 yrs. Location: Washington D.C., April 1912.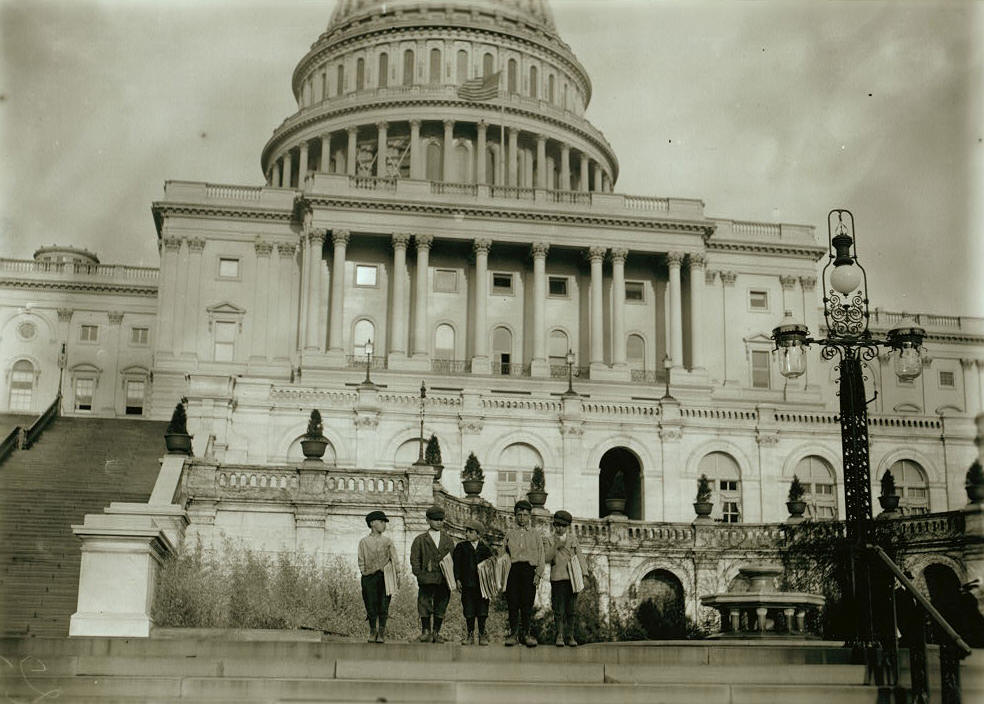 Lewis Hine caption: Group of newsies selling on Capitol steps, April 11, 1912. Tony Passaro, (8 yrs. old). Dan Mercurio, (9 yrs. old). Joseph Tucci (10 years old). Peter Peper (10 yrs. old). John Carlino (11 yrs. old). Location: Washington D.C.,April 11, 1912. (Note: Hine's caption seems to indicate that Dante is the second boy from the left. That is incorrect. He is on the far left).
Dante G. Mercurio was born in Washington on November 7, 1903, so he was only eight years old when he was photographed. He was the fourth of ten children born to Antonio and Clementina Mercurio, natives of Italy who came to the US about 1889. Antonio (Tony) was a tailor, and had his own shop in downtown Washington. When Hine photographed Dante, his family was living at 150 Schott's Alley, which was a neighborhood of tenements with mostly Italian-American residents. The location developed a bad reputation for having substandard housing. Living conditions worsened over the years, and received considerable attention when it was demolished to make way for the Senate Office Building.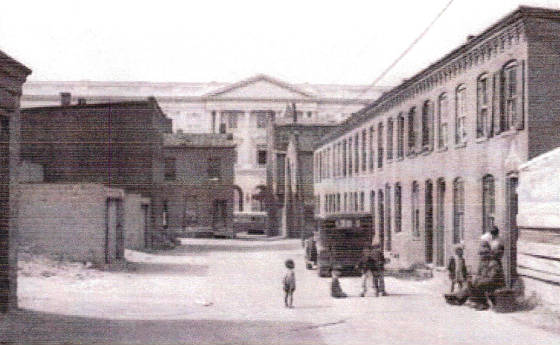 In the 1920 census, the family's address was 312 Fifth St, NE, now an upscale neighborhood. Dante, 16 years old, was listed as a chauffeur. He married Elena M. Spigone in 1929. They had one child, Dante A. Mercurio. In the 1930 census, their address was given as 1114 H. St, NE, which is now the site of the Hospitality Community Federal Credit Union. Dante was a self-employed painting contractor.
Based on several newspaper articles in the 1920s and early 1930s, Dante was involved in some illegal gambling and Prohibition-related activities, often using aliases such as Longshot Danny and Danny the Wop. But the violations appeared to be of little consequence. He continued to work as a painter until he passed away on March 13, 1968, at the age of 64. At the time, he was living in Chevy Chase, Maryland, just north of the District line. He was survived by his wife, son, and two grandchildren.
I located one of the grandchildren and sent him the photographs. He was both amazed and amused by them. After a long and detailed interview with him, his family urged him to ask that I not publish it. I was disappointed, especially since he expressed great affection for his grandfather. He told me to say simply, "He was a very good man that loved his family and was always easy going."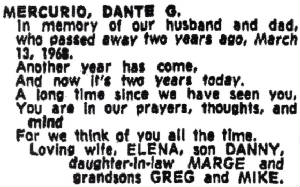 *Story published in 2011.