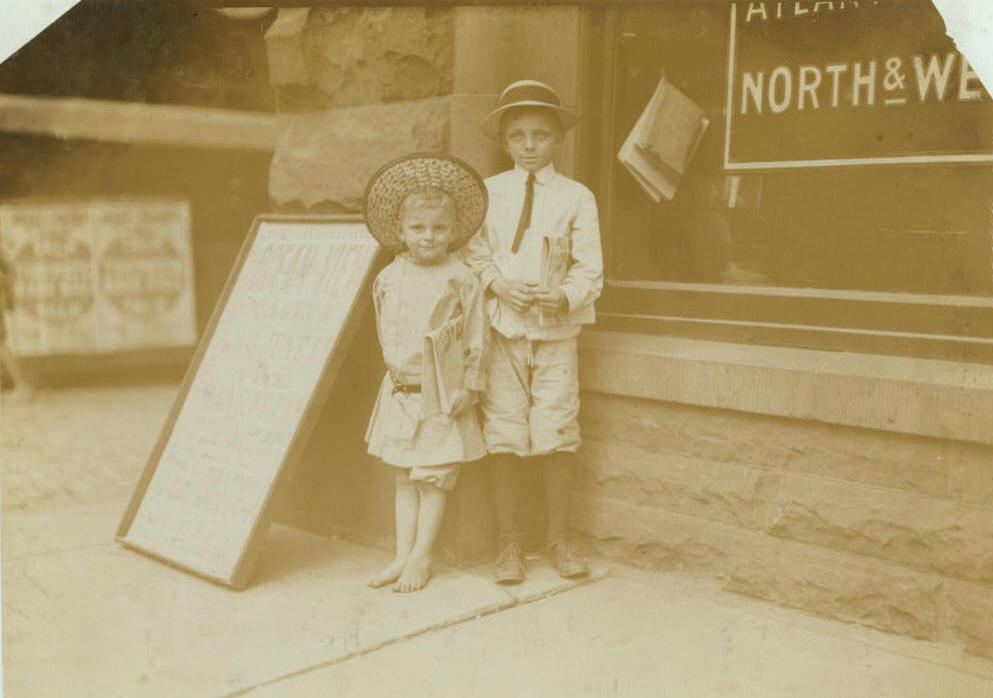 Lewis Hine caption: "Teaching the young idea How to Sell." Gus Hodges, age 11, instructing his brother Julius, age 5. I found Gus selling as late as 9:00 P.M., and he said that he had made over one dollar a day. Julius and another brother, 9 years old, had made 25 cents that day. Norfolk, Virginia, June 1911.
"You never see the wan, white faces of little factory children, or the shrewd hard, ferret face of the little newsboy on the street without thanking God that your own little ones are still safe in the home nest, and that you can, at least, give them the chance in life that these stunted, overworked little drudges, who are blighted in their youth, can never know. If you and all the other mothers had votes there would be no such thing as child labor left to disgrace humanity." -newspaper columnist Dorothy Dix, July 26, 1910, Post-Standard, Syracuse, New York
By the time that Lewis Hine visited Norfolk, he had taken more than 2,000 photographs of child laborers over a three-year period. He would go on to take another 3,000. He had an uncanny ability to portray his subjects with dignity, while still using them to make a convincing case for the abolition of child labor. And he had a sharp eye for a boy or girl that would command our immediate attention. No better example can be found than this picture of the Hodges brothers. Their round, angelic faces, haunting eyes, and amusing hats make them one of Hine's most captivating subjects.
Over several months, using mostly online census records, birth, marriage and death records, city directories and newspaper archives, I found a surprising amount of details about the lives of these boys. It is sad to look at them now and realize that they had a very rough future awaiting them. And it is disappointing that I was able to talk to only two descendants, neither of whom could provide much information.
When Julius and Gus were photographed in front of what appears to be a train station for the Atlantic Coast Line Railroad, they were living at 65 Outten Street, in the Huntersville neighborhood of Norfolk. According to several sources, the neighborhood consisted of small frame houses mostly clustered in the area of Church Street. After many years of decline in the mid-20th century, parts of the neighborhood underwent a major redevelopment, including the street that the Hodges family lived on.
The brothers were living with four siblings and their parents, Fernando Augustus Hodges (called Frank or Gus) and Addie Lavina (Winstead) Hodges. They had married on December 19, 1894, in Beaufort County, North Carolina, where Mr. Hodges was a farmer. About 1909, the family moved to Norfolk, where Mr. Hodges worked as a carpenter. They were to have 11 children, but the first three died in infancy.
Gus, the second child to survive infancy, was born Fernando Augustus Hodges Jr., in North Carolina, on October 19, 1899. He apparently was called Gus as a child, but later went by Frank (I will refer to him as Frank from this point on). Julius was born Julius Debs Hodges, also in North Carolina. His date of birth is uncertain, but after looking at a variety of conflicting records, I believe it was September 2, 1905.
Mr. Hodges, father of the boys, must have died about 1917, because in the 1918 Norfolk directory, he is not listed, but wife Addie is listed as a widow. At that time, she was living with her children at 626 Botetourt Street. Son Frank worked as a soda clerk. In September of that year, Frank registered for the draft and stated that he was working as a clerk in Washington, DC.
By 1920, Addie had moved to Goldsboro, North Carolina, where she lived with her married daughter, Lila, and four more of her children, including Frank, who worked as a machinist. Julius was not living with them. He enlisted in the Navy on November 4, 1920, at the age of 15, obviously lying about his age. He was discharged, at his request, on February 9, 1921, with no reason given in the record.
In 1923, Addie was living in Tampa, Florida, with Frank, who had recently married Mary Jane Wasdin, of Tampa. Frank was working as a baker for the Lee Baking Company, which had several bakeries in the area. A year later, Julius was also living in Tampa, and also worked as a baker. He was married to Ruby Evelyn (Dansby). He and Ruby divorced soon after, but remarried in 1928. That year, Addie was back in Norfolk, living with several of her children. Frank and Mary were also living in Norfolk, but at a different address. He was still a baker.
In 1930, Julius and Ruby were living in Newport News, Virginia, about 25 miles north of Norfolk, but later in the year, they moved to Norfolk. Julius was still a baker. Addie and Frank lived nearby, Addie with four of her children, and Frank and Mary, now with three children. Frank was driving a cab.
In 1933, Julius was working as a baker in Norfolk, for Thompson's Restaurant, a national chain with more than 40 locations. They were famous for their store-baked rye bread. That year, they had their first and only child, a daughter. Frank was still in Norfolk, and was working as a baker again. Addie was living in Washington, DC, where she had moved in 1932. Her youngest son, Robert, was living with her.
But then life took an unfortunate turn for Frank and Julius.
The following are excerpts from an article about Frank, published in the Washington Post on October 13, 1934 (when Frank was six days short of 35 years old). Reprinted courtesy of the Washington Post.
Frank Hodges lives in a world of shadows, a world of black and grays, a world of night everlasting. Frank Hodges is not blind. Neither does he see. He only feels varying intensities of light, form, size, texture. All day he stands just inside the door of the Federal Emergency Relief Administration Building on New York Avenue beside a line of sandwiches, fruit, cigars, cigarettes, and candy, which he sells. He's been standing there since February, when an inherent eye weakness dimmed his sight, when sunlight became gray and dawn night.
At first he sold only papers and magazines until he could no longer bear bringing home so little money to a wife and five children who live with him and his mother, Addie L. Hodges, at 313 K Street northeast. So he stocked up on things to eat and smoke as well as things to read. And now the pennies have become dollars — a few of them — and Frank looks to the day when:
"I can get a place I can call my own again. Oh, they do everything they can to make me comfortable. They've been fine. But a fellow does like to feel his home is his own."
For 13 years Frank did own a home in Norfolk. He was a baker, a pastry cook, a very exacting trade, he'll tell you, where a gram of any ingredient too much or too little marked the difference between success and failure, where a fleck of eggshell made you a bum. Then 14 months ago the light grew dim. Frank tried to read and the type blurred into thin lines. He tried taking the family for drives in the country and the roads grew narrow and were covered with mist. He kept at his trade — bending low over mixing bowls, peering close at scales — until he feared his eyes would betray his art.
"I had a reputation to maintain, so I quit while I still had it," he said.
Slowly the curtain rolled between Frank and the world in ever thickening folds. Late afternoon changed to dusk, the days shortened until nothing was left but shadows. But all that has passed. Frank almost chirps when he talks. He laughs. He jokes. Shadows that are his customers run in and out of the vestibule, buying candy, cigarettes and sandwiches. Frank hands them what they want, or they take it when he is busy.
From a multi-pocketed apron he makes change —almost as fast as a cash register" — distinguishing dimes, nickels and quarters by the way they feel. His wares are arranged in rows on a shelf. He knows each brand of candy or cigarettes by its position there. Sometimes one of his brothers comes down and sees "that I haven't got the magazines and newspapers upside down or something like that."
Frank thinks highly of humanity's integrity. He has no way of determining the denomination of paper money. Yet when his day's receipts are counted out at home each night, everything balances.
**************************
In 1935, Frank and Mary were still living in Washington with Addie, who was working as a seamstress. Frank's occupation was not given. In 1936, still living together, Addie was working for Goodwill Industries, and Frank was a confectioner, which means he would have been selling candy and other goods, probably at his stand inside the government building. In 1938, Frank was doing the same work in Washington, but he was no longer was living with his mother, who lived in an apartment nearby. That was the last time Addie appeared in available records online.
In February of that same year, Julius and Ruby divorced (for the second time) in Tampa, where they had moved from Norfolk sometime after 1933. There was a contentious custody battle.
The following are excerpts from several articles about Julius, published in various newspapers between April and May of 1939.
(April 21): "Governor Holt (West Virginia) honored an extradition request Friday against Julius Debs Hodges for his return to Florida on charges of kidnapping his 5-year-old daughter. Hodges is being held in jail at Grafton, where he was removed from a train en route from Washington. Papers sent here by Governor Cone of Florida charged that Hodges took the child from the home of the maternal grandmother in Hillsborough County, Fla. Hodges and his wife had been divorced and custody of the child was given to the mother."
(April 28): "Circuit Judge Herbert W. Dent yesterday denied a writ of habeas corpus to Julius Debs Hodges, who is fighting extradition in Florida, where he is charged with abducting his 5-year-old daughter. Before the verdict was announced, the child who is the central figure in the case, was reunited with her mother. Hodges was remanded to jail to await developments."
(May 20): "Julius Debs Hodges, 34-year-old baker, charged with kidnapping his daughter, lost in circuit court today an attempt to set aside the February, 1938, divorce decree awarding custody of the child to the mother, Mrs. Ruby Hodges of Tampa."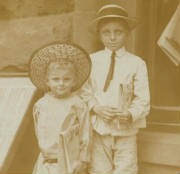 Later that year (1939), 34-year-old Julius married 19-year-old Doris Irene Hayes in Tampa, and they moved to Washington. On October 12, a son was born to them. Julius worked as a clothing salesman in a department store. He and Doris and their son were still living in Washington in 1940. Also in 1940, Julius's former wife Ruby, and their daughter were living with Ruby's mother in Tampa, where Ruby worked in a cafeteria.
In February 1940, Addie L. Hodges, mother of Frank and Julius, died in Washington, DC, at the age of 65, according to her death announcement published in the Washington Post on February 18. There was no obituary. Frank and his wife and children did not appear in the 1940 census, but in 1942, he and Mary were divorced in Hardee County, Florida, which is about 60 miles southeast of Tampa. In 1944, their son, Frank Augustus Jr., married in Washington, DC.
Two years later, Julius and second wife Doris divorced in Palm Beach County, Florida. That same year, Doris remarried. In 1945, Julius worked as a baker and second cook for the Crawford W. Long, one of the Liberty Ships. According to US passenger lists posted online, his ship sailed from Naples to New York City, arriving on February 19, 1945. He was listed as 5′ 6″, 130 pounds. The same year, the son of Julius and his second wife Doris was living in Tampa with Doris and her second husband. Six years later, Doris married a third time. And in 1955, Julius married again, this time to Grace Cox, in Pinellas County, Florida.
Frank's former wife, Mary, married Fred Carl Renckert in Tampa in 1952. Frank and Mary's son Frank died in Virginia in 1959. He was only 35. He had served in the Army and had been awarded the Silver Star, the Bronze Star and the Purple Heart.
In April of 1965, Julius and third wife Grace divorced in Tampa. Three years later, on November 2, 1968, Julius passed way in Union County, Florida. He was 62. Julius was buried in the First Baptist Dover Cemetery in Dover, Florida, in a family plot purchased in 1949 by his first wife Ruby. She died in 2008, at the age of 98, and is buried at the same cemetery. Julius's third wife, Grace, died in Tampa in 1978. She is also buried at the First Baptist Dover Cemetery.
In 1969, William Smith Hodges, one of Frank and Mary's sons, was run over by a car in the Washington, DC suburb of Riverdale, Maryland. He was 44 years old. Mary, still married to Fred Renckert, died in Tampa in 1978.
I could find no records for Frank online after 1942, so I do not know when or where he died, or what happened to the problem with his deteriorating sight. The most likely state he would have died in is Florida, whose death records are online from 1887 through 1998. But he is not listed. The other likely state is Virginia, but their records are closed to non-relatives. He is not listed in the Social Security Death Index, or any other US death records online.
The only living descendants I was able to contact were a granddaughter of Frank's brother Victor, who knew very little about Frank or Julius, but she did send me one photograph of the family; and I talked to Julius's daughter, the one who was the subject of the custody battle. She did not know a lot of information about her father or his family. She finally decided that she did not wish to do a formal interview, and did not want me to quote any of her comments. But both descendants were surprised and pleased to see the Lewis Hine photo. I also located Julius's son by his second marriage. He lives in Tampa. I could not find a working phone number, so I mailed him the photo of his father. He did not respond.
Lewis Hine photographed Frank and Julius because he thought they were compelling examples of child labor, a practice he wanted to eradicate. But he also believed that their lives mattered. Ten decades later, they still matter, and the boys deserve to be remembered.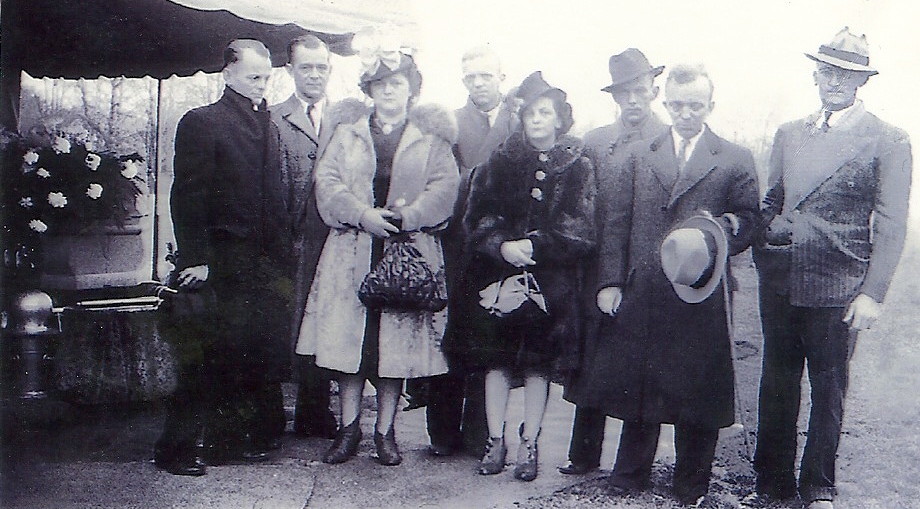 According to the granddaughter of Frank's brother Victor, who sent me this photo, written on the back was, "Hodges Clan, February 17, 1940." No one was identified, nor was the location. But the granddaughter was able to identify two of the people: Her grandfather Victor (middle of back row, with no hat on) and Frank's brother Warren (back row, right, with hat on). The picture was obviously taken in the Washington area at the funeral of Addie Hodges, mother of the Hodges children, since her death announcement appeared in the Washington Post a day later. At the time, Frank was 40 years old, and Julius was 35. The man second from the right must be Frank, who had been losing his sight, because he has a cane and it looks like his eyes are closed or barely open. The man to the far left appears to be Julius, because he looks younger than Frank, and because he looks so much like Julius in the Hine photo.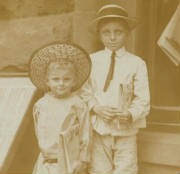 Julius Debs Hodges: 1905 – 1968
Frank Augustus Hodges: 1899 – ?
**************************
In June of 1922, exactly 11 years after Lewis Hine photographed Frank and Julius Hodges, a new child labor law passed by the Virginia General Assembly took effect. Among the provisions of the law was the following, as reported by the Danville Bee (VA):
"Boys 12 years old or over may be employed in street trades (e.g. newsboys) between the hours of 6 a.m. and 7 p.m. in each day that the public schools are not actually in session, provided they secure badges from the certificating officers. The issuance of age certificates or working permits is placed entirely in the hands of the school superintendents, under the supervision of the commissioner of labor."
Following this, for the entire months of July and August, the Danville Bee, which apparently opposed the law, placed this advertisement in their newspaper every day.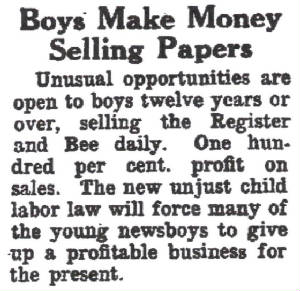 The Bee also published this advertisement on July 10.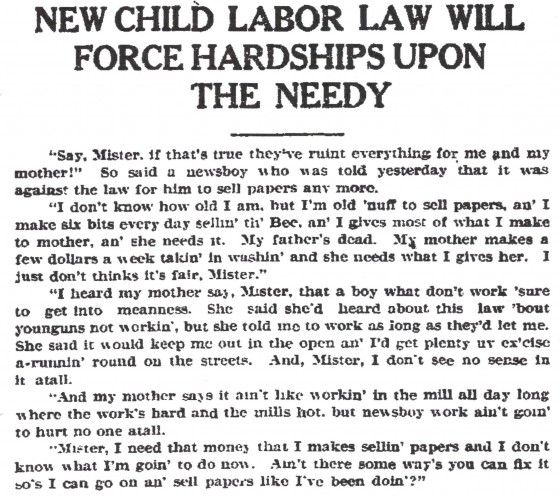 And finally, this article appeared in the Bee on July 15.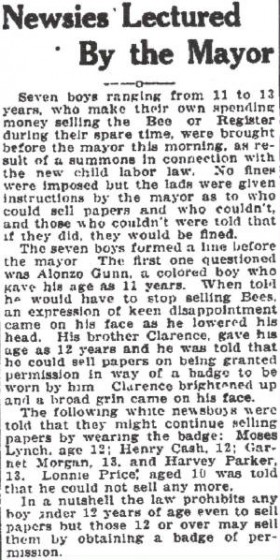 *Story published in 2013.