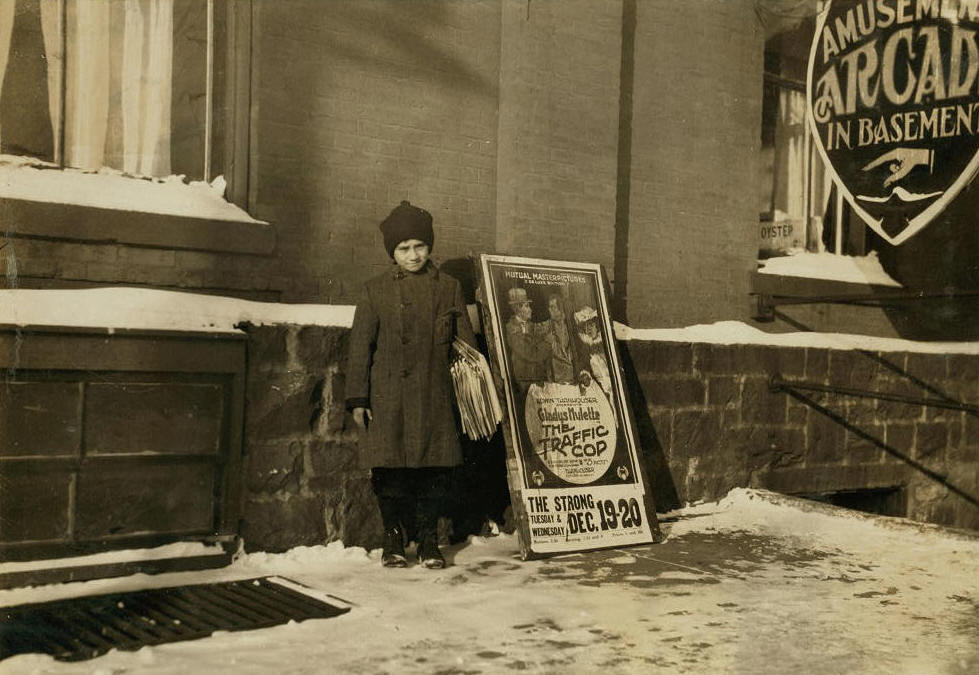 Lewis Hine caption: Morris Levine, 212 Park Street. 11 years old and sells papers every day–been selling five years. Makes 50 cents Sundays and 30 cents other days. Location: Burlington, Vermont, December 17, 1916.
"He was always up, always happy. He loved to stop and talk to people. He was one of those people that talked to everyone on the elevator." -Theresa Young, daughter of Morris Levine
"I thought the picture was marvelous. The first thing that came to me was, 'Isn't it a shame he didn't know about it?'" -Janet Price, daughter of Morris Levine
About 40 days before Lewis Hine pointed his camera at Morris Levine, a number of newspapers erroneously reported that President Woodrow Wilson had been narrowly defeated for reelection by Charles Evans Hughes. Morris might have been one of the many newsboys who hawked that premature story on city streets, only to hawk the retraction a day later.
On this day, Sunday, December 17, probably early morning, Levine's prospective customers might have been less interested in politics and more interested in a review of the successes and failures of the University of Vermont football season. According to a New York Times article published three months earlier: "The University of Vermont is to make strenuous efforts to come to the front in football this year. Increased appropriations have been made by the athletic committee for the establishment of a training camp." They had missed winning the league championship when they lost their final two games.
Some customers might have gone that afternoon to the Strong Theater to see The Traffic Cop. According to several movie websites, it was about Casey, a traffic cop who rescues a wealthy girl when her horse runs away with her in the park. Casey becomes entangled in the girl's attempts to thwart an embezzlement plot against her father's bank. He saves the day and winds up marrying the girl.
Hine was on a rescue mission of his own. Morris told him that he had been peddling newspapers since he was six years old, hardly a surprise to the photographer, who captured the images of hundreds of "newsies," some as young as five.
After finding Morris and his family in the 1920 census, I tracked down the nephew of one of his brothers, who lives in Colchester, just up the road from Burlington. That led me to two of Morris's daughters, one in North Carolina and one in California. Both were surprised and delighted by the Hine photograph. They sent some excellent family photos.
Morris was the third of 12 children born to Louis and Fannie (or Fanny) Lapidow (or Lepedofsky) Levine, both of whom were born in Russia. Immigration records show that on February 1, 1904, Louis and Fannie arrived at Ellis Island in New York on a ship called the St. Louis. They had sailed from Cherbourg, France, with their first child, four-month-old Celia, who had been born in Paris. Undoubtedly, the Jewish family had fled their home country and holed up in France long enough to have their daughter and raise the money for the trip to New York. When they arrived, waiting for them were Harris and Ida Lepedofsky, who appear to have been Fannie's uncle and aunt, who had been in the US since 1887. Fannie was five months pregnant.
The Levines settled in Brooklyn, where Frank was born later that year. Morris was born on September 12, 1905. By the time his brother Hyman was born in September 1907, the family had moved to Burlington. Official records confirm that Fannie's brothers, Sam and Jacob, were already living in Burlington, having settled there in about 1902. There was already a sizable Russian-Jewish population in the city, as well as two synagogues. Hyman played football in the 1920s for the University of Vermont, and would become a successful physician, serving at one point as the head doctor at the UVM hospital.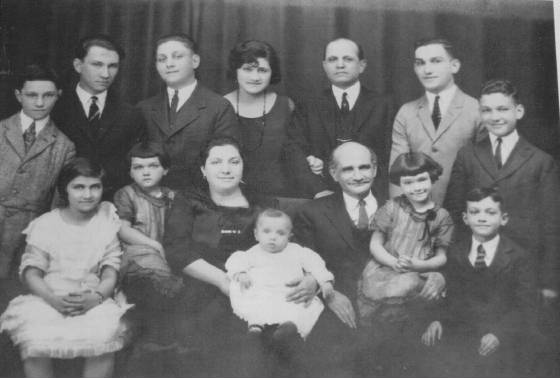 According to the 1910 census, Louis and Fannie owned their home at 212 Park St., and he had a tailor shop at 99 Church St. In the 1920 census, Louis still lived at 212 Park St, and was listed as working as a tailor for Fort Ethan Allen, an Army base in nearby Colchester. According to William Parkinson, of the Fort Ethan Allen Museum, Louis probably worked for the Max Wax Tailor Shop at the base. From 1922 to 1930, Louis was listed in the city directories as the proprietor of the American Dyeing & Cleaning Company at 177 Church St. In 1932, he was working as a tailor at H.C. Humphreys & Son clothing store at 85 Church St., a job he would keep until his retirement. He passed away in 1952, at the age of 75; Fannie passed away in 1959, at the age of 77.
Morris Levine attended Burlington High School, and is listed in the 1922 yearbook. He may have graduated, though one his daughters said he joined the Merchant Marine when he was 16. According to the city directories, he worked (apparently as a bellhop) at the Hotel Vermont in 1926 and 1927, and lived with his parents.
In 1928, he married Kathryn Lucier, of nearby Charlotte, Vermont, who was born to French-Canadian parents. Morris and Kathryn moved to New York City soon after, and later to Long Beach, New York, on Long Island, where Morris worked most of his life as a chef and restaurant owner, before retiring first to Florida, and then to Las Vegas. He passed away in 1996, at the age of 90. Kathryn passed away in 2003, at the age of 93. They had six children.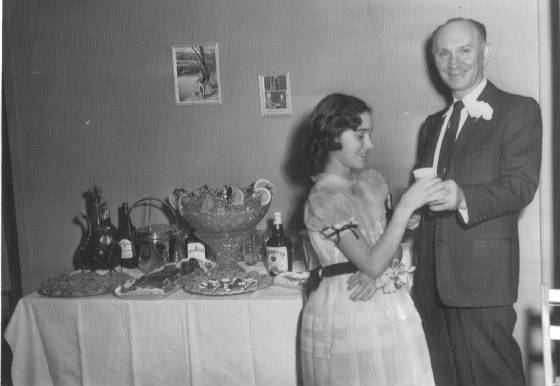 Edited interview with Theresa Young (TY), daughter of Morris Levine. Interview conducted by Joe Manning (JM) on January 16, 2011.

JM: Did you know that your father had been a newsboy at such a young age?
TJ: No. My dad talked about Prohibition and the hard times, but he never talked about being a newsboy.
JM: Lewis Hine was pointing out that your father was too young to be peddling newspapers on the streets of the city.
TJ: He might have enjoyed what he was doing. I've seen those pictures of young children working in the mills under bad conditions, and of course, I'm opposed to that. But in general, having children work and help earn a living; I don't think that is really a bad thing.
JM: The job of newsboys was different then from what it is now. They had to buy the newspapers first, and if they didn't sell most of them, they didn't make any money. There was a lot of fighting for territory. Sometimes the newspaper would publish more than one edition on a given day because of what we now call breaking news, which means that newsboys might have to be out late at night or very early in the morning. They would have been exposed to people who might have tried to take advantage of them. They would have been tempted by unsavory characters to go into the pool halls, where they might be offered alcohol or cigarettes.
TJ: When my daughter was 11, she had a newspaper route. She would do it on her bike, but I would follow her in the car.
JM: When were you born?
TJ: I was born in 1943, in Long Beach, New York, on Long Island. When I was young, my dad was a chef, and one summer, my brother and I worked for him at a camp near Long Beach. It was a mile across the bay, and we would swim all the way across, where we would flip hamburgers and whatever else we had to do. All our friends were at camp, and we were jealous. Reflecting back on it now, that experience taught me the value of hard work and doing a good job.
JM: According to the 1920 census, your father's parents came to the US from Russia in 1903.
TJ: That sounds about right.
JM: And your father was listed as being born in New York. The first child in the family was born in Russia. The next two were born in New York, and the next was born in Vermont. So I guess the family lived for a while in New York, probably New York City, before moving to Vermont.
TJ: At some point, my parents moved back to New York City, and after a few years, moved to Long Beach, where I grew up. I moved to California when I was 19.
JM: In the Burlington city directories in the 1920s, he was listed as working for a hotel.
TJ: He told me he was a bellhop, and also that he was in the Merchant Marine.
JM: When did he get married?
TJ: He married my mother when she was 18, which would have been 1927. Her name was Kathryn Lucier. She was from Vermont. She was Catholic. My father's parents didn't know about the marriage. In fact, my Uncle Dave, my father's brother, told me that my father didn't tell his parents anything about it until they already had five children. They were afraid that his parents wouldn't approve of the marriage because my mother wasn't Jewish. I was the last of the six children they had, three girls and three boys.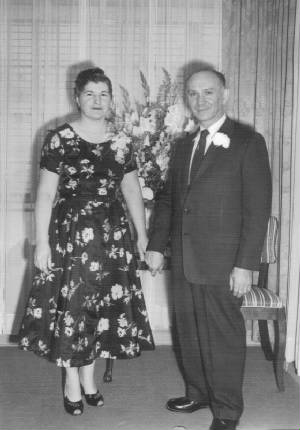 TJ: In Long Beach, my father and his brother, Charles, owned the Penguin, which was a large restaurant; and then they owned a greasy spoon called Jack and Mo's. He was also a chef at a country club. When my father retired, my parents moved to Ft. Lauderdale, and he started working again, at a restaurant. Finally my parents moved to Las Vegas. My two sisters were living there, one of my brothers was in Arizona, and I lived in California. So they were closer to us. My father died in Las Vegas, on June 29, 1996. My mother died in 2003.
JM: Did you see your father a lot in the last years of his life?
TJ: Yes.
JM: What do you miss most about him?
TJ: He was always up, always happy. I sat on his lap, even when I was in my forties, and he would tell me stories. He was a wonderful person, always caring about everybody, and very close to his children. He loved to stop and talk to people. He was one of those people who talked to everyone on the elevator.
JM: Did he have interests outside of his work?
TJ: Well, all the years I remember, he worked seven days a week. But once a month, he would take us to New York City. We'd go to the Automat, and then we'd get some candy and go to Radio City Music Hall or some kind of show.
JM: Did your father speak Yiddish?
TJ: Yes. He stayed within the Jewish traditions and always went to temple, but because my mom was Catholic, we did both. My grandmother on my mother's side was a big influence on me. I'd go to church with her, and then to temple with my dad.
JM: What kind of house did you have in Long Beach?
TJ: When I was eight, we moved into a three-bedroom house in a residential neighborhood. I shared a bedroom with my two sisters. My mother took care of us and the house, because my father was always at the restaurant. She would build a fence around our house, paint the rooms and all that stuff. My dad couldn't go one step up on a ladder.
JM: Did you or any of your siblings graduate from college?
TJ: No. All my brothers were in the service. One of my sisters and I went to college, but we didn't finish.
JM: Was your father in good health in his old age?
TJ: The last eight years he was not. Neither of my parents ever drove, and my father rode a bike up until he was in his early seventies. Then he had several strokes, and then got cancer.
JM: How many children do you have?
TJ: One daughter.
JM: Has she seen the picture of your father selling newspapers?
TJ: Yes. She was amazed, mainly because he looks so cute. I wish my father was still alive and could tell us all about it.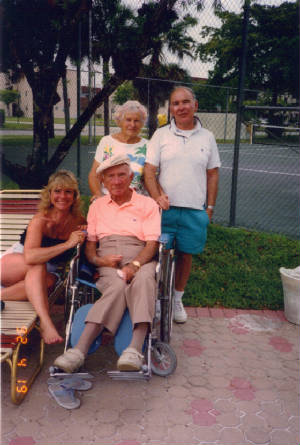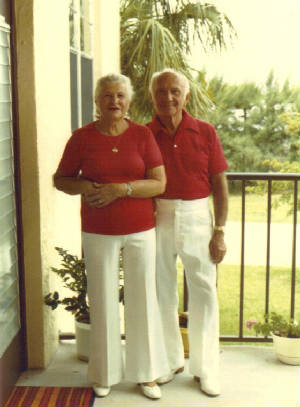 "I once asked my mother why she and my father dressed alike. She explained that he got lost a lot, and all he had to do was look at what colors he had on and then look for her." -Theresa Young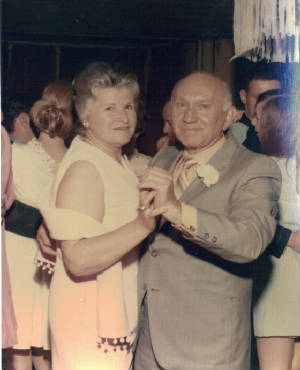 Excerpts from my interview with Janet Price, daughter of Morris Levine. Interview conducted on February 16, 2011.

"My father was one of 12 children, and they were all born a year apart. He said it was difficult, and his family struggled, having so many kids. He told me that his mother would put five bottles of milk with nipples on them on the window sill, so when the youngest children wanted milk, they just went and got it."
"My father joined the Merchant Marine at age 16, and lied about his age. But he and his siblings grew up to be pretty successful. His brother Hyman was the head doctor at the hospital at the University of Vermont. He was known as Dr. Bump, probably because he played football."
"My father was always a hard worker. He would do whatever he had to do to put food on the table. I was born in 1935, and I always remember him being a cook or a chef. He and his brother once ran the lunch counter at Whelan's Drugstore in Long Beach. When I was a kid, I used to help out and wait on tables. I wore a pink pinafore. We had a Navy base nearby, and I made a fortune on tips. A lot of funny things happened in Whelan's. We had a summer stock theater in Long Beach. One day, these two couples came in, and my father says to one of the men, 'Boy, you look familiar. You look like Milton Berle.' And he said to my father, 'Look at the initials on my shirt.' They were M.B. They were Milton and his wife, and Phil Harris and his wife, Alice Faye."
"He ran a lot of restaurants. He had the Penguin Restaurant, Jack and Moe's, which was a luncheonette, and the Granada, which he ran with his kid brother Dave. When my parents moved to Florida, he worked at a delicatessen. Finally my parents started having some health problems. He had a couple of strokes and my mother had a quadruple bypass. So they moved to Las Vegas to be close to me. My husband and I had retired and moved to Vegas in 1989."
"When I was a kid, my father made these things with a square of wood and some screening in it. Every Monday in the summer, we'd go down to the beach and go under the boardwalk, which was always very crowded. We would sift the sand for money. We would find lots of change. It was unbelievable. On our last stop before we went home, we'd go to the railroad station and hunt for change left in the phone booths. So we'd make another $10.00."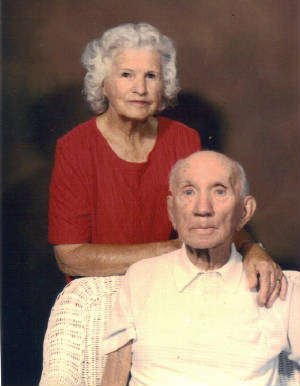 As I write this, it's been more than 94 years since Morris was confronted by Lewis Hine and his camera. A lot has changed in the little world he occupied in his hometown. The University of Vermont stopped playing football in 1974. The Strong Theater burned down in 1970, and was eventually replaced by the Chittendon County Superior Court. His father's places of employment are long gone. His tailor shop at 99 Church St. is now the location of Sox Market, which sells all kinds of socks. At the location of the American Dyeing & Cleaning Company at 177 Church St., you can buy pizza at Big Daddy's. And at 85 Church St., former home of H.C. Humphreys & Sons, you can browse for gifts at the Frog Hollow Vermont State Crafts Center. In fact, Church Street is now the center of the highly popular pedestrian-only Church Street Marketplace, just a block from where Ben & Jerry's opened its first ice cream store in 1978. And you won't find little boys hawking newspapers on the street anymore.
One thing hasn't changed. The Levine house at 212 Park St. still stands.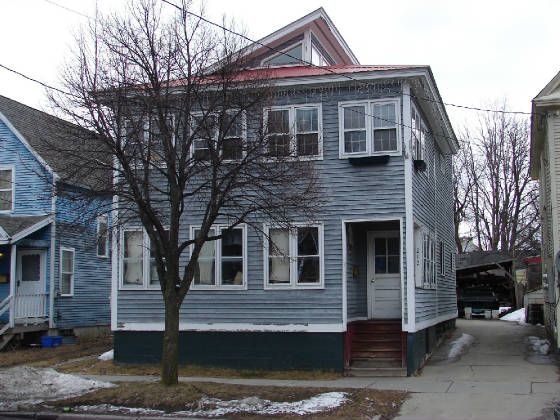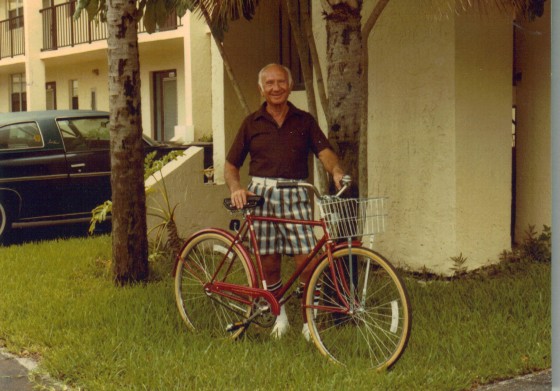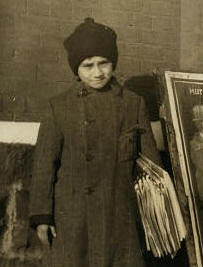 Morris Levine: 1905 – 1996
*Story published in 2011.
Informative history of Burlington neighborhood, which includes history of Jewish immigrants in the city