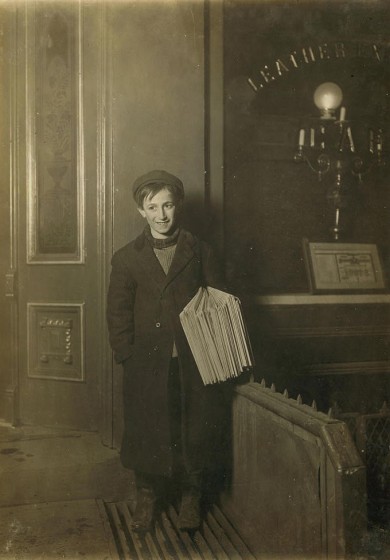 Lewis Hine caption: William Tobias 80 Grattan St., Brooklyn -12 yrs old. Boy was starting for the subway to sell papers on "trains until 6 A.M. "Cause termorrer dey haint no school and I kin sleep all day and sell again at night." "All de barkeepers is me customers." Asked him how he could sell at night. "I just keep out'n de way of de cops." Weighs 60 pounds. Tall for age. Location: Brooklyn, New York, February 1909.

"He was a fantastic grandfather. He took me wherever he went. In the summer, he would pick me up at 7:00 in the morning, and we would go down to Coney Island Beach and spend the entire day there. He was like a buddy." -Debra Gundogdu, granddaughter of William Tobias
Child Labor Legislation, National Consumers' League, 1905
Laws of New York
An act to amend the labor law relating to children working in streets and public places in cities of the first class. Became a law, April 8, 1903, with the approval of the Governor passed, three-fifths being present.
§ 174. Prohibited employment of children in street trades. No male child under ten, and no girl under sixteen years of age shall in any city of the first class sell or expose or offer for sale newspapers in any street or public place.
§ 175. Permit and badge for newsboys, how issued. No male child actually or apparently under fourteen years of age shall sell or expose or offer for sale said articles unless a permit or badge as hereinafter provided shall have been issued to him by the district superintendent of the board of education of the city and school district where said child resides, or by such other officer thereof as may be officially designated by such board for that purpose, on the application of the parent, guardian or other person having the custody of the child desiring such permit and badge, or in case said child has no parent, guardian or custodian, then on the application of his next friend, being an adult. Such permit and badge shall not be issued until the officer issuing the same shall have received, examined, approved and placed on file, in his office, satisfactory proof that such male child is of the age of ten years or upwards. No permit or badge provided for herein shall be valid for any purpose except during the period in which such proof shall remain on file, nor shall such permit or badge be authority beyond the period fixed therein for its duration. After having received, examined, approved and placed on file such proof, the officer shall issue to the child a permit and badge.
§ 176. Contents of permit and badge. Such permit shall state the date and place of birth of the child, the name and address of its parent, guardian, custodian or next friend, as the case may be, and describe the color of hair and eyes, the height and weight, and any distinguishing facial mark of such child, and shall further state that the proof required by the preceding section has been duly examined, approved and filed; and that the child named in such permit has appeared before the officer issuing the permit. The badge furnished by the officer issuing the permit shall bear on its face a number corresponding to the number of the permit, and the name of the child. Every such permit and every such badge, on its reverse side, shall be signed in the presence of the officer issuing the same by the child in whose name it is issued.
§ 177. Regulations concerning badge and permit. The badge provided for herein shall be worn conspicuously at all times by such child while so working; and such permit and badge shall expire at the end of one year from the date of their issue. No child to whom such permit and badge are issued, shall transfer the same to any other person nor be engaged in any city of the first class as a newsboy, or shall sell or expose or offer for sale newspapers in any street or public place without having upon his person such badge, and he shall exhibit the same upon demand at any time to any police, or attendance officer.
§ J78. Badge and permit to be surrendered. The parent, guardian, custodian or next friend, as the case may be, of every child to whom such permit and badge shall be issued, shall surrender the same to the authority by which said permit and badge are issued, at the expiration of the period provided therefor.
§ 179. Limit of hours. No child, to whom a permit and badge are issued as provided for in the preceding sections, shall sell or expose or offer for sale, any newspapers after ten o'clock in the evening.
§ 179a. Violation of this article, how punished. Any child who shall work in any city of the first class in any street or public place as a newsboy or shall sell or expose or offer for sale newspapers under circumstances forbidden by the provisions of this article, must be arrested and brought before a court or magistrate having jurisdiction to commit a child to an incorporated charitable reformatory or other institution, and be dealt with according to law; and if any such child is committed to an institution, it shall, when practicable, be committed to an institution governed by persons of the same religious faith as the parents of such child.
§ 2. Nothing in this act contained shall be deemed or construed to repeal, amend, modify, impair or in any manner affect any provision of the penal code or the code of criminal procedure.
**************************
By the time Lewis Hine met up with this cheerful-looking boy, he had already taken a sizable number of photographs of newsboys, messenger boys and other children engaged in the street trades. In January, he had photographed newsboys in Tampa, Florida, on the last leg of a long journey through the South. In March, he would take about 100 photos of newsboys and newsgirls in Connecticut. There is no record of any pictures taken in February 1909, except the one above. So it's likely that Hine had returned home for a well-deserved, month-long break, when he ran into William, who told him he was 12 years old. But official records tell us that he had turned 10 only two months earlier. According to the 1905 child labor law quoted above, he was old enough to work legally as long as he didn't sell papers after 10pm. But Hine's caption reveals that he was violating that restriction. And the photo indicates that he was not complying with the badge requirement ("The badge provided for herein shall be worn conspicuously at all times by such child while so working").
I emailed William's great-granddaughter, Victoria Cardona, after seeing family history information she had posted on Ancestry.com. I also sent her the picture. She replied, "My aunt told me that he did sell newspapers as a child in Brooklyn." She referred me to William's granddaughter, Debra Gundogdu. Neither had seen the photograph before.
William John Tobias was born in New York City on December 19, 1898, the oldest of five children born to Charles Tobias and Margaret (Tiefenwerth) Tobias, who were married in 1897. Charles, who had been married once before and had one child, was born in Connecticut in 1870, to German-immigrant parents. Margaret was also born in Germany. In the 1900 census, the family was living in Brooklyn, where Charles worked as a fruit peddler. In the 1920 census, his occupation was listed as proprietor of a used furniture store. Son William was working as a "commercial chauffeur," most likely a truck driver. Charles apparently died before 1930, because his wife was living with just two sons in the 1930 census. She died in 1954.
William Tobias served in the Marine Corps in the 1920s, and married Agnes Walling, but there are no records that show when that occurred. They had three children. Agnes died in 1978. William died in Queens, New York, on April 11, 1991, at the age of 92. He is buried in Long Island National Cemetery, in Farmingdale.
Edited interview with Debra Gundogdu (DG), granddaughter of William Tobias. Interview conducted by Joe Manning (JM) on March 7, 2011.
JM: When were you born?
DG: 1954.
JM: What was your grandfather doing for a living when you were born?
DG: I believe he was working for J.P. Morgan. He was working in security. As far as I know, he worked in security most of his life.
JM: Did he tell you anything about his childhood?
DG: Not much.
JM: What was your grandmother's name?
DG: She was born Agnes Walling.
JM: How many children did they have?
DG: Three: Margaret, William, and my mother, Virginia. He was married before he married my grandmother, and he had one child from that marriage, Helen. His first wife was Mae.
JM: Were you close to your grandfather?
DG: Right to the very end.
JM: Did he graduate from high school?
DG: I don't think so. I think he went into the military very early. He was in twice. He was in the Navy and the Marines.
JM: What was he like?
DG: He was a fantastic grandfather. He took me wherever he went. That was after he had retired. He would drive around and visit everybody, and he usually took me along. He even took me to the fights at a place called Sunnyside Gardens. In the summer, he would pick me up at 7:00 in the morning, and we would go down to Coney Island Beach and spend the entire day there. He was like a buddy. I did everything with him.
JM: What kinds of things did you talk about?
DG: Mostly about what we were doing at the moment. If it was the fights, we'd talk about who the boxers were. I think I'm a little like him. I spend an awful lot of time with my grandchildren. I tend to do the same things with them that he did with me.
JM: Do you remember where your grandfather lived when you were growing up?
DG: At 1482 Jefferson Avenue, in Brooklyn. It was a two-family house. I live in Florida now, but whenever I go back to New York, which is every two years or so, I drive past that house. I drove my kids over there three years ago.
JM: Your grandfather died in 1991. He lived to be 92 years old. Was he in pretty good health up to when he died?
DG: Yes, he was. My grandmother had died in 1978. Their oldest daughter, Margaret, moved in with him after that. She never married, and she had lived with them until she was 42 years old. My grandfather might have lived even longer, but my mother passed away before he did, and she was closer to him than his other children. That was hard for him, and he died soon after that.
He never talked much about his family history, but I have been doing some research in the past few years, and I found out that part of his family was Jewish. I talked to a man from Connecticut named Tobias who told me that there are Tobias families spread out all over the world due to the Holocaust. A lot of the men in the family were rabbis.
JM: What do you think about the fact that the photo of your father is in the Library of Congress, and that it was used by Lewis Hine to persuade people to support the passing of child labor laws?
DG: It's very exciting. I wish that he was still around so he could see it. I do know that he sold newspapers, because I have a picture of him holding a newspaper as a kid. It makes me think of Boys Town. I have a plaque from Boys Town that they gave to him, I guess for making a lot of donations. It could be a possibility that as he got older, he started to donate to Boys Town because of how he grew up.
Excerpts from my interview with Victoria Cardona, great-granddaughter of William Tobias. Interview conducted March 21, 1911.
"When you emailed me the picture, I was so excited. I couldn't believe that you had a picture of my great-grandfather. I thought it was absolutely amazing. I showed it to my aunts and my mom. I was so excited to see him as a child. It was amazing to see what he was doing, selling newspapers on the street. It was a part of his life, but it was also a part of history. It's sad, because child labor is still going on even now. He was just trying to support himself and his family. It also makes me sad that I didn't know enough when I was young to think of asking him about his life."
"I remember going to his apartment often. I loved him so much. He was so friendly, and he was so good with me. My mother told me that I have a love for garlic and onions, just like he did. He would eat an onion, just by itself. So do I."
The family was unable to locate any photographs of William.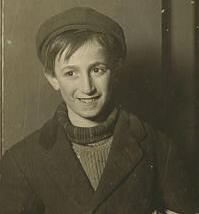 William Tobias: 1898 – 1991
The following was presented by George A. Hall, Secretary, New York Child Labor Committee, at the annual meeting of the National Child Labor Committee in 1911, two years after William Tobias was photographed.
"In the program of restrictive legislation with respect to the employment of young children, attention seems to have been first directed toward the condition of children working in factories. As the public conscience became aroused and more intelligent, it was learned that the children working in mercantile establishments were also seriously in need of the law's protection. As a result, remedial legislation has followed in many of our states. Although more than thirty years have passed since the enactment of the first child labor law, the attempt to regulate street trading by children is comparatively recent, as the passage of the first law specifically relating to newspaper selling, by the New York legislature, in 1903, indicates."
"In view of the conditions surrounding newsboy life in our larger cities, uncovered during recent years, it is surprising that social workers, particularly, have been so tardy in recognizing the need of seeking protection for the street trader. Among those with firsthand knowledge of conditions, many claim that the evil effect upon young boys of street trading is more serious by far than the effect of factory or mercantile occupations. In spite of this situation, only three states in the country, New York, Massachusetts and Wisconsin, and but a few scattering cities, including Washington, D. C, Cincinnati and Newark, have provided regulation."
"The main objection to street trading for young boys is the almost certain impairment of morals, if this work is continued regularly for any length of time. This has been proved repeatedly by investigations conducted in New York City, Philadelphia, Cincinnati, Buffalo and a number of other places. In support of this also comes the strongest kind of testimony against such work for young boys, from superintendents of reform schools, juvenile court judges, and many others who come into close contact with newsboys. In attempting to secure legislation on this subject, the main emphasis, therefore, should be placed on the moral issue. The effect upon the health, and the interference with schooling and play time of the adolescent child, are important reasons for regulating newspaper selling, but these alone would be insufficient to convince the average legislator that there is any harm in the free and easy outdoor life of the newsboy."
"It is interesting to note that the 1910 English Royal Commission Report on the Poor Laws, discussing street trading, recommends that all such work be forbidden for boys until the age of seventeen, and for girls until the age of eighteen years. Commenting on this radical recommendation – radical as compared with most newsboy laws in this country, which permit street trading for boys from ten years of age and upwards – the London Economist says: 'We may well doubt whether any remedy can be too drastic for so great an evil as long as it be effectual. Here are some 40,000 children who are being allowed to endanger their whole prospect of becoming decent citizens in order to earn prematurely a few pence which are, for the most part, ill spent. The work they do is not particularly useful, and might be done almost as well by adults or by the newspaper shops. Do not economy and efficiency, as well as humanity, require that boys and girls who ought to be learning useful trades should be saved from such risk, to become better citizens and better wage earners?'"
"To those interested in securing for the first time some regulation of street trading, the question at once arises whether to seek legislation to abolish entirely all such work for boys up to the age of sixteen (or perhaps fourteen), or whether to urge the adoption of such regulation as will permit newspaper selling by boys, say, twelve years of age and upwards, provided permits are granted to such boys for this work. The objectionable features of the work are so many that one feels that the entire elimination of it for boys under sixteen is the only ultimate end to be desired. As all advanced child labor legislation, however, has been the result of a process of enactments, year by year raising the standard, expediency may, in this matter, require that we be satisfied with perhaps a twelve-year-old minimum as a starting point."
"A standard street trading law should, therefore, prohibit such work for boys under twelve years of age. If this prohibition could be made to affect all under fourteen, such a provision would be distinctly superior. All street work – peddling, polishing shoes, etc. – should be included, unless already effectively covered by existing laws. Experience has shown that most legitimate street selling is over by eight o'clock in the evening. An 8 p. m. closing hour would, therefore, be desirable. Presenting proof of age as a prerequisite for obtaining a license for street trading is also strongly urged. As the parent or, as is frequently the case, the adult who distributes the newspapers, is the person responsible for the boy's engaging in this business, it would seem that punishment for a violation of the law should be imposed upon either of these rather than to fine the boy himself. This may be brought about through statutes holding adults responsible for the delinquency of juveniles. It is of the greatest importance that adequate enforcement be provided, otherwise it will soon become a dead letter. Local conditions will probably govern the selection of the law-enforcing agency, but in most localities it will be found that a squad of truant officers, specially detailed for the purpose, is best adapted to this work."
"When such cities as Paris and Berlin do entirely without newsboys – corner stands taking their places – it would seem that the least that can be done in American cities is to adopt some adequate system of regulation. In this connection, the opportunity presented in newspaper selling to give work to the aged and handicapped – who otherwise would have to be supported by private charity – should not be overlooked."
*Story published in 2011.