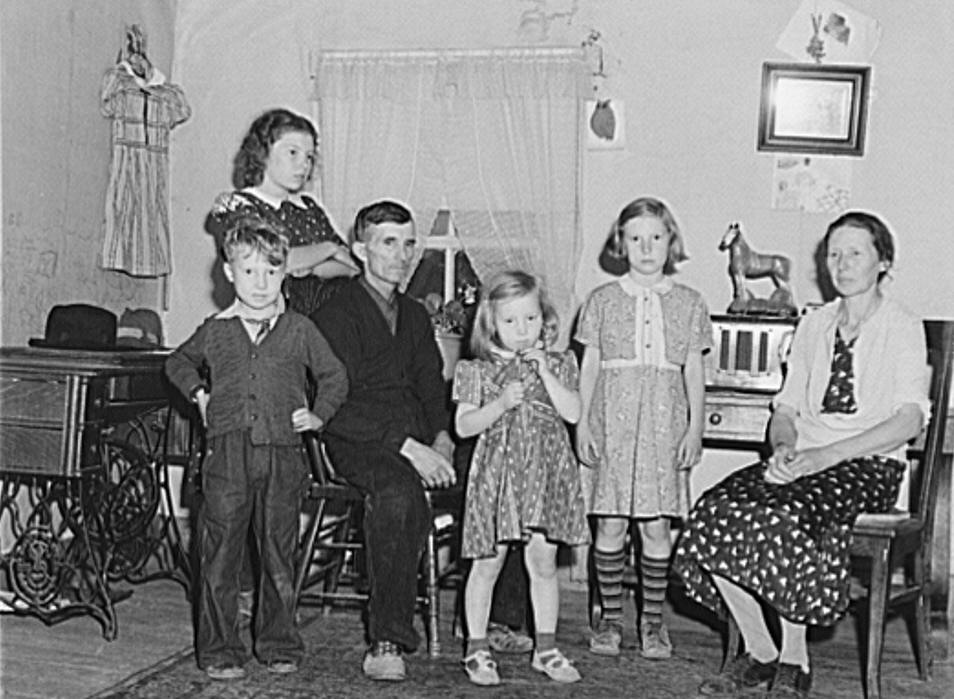 John Vachon caption: The Lansing family, FSA (Farm Security Administration) borrowers. Ross County, Ohio, October 1940.
"My parents probably used the money to buy the house and the land. I don't know what would have happened to them if they hadn't been able to do that." -Juanita Fuller, youngest child in the above photo
According to an article in the Lima News (Ohio) on May 26, 1940: "Ohio families who have received loans from the Farm Security Administration have repaid one-fourth of the loans and increased their net worth and the wealth of Ohio by nearly half the amount of the loans, A.L. Sorenson, state director, reported Saturday."
Sorenson added: "Since much of the money loaned does not fall due for four or five years, there is every reason to believe that the great bulk of it will be repaid." Sorenson also explained that the FSA loans are accompanied by "advice and guidance in sound farming practices, to make sure the money is put to good use."
James and Edna Lansing were born, raised and married in Pike County, Ohio. When they were photographed in 1940, they had recently moved to a small township called Huntington, in neighboring Ross County, near Waverly, the county seat. The following is an excerpt from a book titled The County of Ross, published in 1902.
"Huntington, as a whole, may be characterized as very rough and broken land. The valleys are narrow, bounded by steep hillsides which are often rocky. The land…consists principally of terraces or plateaus on the hillsides, and an occasional level spot on the summit of the hills. The soil is not generally as fertile as elsewhere in the county, though there are some fine farms in the township. The rock formation is mostly of sandstone, or freestone and shale. The hillsides sloping northward are covered with a rich deposit of black, sandy loam, mixed with gravel, and these are much more productive than the southern slopes, another evidence of the terminal moraine of the pre-historic glacial period. The diversified topography of this township renders it exceptionally rich in natural scenery. The highest pinnacles and bald knobs rising to a height of five hundred feet above the Scioto River afford a commanding view which extends far beyond the boundaries of the township. Some of these, and other wild, romantic spots, have long been known as places of resort for picnicking parties and tourists."
"The streams in Huntington are Paint Creek, and its tributary, Ralston Run, flowing north, while Indian Creek and Crooked Creek flow to the southeast into the Scioto. The interior streams are short, but the territory is well watered with excellent springs, particularly in the northern and western portions of the township. Huntington is specially adapted to grazing purposes, an industry which receives the careful attention of the provident farmers, with favorable results. Fruit culture is also carried on very profitably, apples and peaches being the staples in that line, though all kinds of small fruits succeed admirably. The surface of the township was originally covered with heavy timber, including all the varieties usually found in the county. The dense forest, hills and caves afforded hiding places for all kinds of game."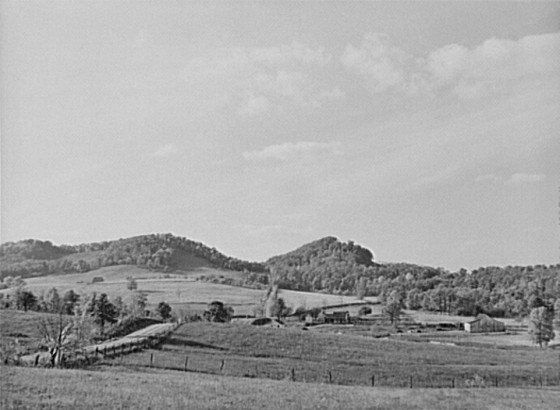 Photographer John Vachon worked for the Farm Security Administration from 1937 to 1942. Among his over 11,000 pictures were many of farmers who had recently received loans from the FSA. He took nine photographs of the Lansing family, seven of which appear in this story. According to the 1930 census, the Lansings were at that time tenant farmers (or sharecroppers) who rented a farm and were required to pay half of their farm income to the landlord. Like most farmers living with this arrangement, they were undoubtedly struggling, even more so due to the Great Depression. As this story will show, the loan in 1940 enabled them to gradually increase their standard of living.
James Franklin Lansing was born in 1884. In 1911, he married Nellie Edna Rhinehart, who was born in 1892. They had a total of seven children, the first, Florence, born in 1911, and the last, Juanita, born in 1937. I located Juanita (now Fuller) after finding the obituary of her sister Ina in 2006. Juanita is the only surviving child.
James Lansing died in an automobile accident on July 15, 1968. He was 83. Edna died on June 13, 1980, at the age of 88.
I interviewed daughter Juanita.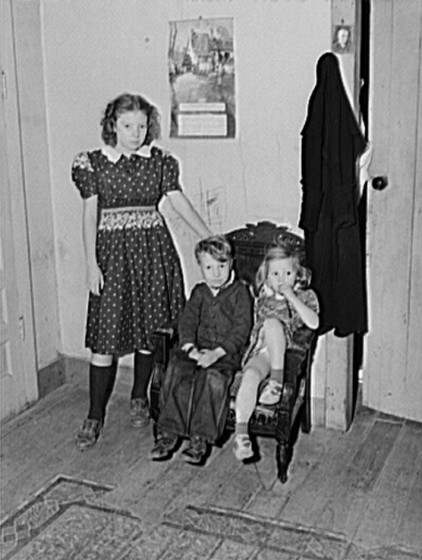 Children of the Lansing family, FSA (Farm Security Administration) borrowers. Ross County, Ohio, October 1940, John Vachon.
Edited interview with Juanita Fuller, daughter of James and Edna Lansing, and youngest child in the photographs taken by John Vachon in 1940. Interview conducted by Joe Manning (JM) on April 9, 2013.
JM: What did you think of the photographs?
Fuller: It was very exciting to see them. No one in my family ever said anything about it.
JM: It looks like you and your family had changed into nicer clothes for the pictures.
Fuller: They probably did that.
JM: Did you know that your family received a loan from the government?
Fuller: No, I didn't. My parents probably used the money to buy the house and the land. I don't know what would have happened to them if they hadn't been able to do that.
JM: You were about three years old when the photos were taken. Were your parents living in that house when you were born?
Fuller: No. I was born when they lived down on Valley Road, where they were renting a house.
JM: Did they farm there also?
Fuller: Yes. And my father used to farm in Waverly in a section called 'The Bottoms.'
JM: Do you remember your father doing any other kind of work besides farming?
Fuller: He worked on the roads, mowing grass and stuff like that. I think it was for the WPA (Works Progress Administration, a federal agency). He once worked at Mead Paper for about two weeks, but he just couldn't handle it.
JM: What did your parents produce on the farm?
Fuller: We grew mostly corn. We had chickens and other animals to feed. We butchered our own meat. We lived off that farm. We sold a lot of what we had. I remember my mother making butter, and I remember my father taking butter and cream and eggs and chickens into town to sell.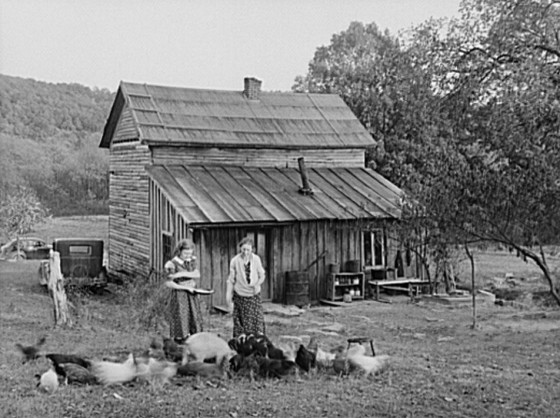 Lansing and daughter feeding chickens. They are FSA (Farm Security Administration) borrowers. Ross County, Ohio, October 1940, John Vachon.
JM: How many rooms were in the house?
Fuller: There were two bedrooms upstairs, one bedroom downstairs, a dining room, a little kitchen, a living room, and a back porch. Mom used the porch to store canned goods and other things. They had a wood stove in the kitchen and another one in the living room. We had an outdoor bathroom.
JM: What was the address of the house in the photographs, and is it still there?
Fuller: The house was on Route 3 in Waverly, but the address is now 961 Schaffer Road. It burned down after I was married, when my parents and my brother were still living in it. But it was completely rebuilt. This time, it had an indoor bathroom.
JM: Where did your parents go when the house burned down?
Fuller: They had a house up the road on the property that they had built for my brother, so they lived there for a while until the new house was built. The property was put in my name, but 25 acres of it was put in my brother's name. Then my brother put his 25 acres in my name just before he died. I rent it out now. I remodeled it, and it's a nice little home. There were 200 acres at one point. Mom gave some to the kids, and when they all died, their kids got it and eventually sold their shares. I own about 40 acres of it.
JM: How far away do you live from the house?
Fuller: I live in Chillicothe, about 18 miles away.
JM: When did your father stop farming?
Fuller: Dad was killed in a car wreck when he was 84 (official records show he was three months short of his 84th birthday). A driver crossed the center line and collided with his car. He had been out mowing grass that day, so he was still working on the farm. My mother was in the hospital for a while with broken bones and broken ribs. She couldn't go to the funeral.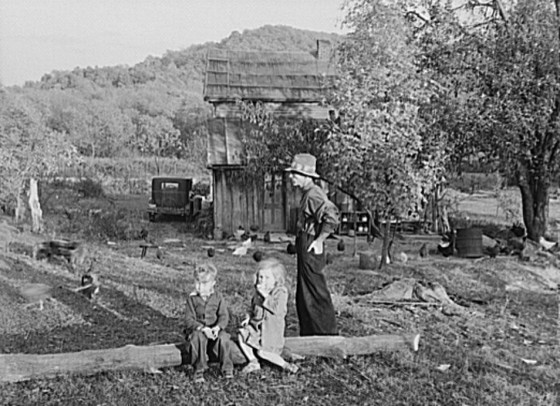 JM: What was your father like?
Fuller: He was a great father. He treated us kids with respect. He was very loving, and he was a wonderful guy. If someone who was hungry came to his door, he would bring him in and feed him. The railroad used to go through there, and the hobos would come, and Dad would always welcome them in and give them something to eat.
JM: What did he like to do when he wasn't working?
Fuller: Actually, he worked every day from daylight to dark, either on the farm, or cutting wood to keep us warm, or working in the garden. He didn't have time for hobbies.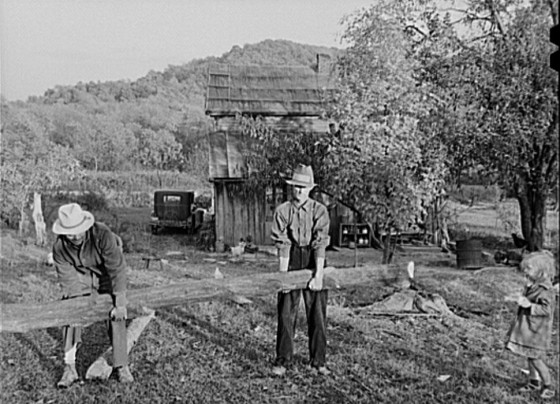 Mr. Lansing and Mr. Coperning, FSA (Farm Security Administration) borrowers, getting wood to cut for fuel. Ross County, Ohio, October 1940, John Vachon.
JM: What was your mother like?
Fuller: She was a hard-working lady, and she took good care of us. She did all the canning. She worked out in the fields and cut corn by hand, because we didn't have any machinery to do that. Mom made all of the kids' clothes.
JM: What are some of the things you liked to do with your parents when you were growing up?
Fuller: We'd go into town, mostly in Waverly. Sometimes we'd go to Chillicothe, and that was a treat. Dad would take us on walks. We'd go out in the woods and cut our Christmas trees. We'd enjoy any little thing like that. Actually, when I got further along in school, we had a little more. My older sisters were out of the house, and they were working and helping us out. Mom and Dad could afford to send me skating and to the movies. I did a lot of things with my friends. I was never bored. There was always something to do, and if not, we found something to do.
JM: Where did you go to school?
Fuller: Huntington High School, which took all 12 grades at that time.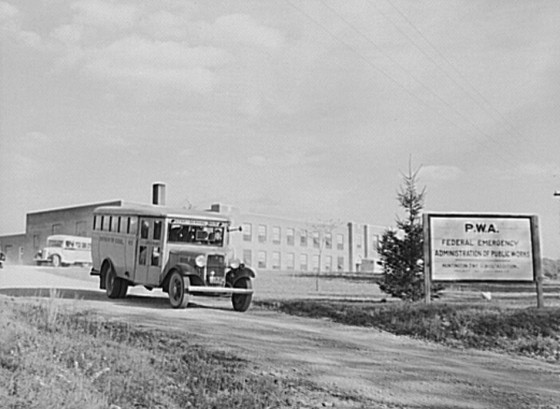 School buses at consolidated school for Huntington Township, Ross County, Ohio, October 1940, John Vachon.
JM: Did you graduate from high school?
Fuller: Yes, but I was the only child who did. There were seven of us. I'm the only one that's still living.
JM: When did you get married?
Fuller: I got married in 1955, a week before I graduated. My husband and I moved to Chillicothe. I worked for General Electric, and I also worked for Big Bear, a supermarket. My husband worked at Mead Paper.
JM: How many children did you have?
Fuller: Two girls. My youngest one went to college and studied computer science. Both of them live just a few miles away. I made copies of the photographs for them. They were excited about it. They said to me, 'Mom, I can't believe you lived like that.' And I said, 'Well, you kids never had to.'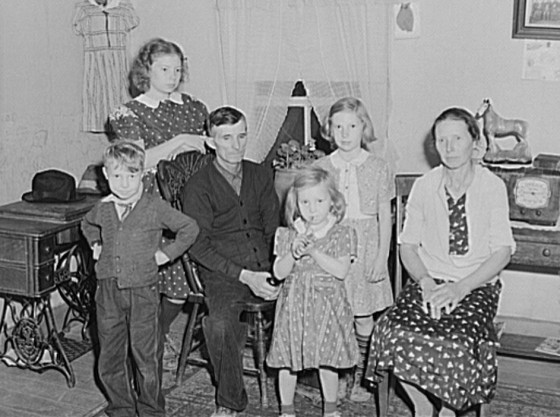 James Lansing: 1884 – 1968
Edna Lansing: 1892 – 1980
Florence Lansing Malott (not pictured): 1911 – 1987
Bertha Lansing Henico (not pictured): 1913 – 1982
Ina Lansing Swaney (not pictured): 1916 – 2006
Audrey Lansing Waller: 1927 – 1993
Norma Lansing Huffman: 1931 – 1994
David Lansing: 1933 – 2000
Juanita Lansing Fuller: 1937 – (still living)
Juanita Fuller was unable to provide any pictures of her family, but may be able to obtain some from other relatives at a later date. I will add them when they become available.
*Story published in 2013.