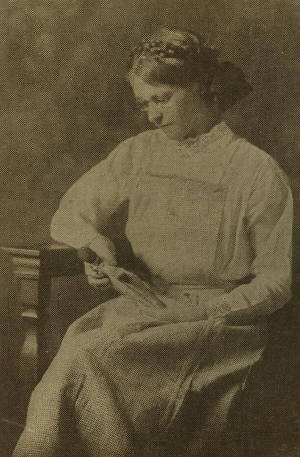 Lewis Hine caption: Leila Prater, Virginia K. Johnson Home, Dallas, Tex. According to the records of the house physician, one third of the girls in this institution come from the farms, and began work at cotton picking, at seven and eight years of age. Leila had been working in a Georgia cotton mill "ever since I could remember." See her story in Texas file, L.W. Hine. Location: Dallas, Texas, November 1913.
The following is from Virginia K. Johnson Home from the Inside, An Appreciation, published in Missionary Voice, Vol. 3, by Methodist Episcopal Church, South. Board of Missions, 1913
"The Virginia K. Johnson Home is a beautiful one. The best of opportunities are offered the girls if they will only take advantage of them. They can obtain a good common school education and learn many other useful things for life if they will only make up their minds to try to make a success of the two years they spend in the Home. We have good Christian teachers to help and advise us always to do our best." -Willie
"When I think of these two words, 'Our Home,' it fills me with a joy and peace I have not felt for many years. When I think of the kind, loving friends we have here and of the opportunities we have to improve every minute of our time, with such loving, patient teachers to help us, my heart goes out to the poor unfortunate girls who have not heard or known of 'Our Home.' It is our home in some cases more truly than the homes we have left. Here we are taught everything practical that will benefit us in the future. First, we have an opportunity to continue our grammar school education. Then we are taught to sew and cook, and we are also taught and assisted in laundering our own clothes. Some of the girls are preparing themselves for teachers and other occupations they intend to continue when they leave here."
"And then we have our Sunday school and church services every Sunday and the Epworth League on Sunday evening. There are so many of these girls who would never go to Sunday services if they were out in the world and consequently would never know of God's love. But now I believe I can safely say that two-thirds of us have honestly given our hearts to God and are earnestly trying to do his will. And it is all through the Christian influence of our surroundings. And in years to come, no matter what may come into my life, I shall never forget nor cease to be grateful to the dear friends I have found in this lovely Home." -Mattie
"I have now finished my two years' course in the Virginia K. Johnson Home. It has been a home and an untold blessing to me. Besides my education, my special work was sewing, which I have learned real well. I have enjoyed the companionship of the girls very much. We have many heartbreaking sorrows, but we also have many enjoyable times. Our teachers are all as kind as they can be, and they make everything as cheerful for us as they possibly can. I know I am more able to face the temptations of life now. I am going back home to the great State of Missouri and do my duty as best I can. I thank everyone that has ever done anything for me or has done anything for our Home, which I shall always love." -Laura
**************************
According to Handbook of Texas Online, Virginia Knight was born in Lynchburg, Virginia in 1843. She married William Hudson Johnson in 1872, and moved to Brownwood, Texas, where William became a county judge. They moved to Dallas in 1880. After her husband died in 1890, a plea for help from a well-known Dallas prostitute inspired Virginia to open a home called Sheltering Arms, in 1893, which was a shelter for women under the age of 22 who were poor and in danger of resorting to prostitution.
In 1897 Sheltering Arms expanded and was renamed the Ann Browder Cunningham Home. It acted as a shelter for unwed mothers as well as to prostitutes who wished to change their lives. It closed in 1911. Virginia then raised enough money to purchase an 18-acre campus in Oak Cliff, and built a three-story brick structure, which she named the Virginia K. Johnson Home and Training School. The school offered a general education, religious and Bible instruction, courses in basic homemaking, and vocational training in dressmaking, millinery, and nursing. After 1915, it also taught typing, bookkeeping and stenography. Johnson died in 1934. The Virginia K. Johnson Home closed in 1941, when new Texas laws forbade the requirement that residents stay for at least two years.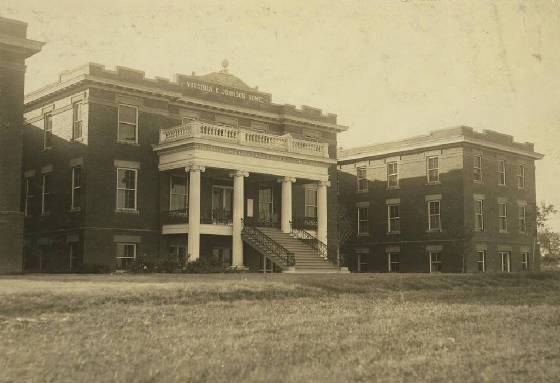 This photograph of Leila Prater is unique among the child labor collection of Lewis Hine. It is pixelated, much like a newspaper photo. She is not shown as a child laborer, although the caption reveals that she had been working in a cotton mill "ever since I can remember." Judging from the information regarding the Virginia K. Johnson Home, she could have been an unwed mother. Perhaps she had already given birth to a child and either put it up for adoption, or it was being cared for by her parents back in Georgia, if indeed, that is where they lived at the time.
After trying everything imaginable, I have found almost nothing about her. Here is what I have so far.
According to the 1920 census, a "Lelia" Prater, born in Georgia in 1895, was living in Dallas at 821 Winston Street. She was white, single and working as a live-in housekeeper for the Walter B. Roddy family. Assuming this was her, and there's no certainty of it, I searched the census further for the sounds-like version of her name, with an approximate year of birth of 1895, and Georgia as the place of birth. In the 1900 census, I found a "Luda Prater," who otherwise was a perfect match, living in Fork, Georgia, with her parents, Andrew and Barbra (or Barbara) and older brothers Simon and Amos.
In 1914, both "Leila" Prater and Mrs. Andrew Prater show up in a newspaper article in the Atlanta Constitution, under the headline, "List of Nominations in Constitution's $25,270.00 Free Gift Campaign." If this is the correct Leila Prater, then she had returned to Georgia less than a year after being photographed in Dallas, or she was still listed as living at home in the newspaper's database.
In the 1930 census, a "Lola" Prater is listed as living in Atlanta, Georgia, with the Herbert West family, for which she is a "servant." Again, everything else matches. She is single. Since her occupation was the same as that of Lelia Prater in Dallas in 1920, I am guessing that they are the same person. But that's just an assumption.
I tried one more thing. I was intrigued by this in the caption of the photograph: "See her story in Texas file." I contacted the Library of Congress about it. They found the Texas file, which is a detailed report by the National Child Labor Committee, but Leila Prater is not mentioned at all. They told me that other records may be available, but not at the Library of Congress. I could not locate any other sources.
That is all I can find. Leila might have gotten married, but without her married name, it would be difficult to find a death record. If she was an unwed mother, and kept her child, I can find no record of it. I hope she had a good life.
*Story published in 2010.