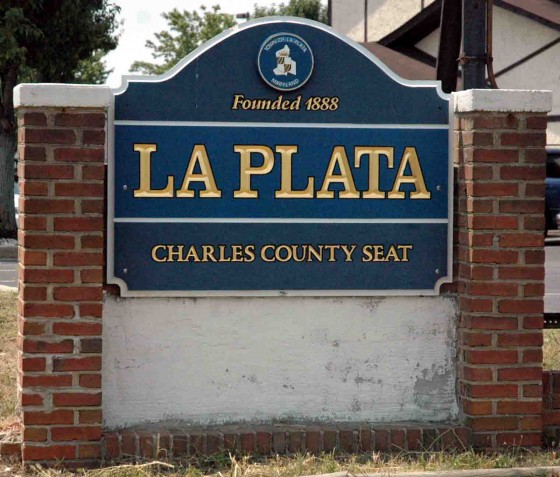 The clock behind the counter of the La Plata Diner tells me it's officially tomorrow. The waitress comes over to my booth, refills my coffee cup and offers me a cinnamon donut. "It's on the house," she says. "Looks like you're gonna be here a while. You've got a lot of pages left in that book. Are you cramming all night for an exam again?"
"Yep, biology. I hate biology. Don't know why; my father is a biologist. The exam is at nine o'clock this morning, and I'm just starting to read the text book."
"Good luck. I'll be here all night. Just yell if you need something."
It's March 1962, and for seven months, I have been attending Charles County Community College, in La Plata, Maryland. Classes are held in the evening at La Plata High School. I rent a small room in a big house. It's a mile walk to the college in one direction, and a mile walk to the diner in another direction. Meals are not provided with my room, and I don't have kitchen privileges, other than storing a few things in the fridge. More importantly, I don't have a car. On weekends, I live with my parents in Solomons, about a 75-minute drive away. My mother comes over each Saturday morning, takes me home, and brings me back Monday afternoon.
So I walk everywhere. I eat all my meals out. The family I live with — wife, husband and adult daughter — are very nice, but they all work, so we don't see each other very often. I seldom talk to anyone except classmates and teachers, the manager and ticket taker at the Charles Theatre, and waitresses such as the one at the diner where I am sitting right now.
It's true. I really hadn't read the biology text book, and I was already halfway through the semester. I was bored with the subject and didn't care much for the teacher either. The lab work was a mild diversion. The teacher had us work in pairs. My partner was Vickie, who was cute, but she had a serious boyfriend. Even Vickie couldn't make dissecting a cat any less disgusting.
And so it had come down to this. Sit here all night, read every page while trucks whine up and down Route 301, stay awake on donuts and coffee, eat breakfast, go back to the house and wash up, and then go take the test at the college, where the teacher had reserved an empty classroom while high school was in session.
I had been a great student at Calvert County High School, a small, 7 through 12, all-white regional public school, the only one like it in the county. Integration was still a few years away. There were only 77 students in my senior class. After graduating in 1959, I enrolled at the University of Maryland, which had 16,000 students. I was only 17 years old, didn't know what I wanted to be, wasn't interested in my classes, and had difficulty making friends. After three disastrous semesters, I quit, went back home, and worked over the summer. My parents had heard about Charles County Community College and encouraged me to enroll. They helped me get a room in La Plata, a town of about 1,000 people. I gathered up some clothes and toiletries, a radio, and a few knickknacks, and moved in the first week in September.
My host family gave me tips on places to eat that were close by: Howard Johnson's, Metro Drug Store lunch counter, the diner, and the 301 Restaurant, where I'd eaten once before when I went with some friends to see my high school basketball team play La Plata High School. They also gave me a street map.
My first couple of weeks foretold a routine that would be repeated over and over again for nine months. I slept late because classes didn't start till 6:30. I did a little schoolwork in the morning, and then walked a mile into town for lunch. I liked the Metro right away, and got to know the folks behind the counter. The diner was okay, too. Then I would walk another mile back to the house, read the Washington Post, which I usually picked up at the Metro, do some homework, and listen to the radio. I liked stations such as WTOP, WMAL and WWDC, which featured folksy disk jockeys that kept me company. If I got bored, I would get out my street map and explore the area, adding some more miles to my human odometer. And then I would grab my books and head downtown for dinner.
Howard Johnson's became a habit right away. I sat at the counter, and always seemed to get the same grandmotherly waitress, who appeared to take a genuine interest in me. Ho Jo's had a big menu, so it would be fried clams one evening, hot turkey sandwich with mashed the next, franks and beans, spaghetti, and fried chicken. It got to be like eating at home.
Once in a while, I'd hit the 301 Restaurant, which served a fantastic fried shrimp basket, and had a great mix of current pop hits and old swing band favorites on the jukebox. But they had lots of noisy slot machines, a phenomenon I had grown up with in Southern Maryland, where they were legal.
After dinner, it was a mile to the college. Classes usually ended by 9:00, and then I'd walk another mile back to the house. So on a typical day, I walked about seven miles, probably quite a bit more than I did at the University of Maryland. But in this case, my campus was the town of La Plata, and I soon got to know it very well.
For the first two months or so, it wasn't that bad. I was comfortable living at the house. I enjoyed eating out and chatting with the familiar waitresses. My teachers were friendly and the classes were small. It felt like one small step above high school. I took the typical core classes, except for Art Appreciation, which turned out to be a revelation. In October, the teacher took us on a field trip to the National Gallery of Art in Washington. I remember entering a big room, crossing to the other side to look at an attractive painting, and then turning around. Facing me on the opposite wall was Salvador Dali's Last Supper, which was gigantic, breathtaking, and a little spooky. I had never seen anything like it. It would spark a lifelong interest in art.
But walking back to the house in the dark after classes was a downer, especially since I seldom had anyone to talk to when I got there. I would drop my books on the chest, turn on the radio, and listen to the last few innings of the Washington Senators baseball game. But by the second week in October, baseball was over, so I listened to mostly music, usually Felix Grant's jazz show on WMAL.
After the 11:00 news, Jim Meyers & Company was on WTOP, staying on until 5:30 in the morning. Jim played lots of jazz and the "standards," you know, Sinatra, (Ella) Fitzgerald, Nat Cole and Duke Ellington. Jim also played some tunes on the piano, sometimes accompanying his wife Ruby Lee, who sang torch songs Julie London style. Jim talked a lot, and his rich, soothing voice was comforting. It wasn't long before I was sticking with the show till two or three in the morning (with the volume turned low so as not to disturb my host family), and then sleeping till almost lunchtime. But when I woke up, the house was always empty and quiet, and I quickly began to realize that I was going to be lonely till next June, and there was not much I could do about it.
Going home on weekends didn't help much. All of my former high school buddies were either away in college or busy being new adults. It was always good to see Mom and Dad and my brother, and enjoy some home cooking. When the inevitable question came up, "How's school?" my answer was always something like, "Just fine. I'm getting along okay." I knew they were worried, given my struggles at the University of Maryland, so I never mentioned that I was lonely.
Back in La Plata, I focused on my schoolwork. But I knew I also needed to find some way to enjoy myself. So I went to the movies once in a while (the Charles often had a matinee), tried to take an interest in what I saw during my many miles of walking, and did a lot of studying at public places, such as the library and the diner. At least, there were people around. But then daylight savings time ended, and the walk to dinner, the college and back to the house gradually got darker and chillier as I headed toward the Christmas break. Two weeks off and some decent grades on my report card gave me hope for the second semester.
But then the walks got real cold. Slogging down to the Charles Theatre became just another chore. I was less interested in my classes, especially Biology. I was getting bored with restaurant food and just about everything else, except Jim and Ruby's radio program. I started leaving it on all night, trying to read and study at the same time. That didn't work very well. I wasn't getting enough sleep. I was nodding off sometimes in class, and I wasn't doing my homework. I was a whole lot lonelier, as well. It was just me and the radio, lunch and dinner, classes, and all those long walks in La Plata.
For my English Literature class, I had to read Pride and Prejudice, by Jane Austen, but I just couldn't get into it. One evening, my teacher announced that we were having an essay test on the book at the next class, which gave me only two days to read it. I didn't know what I was going to do. When I got up the next morning and headed out to lunch, I noticed TV Guide on the coffee table in the living room. So took it with me to read at the Metro while I ate.
I was stunned when I noticed that the movie version of Pride and Prejudice, starring Greer Garson and Laurence Olivier, was showing on the late show at 11:00 that night. When I got back to the house, I left a note for my host family, asking them if I could watch it. When I returned from classes, they were sitting in the living room and told me I was welcome to watch the movie as long as I kept it down low. So I sat through it and took notes. I was worried that the movie might not be a true representation of the book. The next evening, I approached the test with guarded confidence. The following week, I got it back and was very relieved. I had aced it.
I should have learned a lesson from that, but I didn't.
So here I am at the diner, my biology book at my side. It's 7:00 am, and I just finished it. I order up some eggs and bacon. In two hours, I'll be taking the exam, and I am hoping that the coffee and donuts have somehow enhanced my reading retention.
Well, that was 53 years ago now. I lucked out and got a "B" on the exam. I managed to finish the semester with average grades, except for Biology, which I almost flunked. I joined the Air Force, signing up for a four-year hitch in the medical corps. When I got out, I completed college, married, and had two daughters. Our 46th wedding anniversary is around the corner. I served 29 years as a social worker for the State of Connecticut, and then my wife and I retired. We live in Massachusetts now, 400 miles from La Plata. I've never been back.
Howard Johnson's closed in 1986. The Metro Drugstore, 301 Restaurant, La Plata Diner and Charles Theatre are long gone. Charles County Community College became College of Southern Maryland in 1968, locating in La Plata on 173 acres. It now has nearly 25,000 students among its four campuses. A devastating tornado struck La Plata in 2002, killing three persons, injuring 122, and destroying 344 homes and businesses. The town has undergone significant redevelopment as a result. The current population is just over 9,000 people, 8,000 more than when I was there. If I took another long walk in La Plata now, I probably wouldn't recognize a thing, except maybe the house I stayed in.
It's still there. I know, because I managed to contact the adult daughter who lived with my host family. She was quite surprised to hear from me. She still lives in the La Plata area. A special thanks to her, and to the Charles County Public Library, for helping me with a few names and details I couldn't recall.