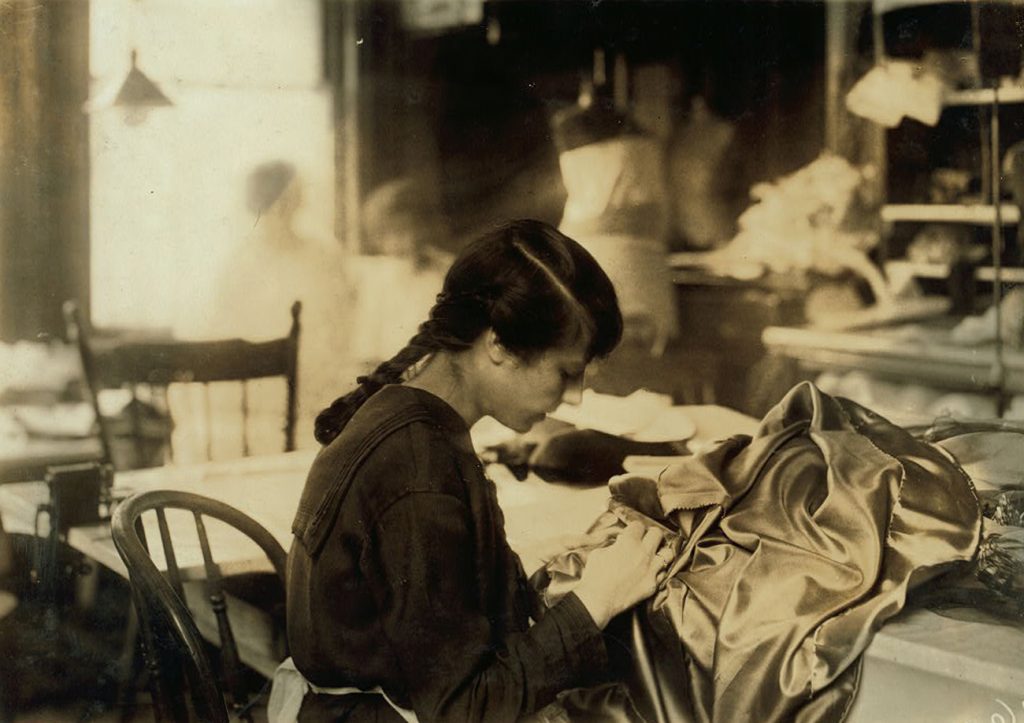 Lewis Hine caption: Angelina Guinzali (15 years old?) works for Madame Ball, dressmaker at 603 Boylston Street. Boston, Massachusetts, January 25, 1917.
When Lewis Hine made this touching photograph of a lovely Italian-American girl in the first month of 1917, he and his employer, the National Child Labor Committee, could look back and celebrate a very good year in 1916. Congress had passed the first federal child labor law, the Keating-Owen Child Labor Act of 1916, which effectively banned the hiring of children under the age of 14 in the manufacturing industry. Massachusetts had passed a law with similar prohibitions, but also limited the hiring of children 14 or 15 years old, depending on school attendance and level of education. Below is an excerpt from that law.
"No child between fourteen and sixteen years of age shall be employed or be permitted to work in, about or in connection with any factory, workshop, manufacturing, mechanical or mercantile establishment unless the person, firm or corporation employing such child procures and keeps on file accessible to the attendance officers of the city or town, to agents of the board of education, and to the state board of labor and industries or its authorized agents or inspectors, the employment certificate as…issued to such child."

"The school record required shall be filled out and signed by the principal or teacher in charge of the school which the child last attended and shall be furnished only to a child who, after due examination and investigation, is found to be entitled thereto. Said school record shall state the grade last completed by such child and the studies pursued in completion thereof. It shall state the number of weeks during which such child has attended school during the twelve months next preceding the time of application for said school record…no employment certificate shall be granted unless the child possesses the educational qualifications…ability to read, write and spell in the English language as is required for the completion of the fourth grade of the public schools of the city or town in which they reside."
So when Hine visited Boston in January, his mission had substantially changed. For example, the National Child Labor Committee was pushing for ways to expand vocational education, to improve occupational health and safety, and to encourage older children to work only part time, so that they could stay in school. Three weeks before Angelina encountered Hine, the following appeared in the Boston Globe: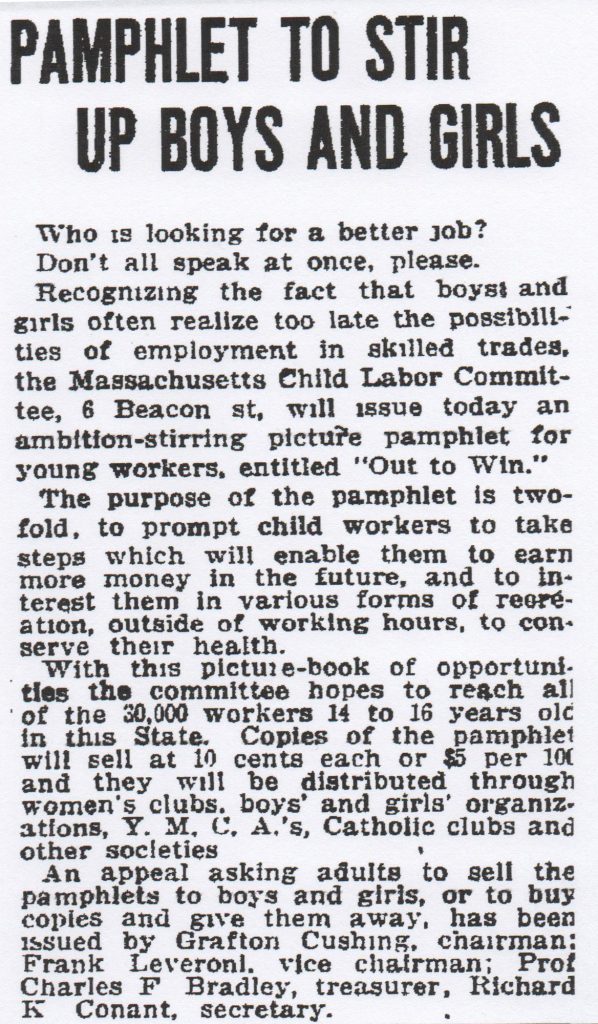 In Angelina's case, she appears to have benefited from the new laws and the new mission. In his caption, Hine stated that she "works for Madame Ball, dressmaker at 603 Boylston Street." According to my research, Madame Ball was Jessie Ball. She was born in England, and came to Boston with her parents in 1882, at the age of five. Her dressmaking business, one of over a hundred in Boston at the time, would have catered to women who could afford custom-made outfits. So Angelina would have had a good opportunity to become a highly skilled seamstress.
A few days after I started working on this photo, I located Angelina's grandson, Raymond Castagnola, who lives near Boston. My interview with him appears below.
Angelina was born in Boston on September 18, 1901. Her parents were Charles (Italian name was Celeste) and Frances (Turbey) Guinzali, who came separately from Italy to Boston in 1887 and 1885, respectively. They married in 1889. According to the 1910 census, they lived in the North End, which contained a large population of Italian immigrants. They had five children, ages 18 to 8, Angelina being the youngest. All attended school. Charles worked as a modeler in the plaster of Paris industry.
By 1920, the family owned a house at 18 Webster Avenue, in East Boston, which also had many Italian-American residents. Charles worked as a "house decorator." There were three children still living with them, including Angelina, still a dressmaker.
Angelina married Raymond Castagnola in 1926, and by 1930, they were renting an apartment at 236 Hanover Street, in the North End. Son Robert was one year old. He was to be their only child. Raymond was a wholesale clerk; Angelina was a housewife.
Angelina Guinzali Castagnola passed away in Randolph, Massachusetts, on August 29, 1994. She was three weeks short of her 93rd birthday.
Edited interview with Raymond Castagnola (RC), grandson of Angelina Guinzali. Interview conducted by Joe Manning (JM) on February 4, 2017.
JM: What did you think of the photograph of your grandmother?
RC: I was surprised, because I had never seen a picture of my grandmother—my father's mother—at that age.
JM: Were you surprised that she was working in a dress shop at that age?
RC: Yes, because my brother and I knew nothing about her when I was growing up. She never talked about her life.
JM: When were you born?
RC: 1962. I was named after my grandfather Raymond. At that time my grandparents were living at 387 Hanover St, in the heart of the North End (known for its large Italian neighborhood). They owned it and rented out apartments on the other floors. I remember that my grandfather worked for a company that processed cold cuts. He worked his way up to be some kind of supervisor. We used get the best quality cold cuts. They would bring them when they visited our home in Dedham. They would take the bus. My grandmother would make these tiny square salami sandwiches. We would also make frequent visits to her house.
She often visited her sister in Hyannisport (on Cape Cod) in the summer, and we would go down and visit them there. She would bring stuff to cook and help my mother cook. Whenever we were in Hyannisport with her, she would buy a present for all three of us grandchildren. We would shop and pick out something and she would pay for it.
JM: How many children did your grandmother have?
RC: Just one, my father Robert.
JM: What was she like?
RC: She was a very nice, God-fearing woman, devoted to her husband. She was very protective of her husband, her son, and her three grandchildren. She had sort of a nervousness and cautiousness about her. Whenever we would go out somewhere, she would always tell us to be careful. My father used to fly light planes occasionally, but he would never tell my grandmother, because she probably have freaked out about that. She liked to keep busy. I don't remember her just sitting around for periods of time. She had a lot of nervous energy. She and my grandfather always dressed conservatively. When they visited us, my grandfather would wear a white shirt and tie.
JM: What did your father do for a living?
RC: He was a professor of social work at Boston College. He died in 2005. I also graduated from Boston College. I work in human services. For the past 12 years, I have been running residential homes for adults with developmental disabilities. My sister is a social worker.
JM: Your grandmother lived to the age of 92.
RC: After my grandfather died, she moved in with us for a while. She passed away in a nursing home.
JM: Having seen the picture now, do you look at your grandmother differently now?
RC: I do. When I would think of her, I'd always picture her as an old woman. But now I can picture her as a girl.
Mr. Castagnola was unable to locate any photographs of Angelina.
*Story published in 2017.