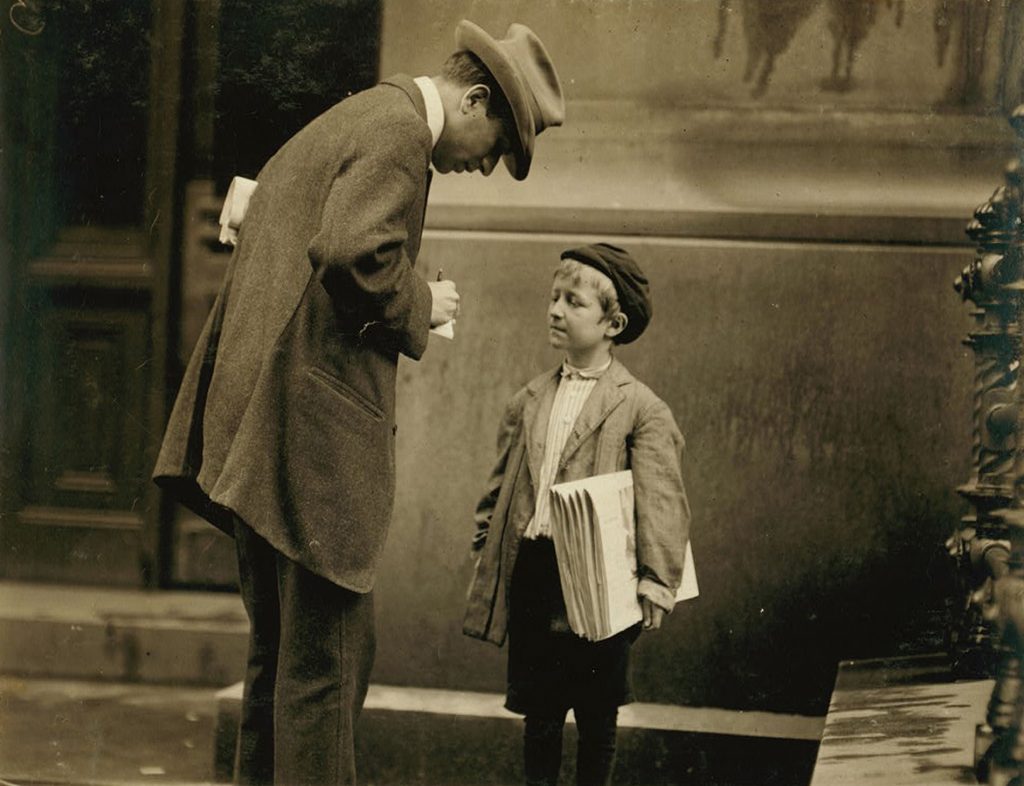 Lewis Hine caption: Michael McNelis, 612 Noble St., age 8 yrs old newsboy. This boy just recovered from his second attack of pneumonia, was found selling papers in big rain storm today. General appearance was neat. Edward F. Brown, Investigator. Location: Philadelphia, Pennsylvania. Photo by Lewis W. Hine, June 1910.
At first glance, this popular Hine photo seems charming. Michael is neatly and comfortable dressed, looks bright and healthy, and shows no signs of distress. But the caption puts a different face on it. Only eight years old? Pneumonia? Selling papers in the rain? As always, my first inclination was to find out what happened to young Michael. How did his life turn out? What was he like? But first, I wanted to know more about this enigmatic picture.
Who was the man, and what was he doing?
Some quick research identified him as Edward Fisher Brown, a 20-year-old investigator for the National Child Labor Committee. He had been on the job about two months, and was traveling with Lewis Hine. He was questioning Michael and taking notes, while Hine set up his camera and took the picture.
Was it raining at the time of this photo?
Probably not. Hine would not have wanted to expose his camera to the rain. Neither Michael nor Mr. Brown look wet. The newspapers don't look wet either. If Michael was found "selling papers in a big storm today," as the caption said, he would have stood in a doorway or under some other shelter. He might have been doing that earlier in the day, and Hine and Brown finally approached him when the rain let up.
Had Michael really been recently afflicted with two bouts of pneumonia?
According to NewsMedical.net, an online medical information provider, pneumonia was the leading cause of death due to infectious diseases in the late 1800s and early 1900s, and the third leading cause of death overall. Treatment of patients with pneumonia became a serious public health initiative. A technique called antiserum therapy soon began, and by 1913, the therapy reduced mortality from 25% to 7.5%. However, this treatment method was slow, costly, and time-consuming. Michael might have undergone such treatment in 1910, but it seems unlikely. Hine doesn't tell us how he learned that Michael had been afflicted with pneumonia. The information might have come from Michael himself. Perhaps he had been down with a bad cold and his parents mistakenly referred to it as pneumonia. In any case, it's puzzling.
When in June was the picture taken? I combed through the June 1910 digital archives of the Philadelphia Inquirer, and discovered the following article in the June 10 edition.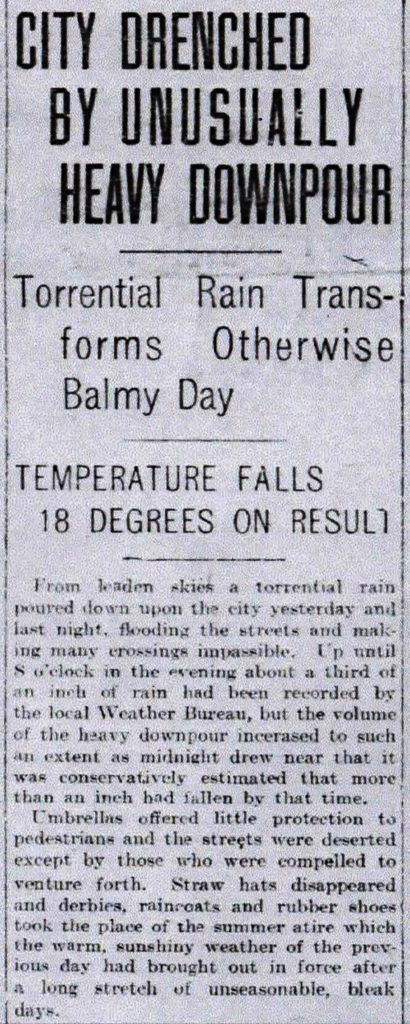 Although there was considerable heavy rain on June 9, the Inquirer predicted intermitted showers for the 10th and 11th. I looked at all the other editions in June, and this was the only time there was a lot of heavy rain. So the photograph was probably taken on June 9, 10, or 11.
The following is from Child Labor In City Streets, by Edward N. Clopper, of the National Child Labor Committee. The book was published in 1913, by The Macmillan Company, of New York City.
It is hard to understand how the public conscience can reconcile itself to the chasm between the age limit of fourteen years for messenger service and freedom from all restraint in newspaper selling—both essentially street occupations. Child labor laws are framed in accordance with public sentiment, hence the people by legislative omission practically indorse street trading by little children while condemning their employment in other kinds of work. Thus the state virtually assumes the untenable position that it is right to allow a child of tender years to labor in the streets as a newsboy without any oversight or care whatever, and that it is wrong for him to work in the same field as a messenger, or an errand boy, or a delivery boy, although such occupations are subject to some degree of supervision by older persons. In other words, it is held that little children are capable of self-control in some street occupations, but not able to withstand the dangers of other similar street work, even under the control of adults! After having described the conditions prevailing in Philadelphia among newsboys, Mr. Scott Nearing says: "There are many causes leading up to this condition. Beneath all others lies the fundamental one—the lack of public sentiment in favor of protecting these children. Closely allied to this is another almost equally strong—the lack of public knowledge of the true state of affairs."
Michael A. McNelis was born in Philadelphia on September 15, 1901. According to the 1910 census, he was the second of four children born to Thomas and Mary McNelis, who were married in 1897. Both arrived in the US from Ireland in the 1870s. Thomas owned their home at 612 Noble St, just as Hine had stated in his caption. The occupation listed for Thomas was "own income." In the 1908 Philadelphia directory, his occupation is listed as "Real Estate," so he probably had a comfortable income. All four of the children were attending school.
According to several sources regarding Philadelphia history, the bustling neighborhood along Noble Street was characterized by two and three-story Colonial-style row houses, some of them owner-occupied, many of them rented. Michael's home was about a mile north of Independence Hall and the Liberty Bell, and a mile west of the Delaware River. In the 1960s, the Callowhill East Redevelopment Project eliminated many of the streets in the area, including much of Noble Street.
The McNelis family did not appear in the 1920 census, but this apparently was just an oversight because they are listed in the 1921 Philadelphia directory, although in this case, Mary is listed as the widow of Thomas, and the family now lives at 635 North Franklin St. I could not find a death record for Thomas. Michael was working as a clerk. Their new home was less than half a mile from their home on Noble Street. I could not determine if they owned or rented. Their immediate neighborhood was later swept away by Interstate 95.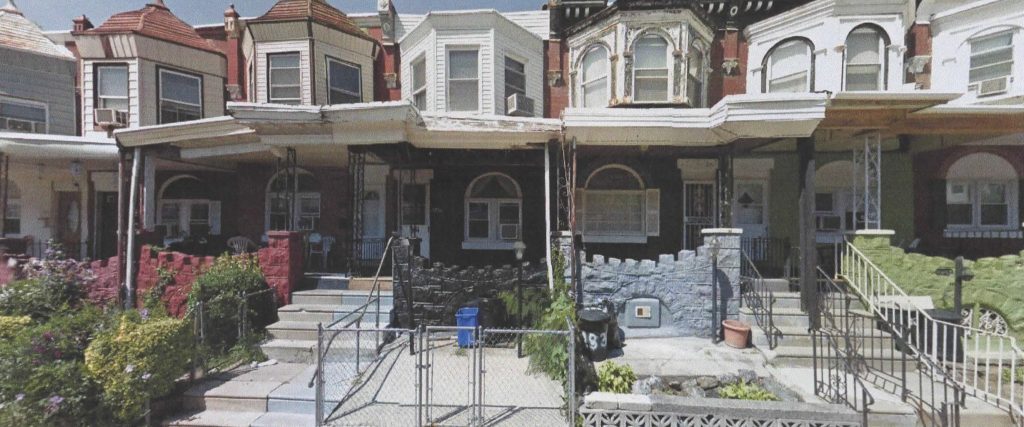 In the 1930 census, the family is listed living in a house at 4836 N. Warnock Street. Michael does not live there, but two brothers and a sister do, along with the sister's husband and their two children. But I found what appears to be Michael in the 1930 census, living in a rooming house at 232 Union Street, in Schenectady, New York. This Michael is the same age, was also born in Pennsylvania, and his parents were also born in Ireland. So I am fairly certain he is the same person. His occupation was listed as an insurance agent. I found the house listed on several real estate websites. It was built in 1884.
In 1940, he is back with his family in Philadelphia, again at 4836 N. Warnock St. He is living with his mother, two unmarried brothers, and his married sister and her family. The sister's husband is now listed as the owner. Michael is a salesman. He is listed as having completed four years of college.
On September 12, 1942, Michael enlisted in the Army. He was still living in Philadelphia, and he was still single. This time, he stated his education as three years of college, not four. His occupation was given as "retail manager." He was honorably discharged on March 19, 1943. He was stationed in New Orleans. Michael's mother died on October 19, 1943, at the age of 67.
Sometime after 1943, Michael moved to Wilkes-Barre, Pennsylvania, where he worked for the Eagle Lock Company, possibly as a sales representative, since the company was headquartered in Terryville, Connecticut. At an undetermined date, he married Gertrude Costello, who was born in Plymouth, Pennsylvania, and lived most of her life in Wilkes-Barre. It was Gertrude's second marriage. She worked for many years as the social editor for the Wilkes-Barre Times-Leader.
Michael McNelis died at the Veterans Administration Hospital in Wilkes-Barre on April 15, 1971. Gertrude died on June 12, 1988. Apparently, neither of them had children. I could not locate any living descendants.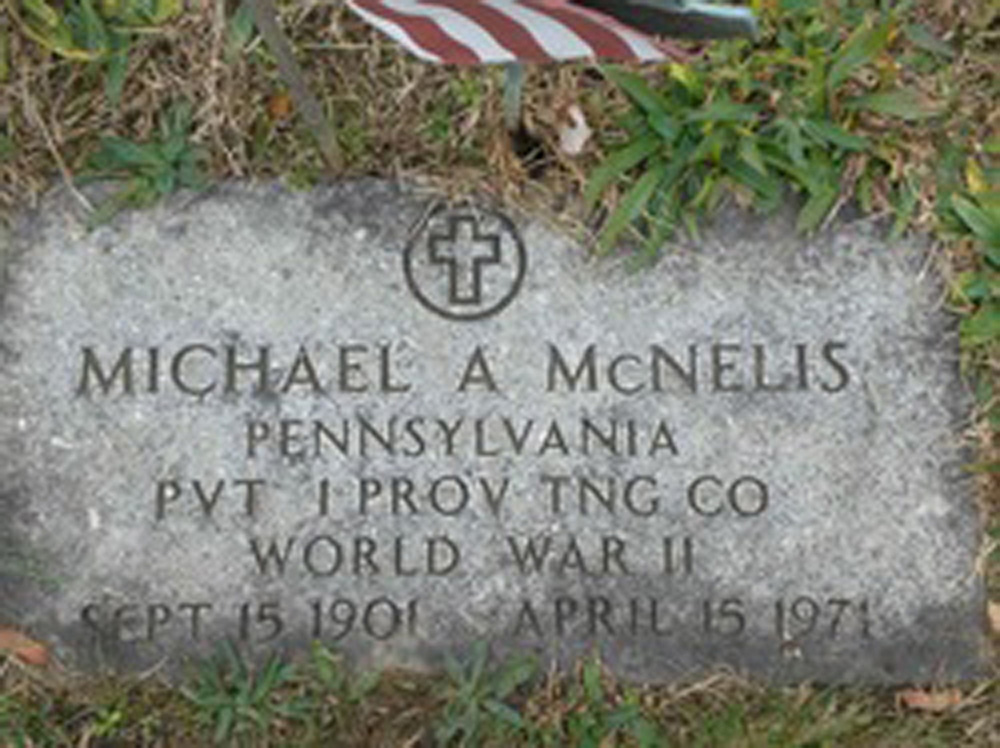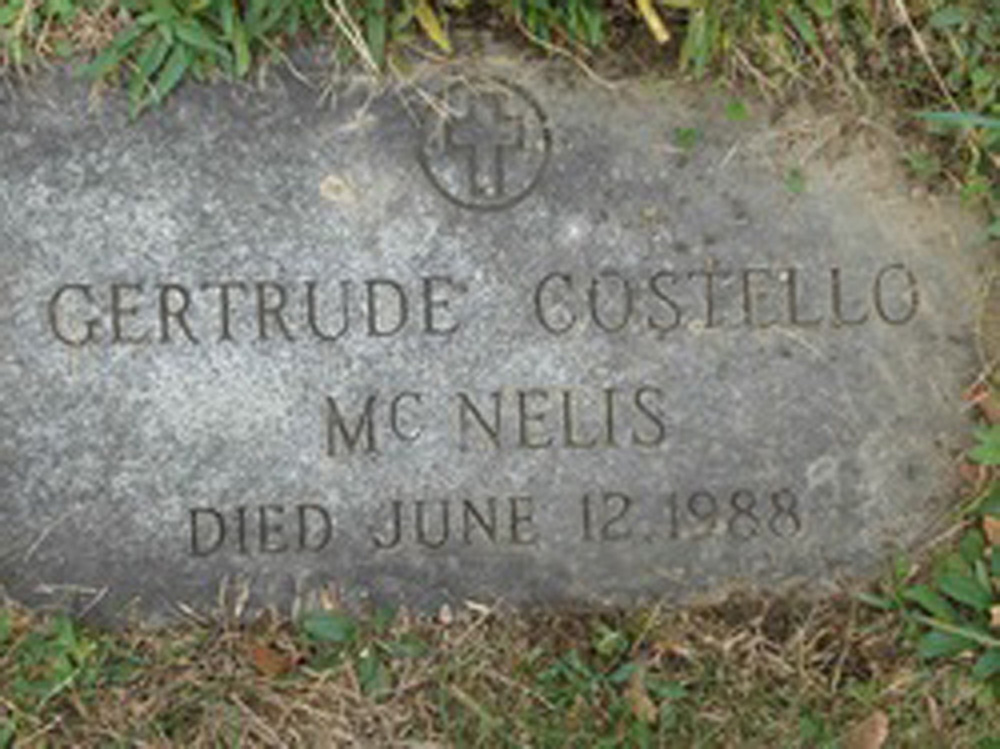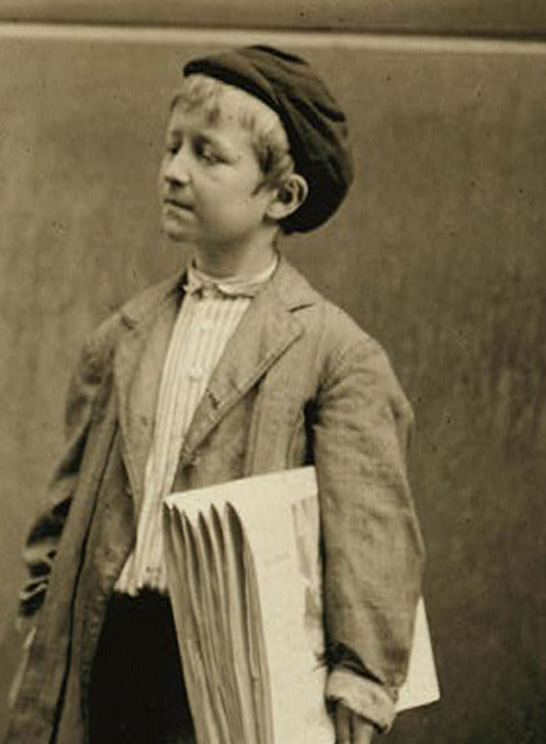 *Story published in 2018.