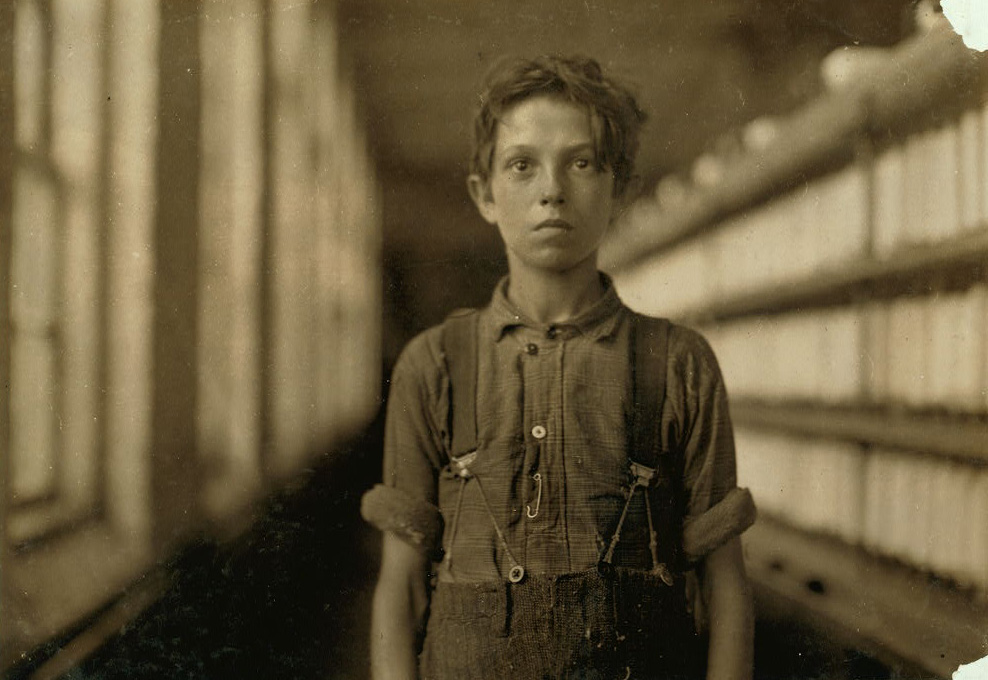 Lewis Hine caption: Jo Bodeon. A "back-roper" in mule room. Chace Cotton Mill, Burlington, Vt. Location: Burlington, Vermont, May 1909.
This unforgettable photograph by Lewis Hine was taken during his first investigation of child labor in the many textile mills that populated New England. In April of 1909, he started in Rhode Island, then went briefly to Maine. In early May, he toured the mills situated along the Winooski River, in Burlington and Winooski, Vermont. He took about 30 pictures there before heading to Manchester, New Hampshire. This was the first of many encounters Hine had with French Canadians, probably the predominant immigrant group working in New England textile mills at the time. Not surprisingly, he had trouble spelling their names, making it difficult for researchers like me to identify their correct names.
Hine took a second photo of him, which is beautifully framed. It has the same caption.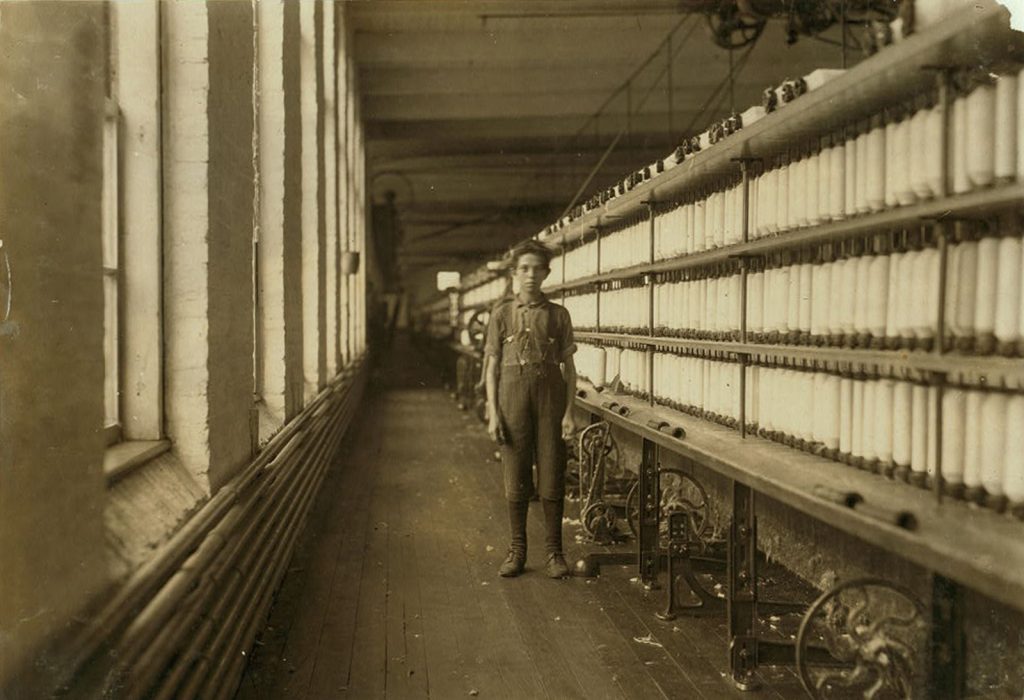 Lewis Hine caption: Jo Bodeon. A "back-roper" in mule room. Chace Cotton Mill, Burlington, Vt. Location: Burlington, Vermont, May 1909.
Hine called this boy Jo Bodeon. In his captions, Hine occasionally spelled Joe as just "Jo." So I assumed his name was Joseph. "Bodeon" was not as simple. The name, exactly as spelled by Hine, appears rarely in the census, and not in Vermont. So I searched the name on Ancestry.com, using the Soundex feature, which lists people with similar sounding names. I confined the search to residents of Chittenden County, Vermont, where Burlington is located.
The first interesting thing that I came up with was the 1917 WWI draft registration for a Joseph Beaudoine, born in Canada on July 18, 1896, and living in Winooski. He was working for Hormidas Meunier. According to the Burlington directory, Hormidas was a harness maker. (Later research established that Joseph was born on July 18, 1894, not 1896).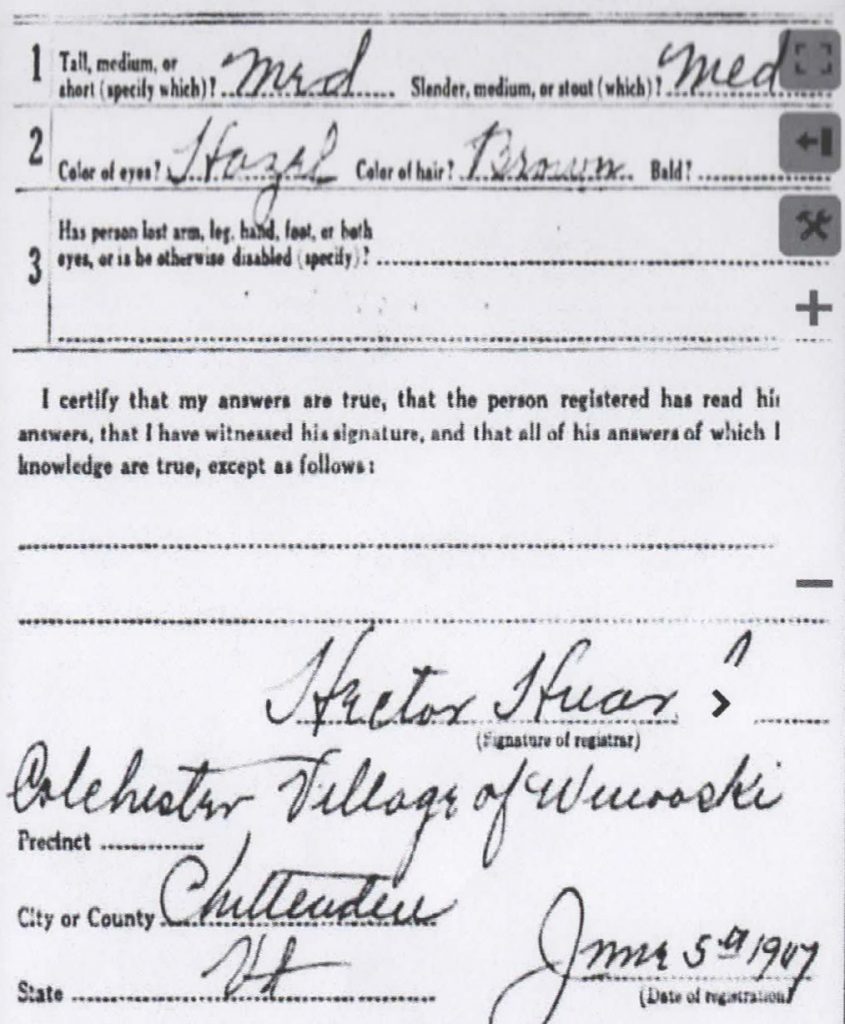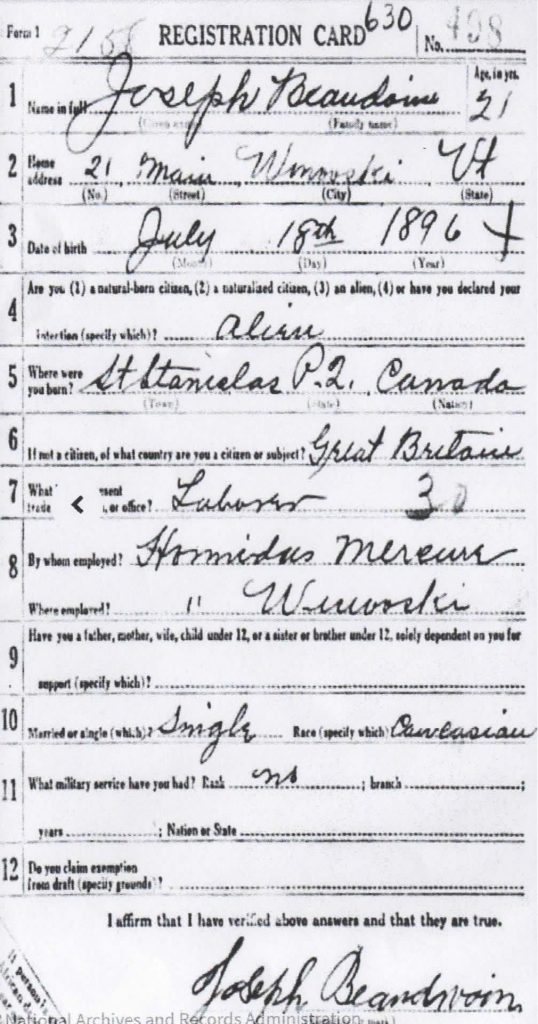 But was he the boy in the photos?
According to several websites that give pronunciations for French surnames, Beaudoine (more commonly spelled Beaudoin) is pronounced Bo-dwah. I know several people with this name. One of them pronounces it Bo-din, the other Bo-dwin, both Anglicized versions. So when Hine asked the boy his name, the boy's pronunciation probably sounded to Hine a little like Bo-deon. I found no other Joseph with a similar last name in Chittenden County at that time who was 10 to 16 years age, which was probably the age range for this boy.
I wondered if anyone else had identified the boy as Joseph Beaudoine, so I searched Google for Joseph Beaudoine Vermont Lewis Hine, and Joe Beaudoine Vermont Lewis Hine, and came up with the second Hine photo above on the Vermont Historical Society website. The photo was featured in a pictorial article about child labor in Vermont. This was the caption given by the writer.
"Joe Beaudoin worked as a back-roper in the mule room, where cotton was twisted into thread, at the Chace Cotton Mill, Burlington, May 1909."
I wondered what information the writer had found that led her to the same conclusion I had reached about the name. I contacted the Vermont Historical Society, and they got me in touch with the former staff member who wrote the article. She told me that she is very familiar with French Canadian names, and she thought it was obvious to her that Joe's last name was Beaudoin (or Beaudoine).
But was he the only boy with that name and approximate date of birth that was living in the Burlington area in the early 1900s? Strangely, I found no one at all by that name in the Vermont census up through 1940 (it is not unusual for some residents of a city to town to be overlooked in the census). But I found other records of the boy in the Canada archives, as well as valuable information from a family history posting on Ancestry.com. It took me more than a year of research to finally track down what happened to Joseph Beaudoine, and to determine that he was, in fact, the boy in the Hine photos.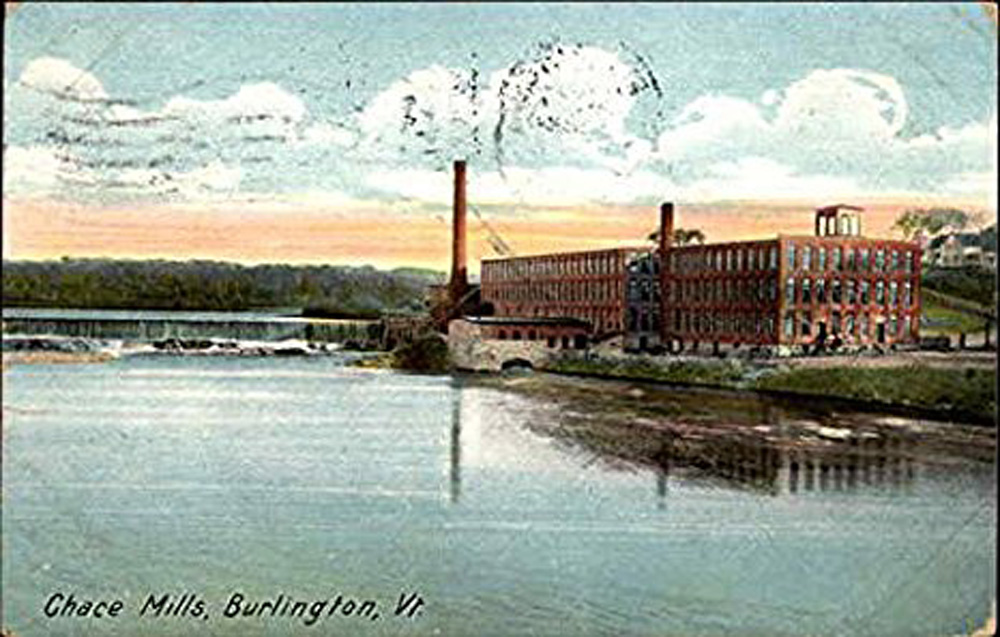 In 1909, Vermont child labor laws required that children must be at least 12 years old to work in a factory or mill, and those under 16 must have attended school for at least 9 years.
Hine's investigation in Burlington did not go unnoticed. The following article appeared in the Burlington Free Press on July 15, only two months after his visit.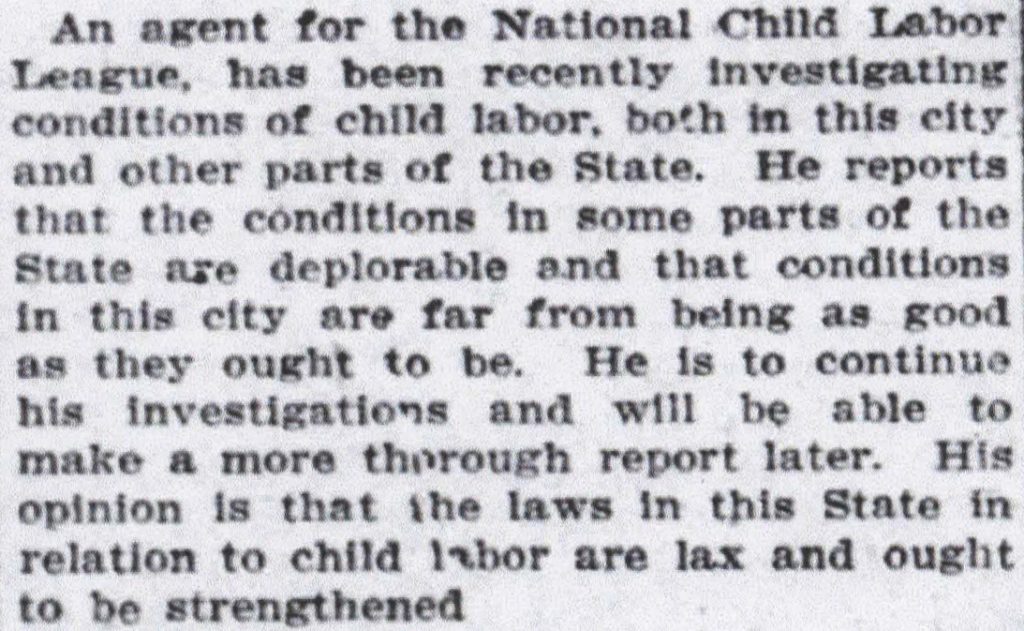 Five months later, on December 9, a second article appeared. It concerned a city resolution regarding child labor, which was adopted by the Board of Alderman.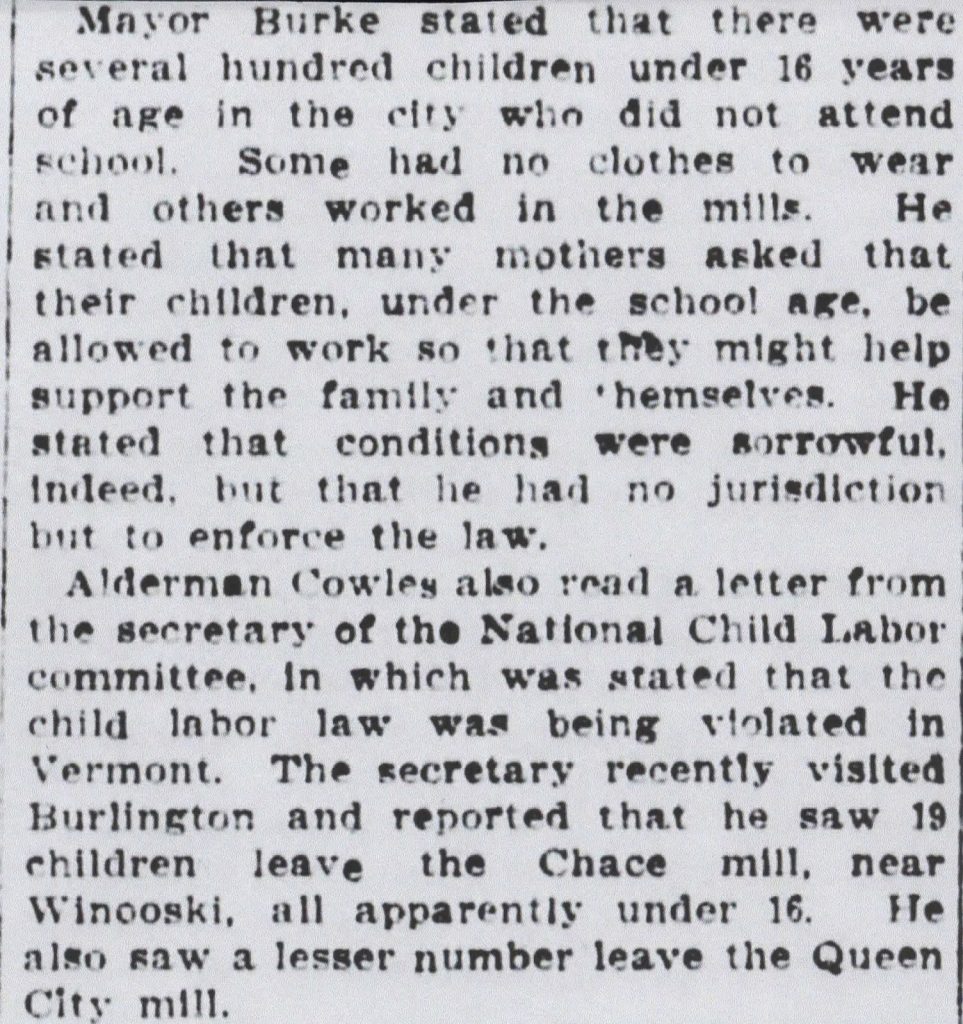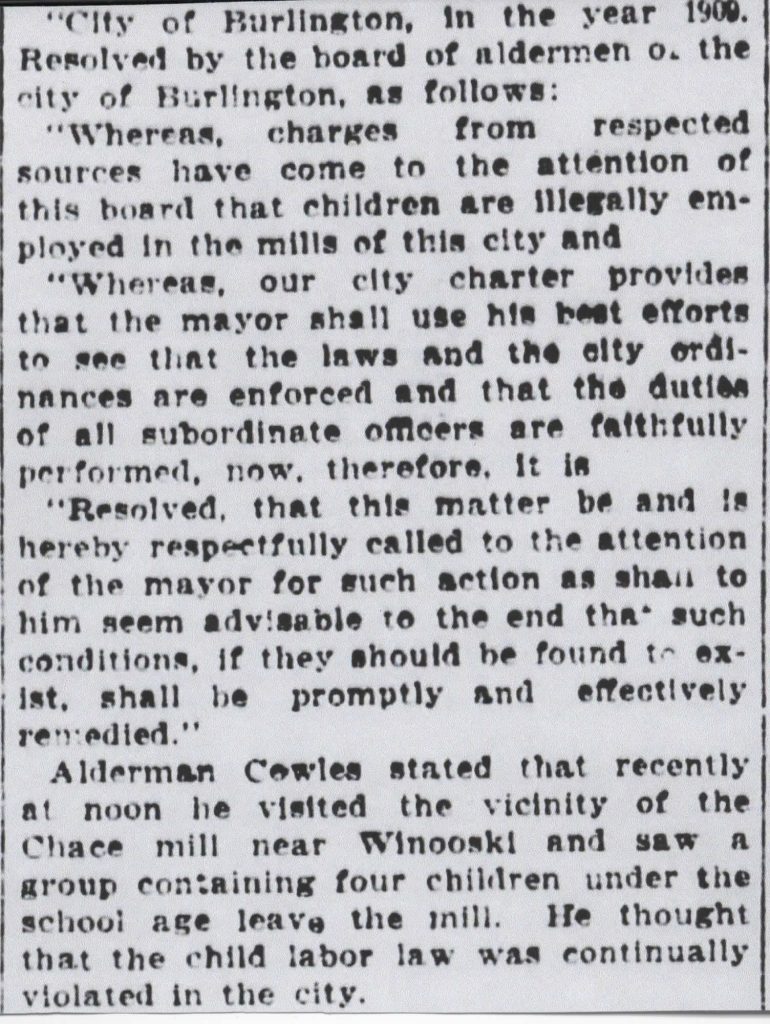 According to his Quebec birth certificate, Joseph's full name was Joseph Adelard Jean Baptiste Beaudoin, although official documents show that in the US, he always spelled his last name Beaudoine. He was born in St. Stanislas, Quebec, on July 18, 1894. His father was Prosper Beaudoin, who was born in 1845; and his mother was Rosianne Thiffault, who was born in 1846. Slightly different spellings of her first name appear in various records over the years. They married in 1869. It was her second marriage, the first being brief and apparently childless.
In the 1881 census, they were living in St. Tite, Quebec. They had 7 children.
In 1891, they lived in St. Severin, Quebec. They had three additional children. Prosper was a farmer.
In 1901, Prosper married Emma Vallee in St-Anne-de-la-Perade, Quebec. I could not determine if he and Rosianne had divorced, or if she had died. Prosper and Emma lived in St. Stanislas, with five of Prosper's children, including Joseph, now about 7 years old. Prosper was a chef. He died in St. Stanislas in 1909, the same year son Joseph was photographed.
Sometime before May of 1909, when he was photographed by Hine, Joseph had settled in Burlington and vicinity. He was one of apparently only two of Prosper's children to move to Vermont. The other was his sister Bernadette (6 years older), who married Vermont resident Arthur Roy in Winooski, on July 17, 1911. He was a weaver in the mills. I could not determine when either of the children entered the US, but I think it's a good guess that Bernadette and Joseph came at the same time to find work. They may have lived together for a while.
In 1917, then living at 21 Main St, in Winooski, Joseph registered for the draft. He served in the Army from 1917 to 1920, although there is conflicting information about the exact dates. According to the most likely credible sources, he was inducted on February 11, 1918, assigned to Company G of the 58th Infantry, served in France for six months, and when he came home, he worked for a while, and then served in the Quartermaster Corps for a year. He was stationed at Fort Ethan Allen, in nearby Colchester, Vermont. During his service, both his legs were broken above the knee.

He married Evelyn Mongeon on March 12, 1921. She was born in Colchester, Vermont, in November 1899. Her parents were Edmund and Georgiana Mongeon, both born in Vermont. Joe and Evelyn had their first child, Anita, on October 30, 1921. Their only other child, Beatrice, was born on December 21, 1922. For a time, Joe and Evelyn lived with her parents at 293 Mallets Bay Avenue, in Winooski.

In 1930, Evelyn still lived there, but Joseph did not. She was listed as married, so I presume that they were separated. On October 22, 1931, Joseph was admitted to the National Veterans Home for Disabled Volunteer Soldiers, in Sawtelle, California. A month later, on November 13, Evelyn divorced him. On August 14, 1932, Evelyn married Martin Joseph Doyle.
Joseph registered for the World War II draft in 1942. He lived at 4142 ½ Chevy Chase Drive in Los Angeles, and worked as a truck driver for the WPA. Sometime after 1943, he married Menta Stapp, who had been previously married and had three children.
Joseph died of prostate cancer at the VA Hospital in Los Angeles on September 19, 1958. At the time, he lived at 8250 Lankershim Blvd, North Hollywood. His last occupation was listed as truck driver for the Lockheed Aircraft Corporation. He was 64 years old. He is buried at the Veterans Cemetery in Los Angeles. Menta died 10 years later.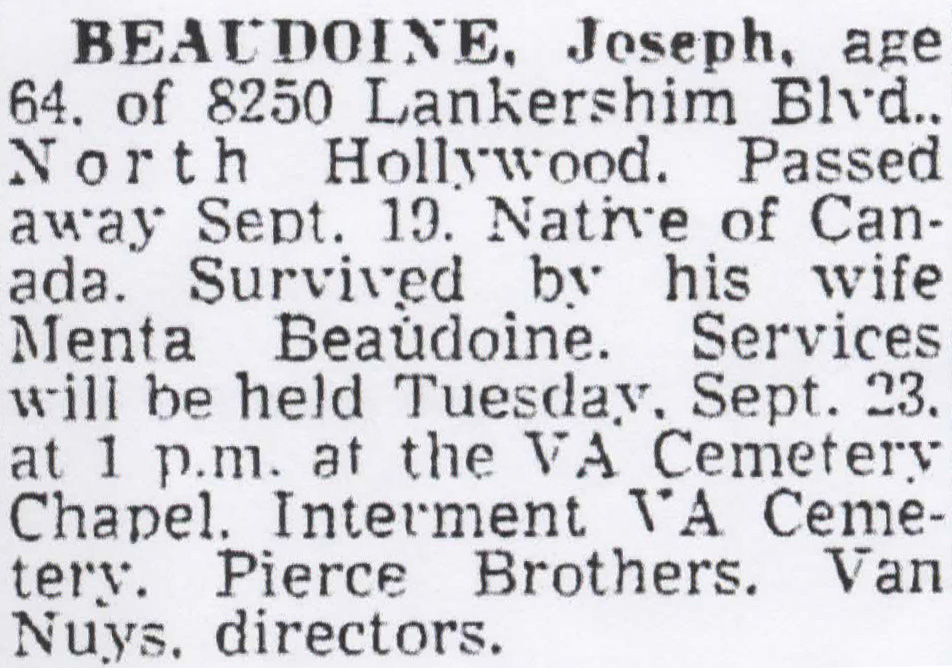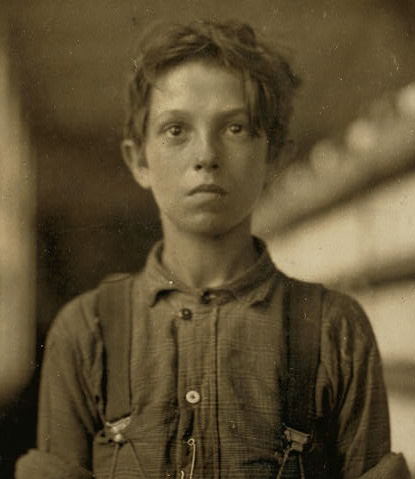 Once I collected all of this information, I felt I still needed to further address one important question. Was I sure that the boy in the photos was the same Joseph Beaudoin I had researched? I felt that if I could contact any of his descendants, they might recognize him in the photos. I had briefly explored this earlier, but not to my satisfaction.
I tried to find descendants of his sister Bernadette, who died in Colchester, Vermont, in 1976. I obtained her obituary and searched for her five children who survived her. But I could not locate any of them.
Then I tried to locate his two children, Anita and Beatrice. But if alive, both would be in their late nineties. So I needed to track down their children, who would be Joseph's grandchildren, and could very well be living. I could not find anyone descended from Beatrice.
But I did find Anita's marriage record and obituary, and then one of her children. He lived in Maryland. I called him. He was curious about the Hine photos, but he had never heard of Joseph, his grandfather. He explained that he thought that his grandmother Evelyn married only once, and that her husband was his grandfather. He was, in fact, his step-grandfather. I sent him the Hine photos, and we talked about a week later. He told me that when he was in his teens, he looked "just like that boy," and that, "my son looked just like him when he was in his teens."
I asked if he had any photos of him or his son when they were in their teens. He said he would have to "hunt around for them," because a lot of his family photos had been lost or misplaced. He didn't get back to me for a while, so I called him again. He said he didn't think he was going to find any photos, but that it was interesting to see pictures of his real grandfather, whom he never knew.
As a result, I am now sure that the boy in the Hine photos was Joseph Beaudoine, and that he is the Joseph Beaudoine in the story above.
**************************
*Readers should be aware that the Hine photos of Joseph Beaudoine appear on some websites, and in one recent book as well, but with the incorrect caption. While I was doing my research, I saw his picture in a book about child labor. This is the caption:
"Jo Bodeon, a back-roper in the mule room at Chace Cotton Mill. His mother showed me the family Bible indicating his date of birth as July 15, 1894. 10 years old now, he has been in the factory two years and occasionally works nights. Burlington, Vermont."
I could find no records indicating that this was included in the original Hine caption, probably indicating that it was the author's own caption. I was perplexed by it. The photo was taken in May 1909, so if the boy was born on July 15, 1894, as the author wrote, he would be 14 years old, not 10. That's a pretty sloppy mistake.
What's even more perplexing is that the birth date in the caption is actually only three days before he was born, according to his Quebec birth record (July 18, 1894). Was that a weird coincidence, or had the author done some research on his birth date and the 15th instead of the 18th was just a typo? It didn't seem likely, since he failed to identify the boy as Joseph Beaudoine. Otherwise, how would he have found his birth record in the first place?
I emailed the author and asked him where he obtained the information in his caption, but he did not reply. So I searched Google for the phrase: "His mother showed me the family bible indicating his date of birth as July 15, 1894. Ten years old now, he has been in the factory two years and occasionally works nights."
I came up a number of websites that had posted Joseph's photo, with the author's caption. Had the authors of these websites obtained their information from the book?
Finally, I found the original source of the incorrect caption. Many of Hine's child labor photos are posted on the National Archives Flickr account. One of the photos was taken at a New Jersey glass factory in November 1909. This was the caption:
"Day scene. Wheaton Glass Works. Boy is Howard Lee. His mother showed me the family record in Bible which gave birth July 15, 1894. 15 years old now, but has been in glass works two years and some nights. Started at 13 years old. Millville, N.J., November 1909."
Compare it with the incorrect caption:
"Jo Bodeon, a back-roper in the mule room at Chace Cotton Mill. His mother showed me the family Bible indicating his date of birth as July 15, 1894. 10 years old now, he has been in the factory two years and occasionally works nights. Burlington, Vermont."
Somehow, someone got the two captions scrambled.
See the National Archives caption here.
*Story published in 2018.
Shortly after this story was posted, I received the following email:
"I read your story about Joseph Beaudoine and wanted to tell you how much I appreciated it. My office is in the Chace Mill, and before I started working here a couple of years ago, a large copy of that photo on foam board had been placed over my office door. I have moved to two different offices since then, and each time I have been careful to bring the photo with me, giving it a place of honor in my office. It's a beautiful, haunting image. I had never known anything about Joseph—didn't even know his name—and so was fascinated to read his story." –Sarah Zobel