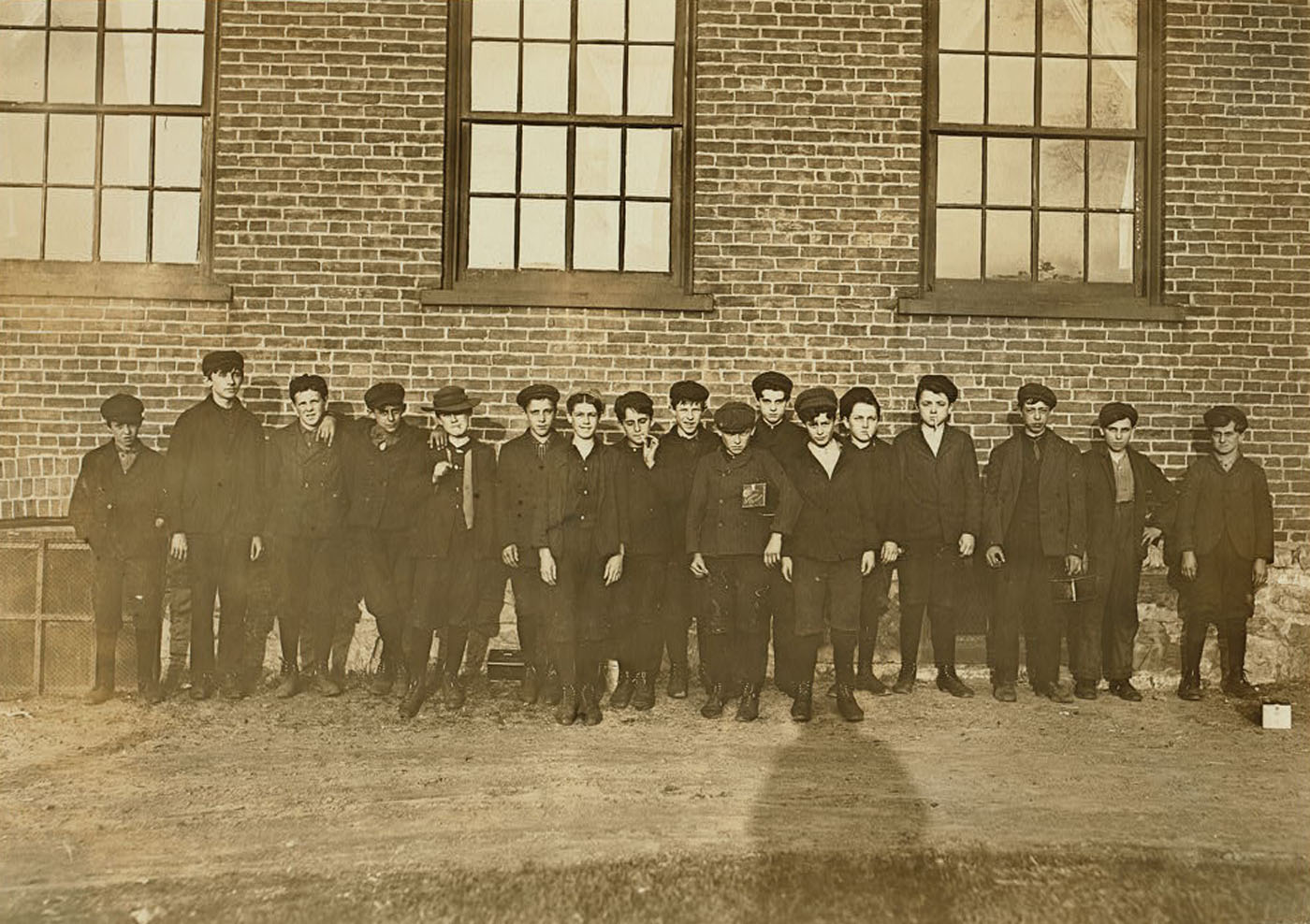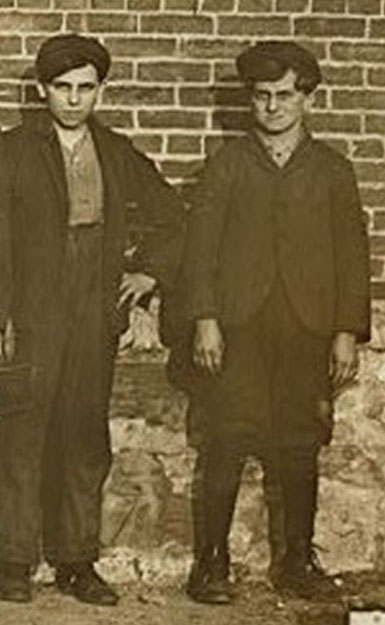 Lewis Hine caption: All these small boys, and more, work in the Chace Cotton Mill, Burlington, Vt. Many of the smallest ones have been there from one to three years. Only a few could speak English. These are the names of some:- Lahule Julian, Walter Walker, Herman Rotte, Arsone Lussier, Addones Oduet, Arthur Oduet, Alder Campbell, Eddie Marcotte, John Lavigne, Jo Bowdeon, Phil Lecryer, Joseph Granger. A small mill. Location: Burlington, Vermont. May 1909.
"I was very excited to see the 1909 Lewis Hine photo of the boys at the Chace Cotton Mill in Burlington. I know who two of the boys are. The boy on the far right (looking at the picture) was my grandfather, Joseph Adonias Audette, and to his right is his brother Arthur. I hope this information is of help to you." -Melanie Audette Young
Many of Hine's child labor photographs at textile mills look like this one. He would line up a number of children near a mill building during a lunch break, or when the children were either reporting for work or going home. This was often because those in charge would prohibit Hine from entering the buildings. On this visit to Burlington, Hine managed to photograph children inside this mill eight times, so it is possible that he was thrown out of the mill when the owner found out about it, after which Hine took eight more outside.
When I first saw this picture, I was disappointed that Hine gave us 12 names, but did not specify who was who. So I concentrated my research on other photos at the Chace Mill, where Hine named a specific child, and subsequently tracked down the life of Joseph Beaudoine, whose story is posted elsewhere on this website. Shortly after, I submitted Beaudoine's story to the Burlington Free Press, and they published it in their periodic supplement called History Space. The editor added several other Hine photos at the Chace Mill to my story, including the one above. A few days after publication, Melanie Audette Young saw my story and spotted her grandfather and his brother and contacted me through my website. She also sent me the photo below of Joseph and Arthur taken about 10 years after their encounter with Hine.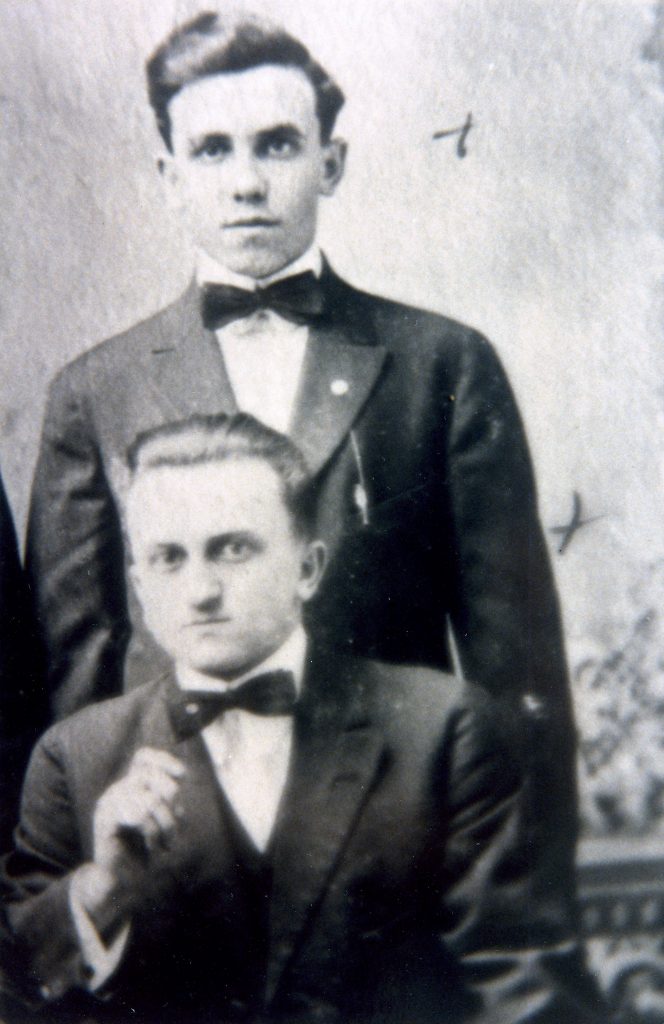 Melanie referred me to one of Joseph Audette's daughters, Yvonne Campbell, who lives in Florida. I interviewed her.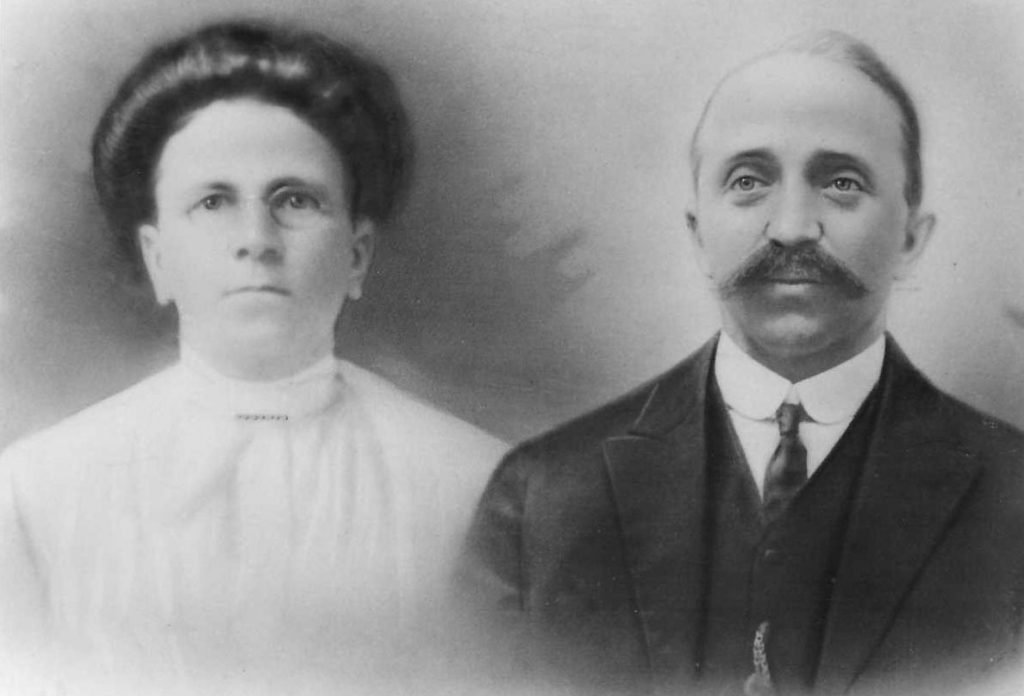 Joseph Adonias Audette was born in Farmham, Quebec, on July 14, 1895. His parents were Joseph Aldei Audette and Marguerite Gaboriault. Mr. and Mrs. Audette and their 10 children immigrated to Vermont in October of 1906, at least according to young Joseph's statement on his Declaration of Intention naturalization form filed in 1918.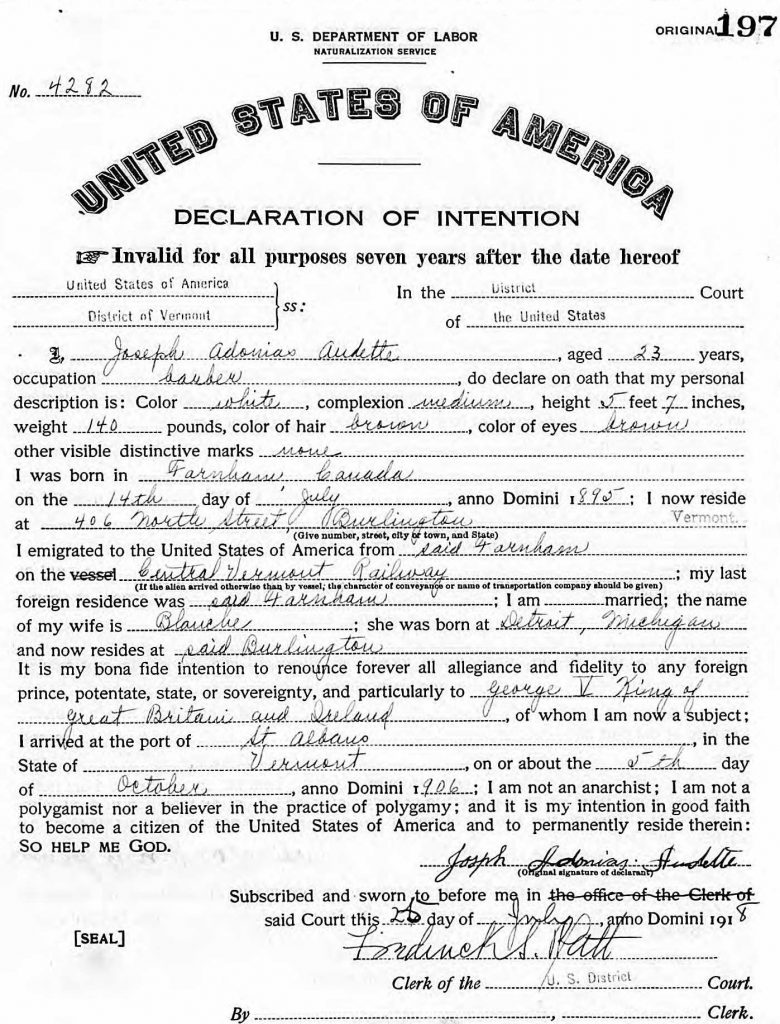 I could not find his family listed among those crossing the border from Canada. They settled in Winooski, just across the river from Burlington. Prior to leaving Quebec, the family surname was spelled Audet, and Joseph (the father) was a farmer. Joseph's brother, Arthur Moses Audette, was born on December 23, 1893.
By 1910, the family had moved to 14 Barrett St, in Burlington. According to the census that year, they had arrived in the US in 1908, which conflicts with what Joseph (the son) had stated, so it's hard to conclude which year is correct. Also according the 1910 census, the father and the three oldest children (including Joseph) were working in the mills, and had attended school within the past year, which seems to conflict with Joseph's daughter statement (see interview with her) that her father didn't get past the third grade. Their rented home on Barrett Street was only a couple of blocks from the Chace Mill.
In 1912, Joseph's mother Marguerite died in childbirth, though the child (Dora) survived. The following year, the family lived at 41 East Center Street, in Burlington, where the Hotel Vermont now stands. Mr. Audette remarried in 1916, to Eulalie Parrott.
Joseph (the boy) married Blanche A. Pepin on September 5, 1916. His marriage certificate states that he was a barber.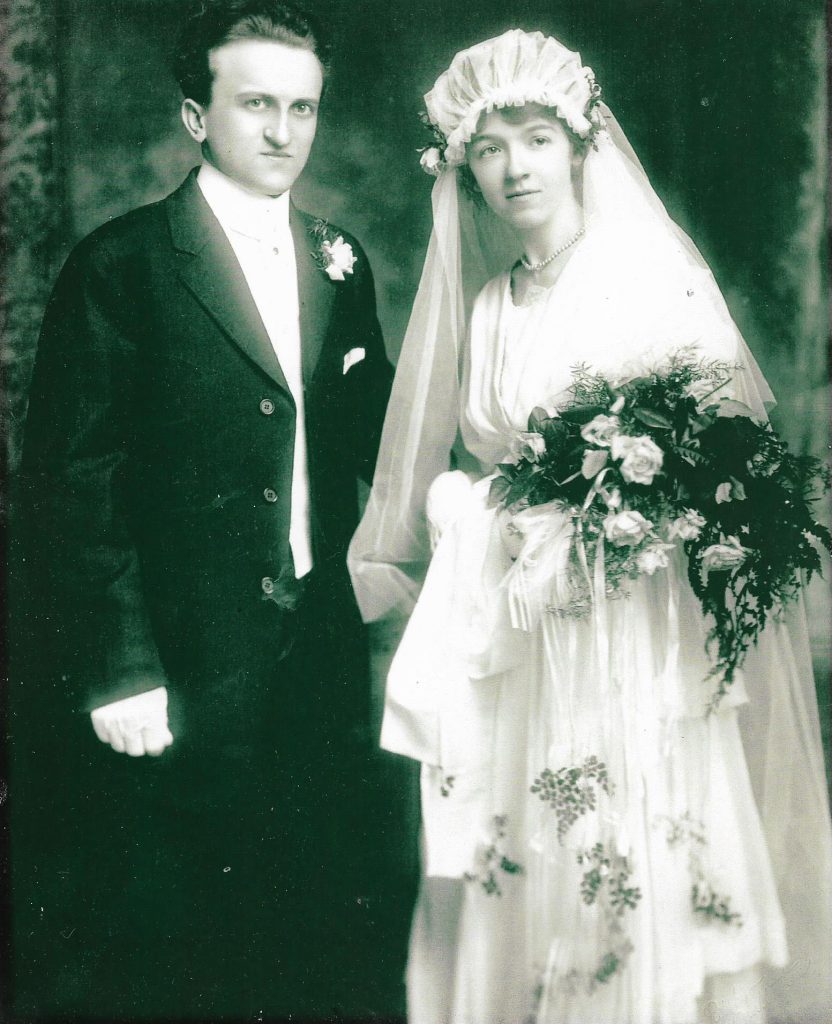 In 1918, Joseph registered for the draft, but did not serve. His brother Arthur did serve, from 1917 to 1919, and was "slightly injured," according to his service record.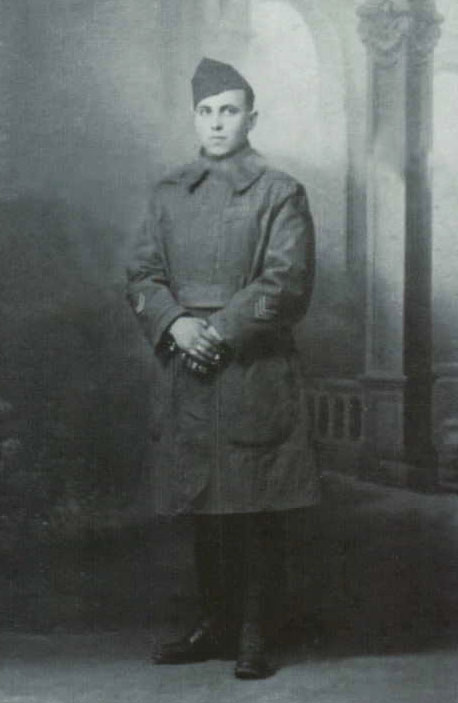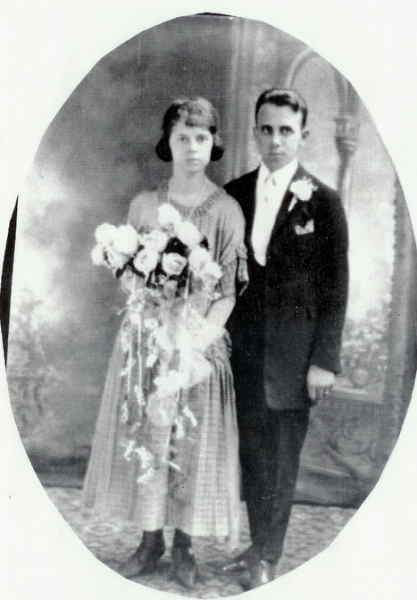 Arthur married Bertha Campbell on July 9, 1923. He worked at American Woolen Company in Winooski until he retired and moved to Hollywood, Florida, where he passed away on July 2, 1967, at the age of 73. He had 11 children. Unfortunately, I was unable to contact any of his direct descendants.
Joseph (known as Dan most of his life) and wife Blanche had 10 children. He passed away on October 15, 1958, at the age of 62. Blanche passed away on January 12, 1990, at the age of 94.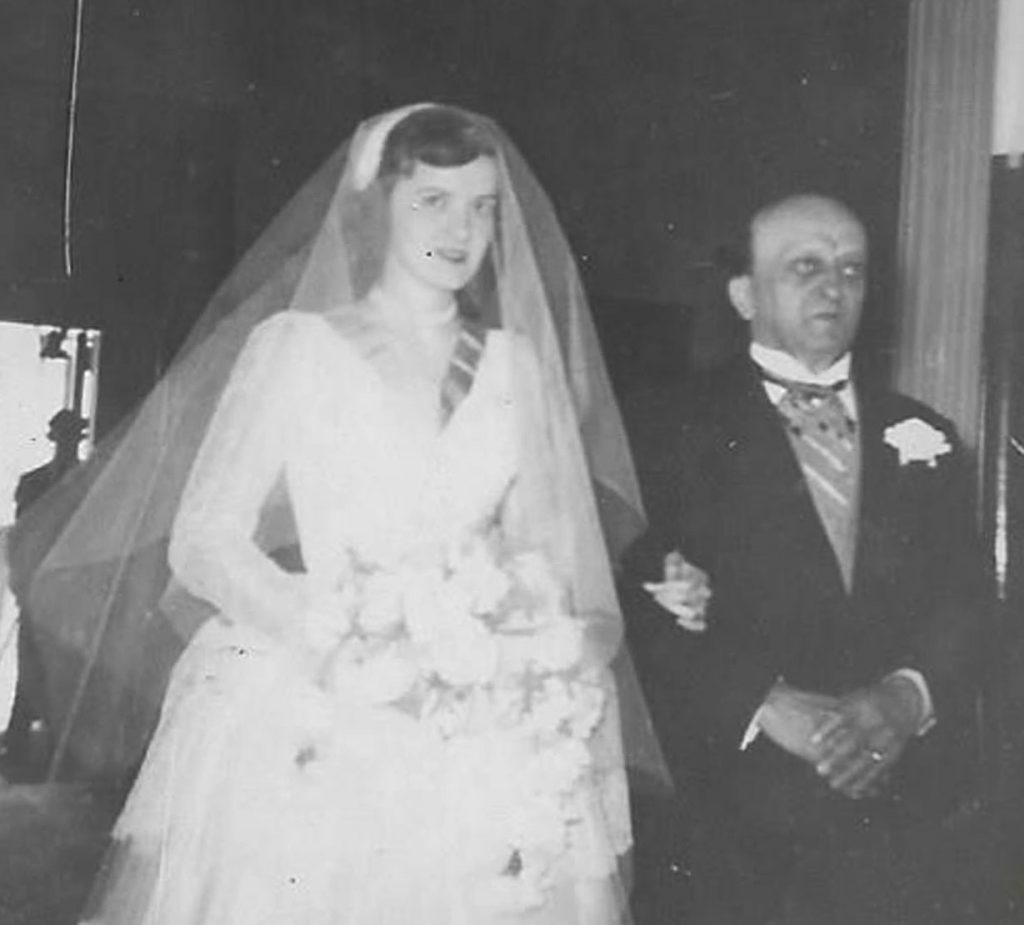 Edited interview with Yvonne Campbell (YC), daughter of Joseph Audette, and niece of Arthur Audette. Interview conducted by Joe Manning (JM) on June 12, 2018.
JM: What did you think when you saw the photo?
YC: I knew it was my father just by the way he was standing.
JM: What was it about his stance that you recognized?
YC: It's like he was saying, 'I've got my feet firmly planted on the ground, I know who I am, and I know what I have to do.'
JM: Did he tell you anything about working in the mills?
YC: Yes.
JM: Did he tell you that he worked when he was a boy?
YC: He just said that he worked hard because he had to.
JM: You told me that your father was a barber for most of his life. When did he start doing that?
YC: I believe he was working—probably training—in a barbershop when he was 13. I have a picture of him at his first barbershop. That was in 1917. I have pictures of him in each of his four barbershops.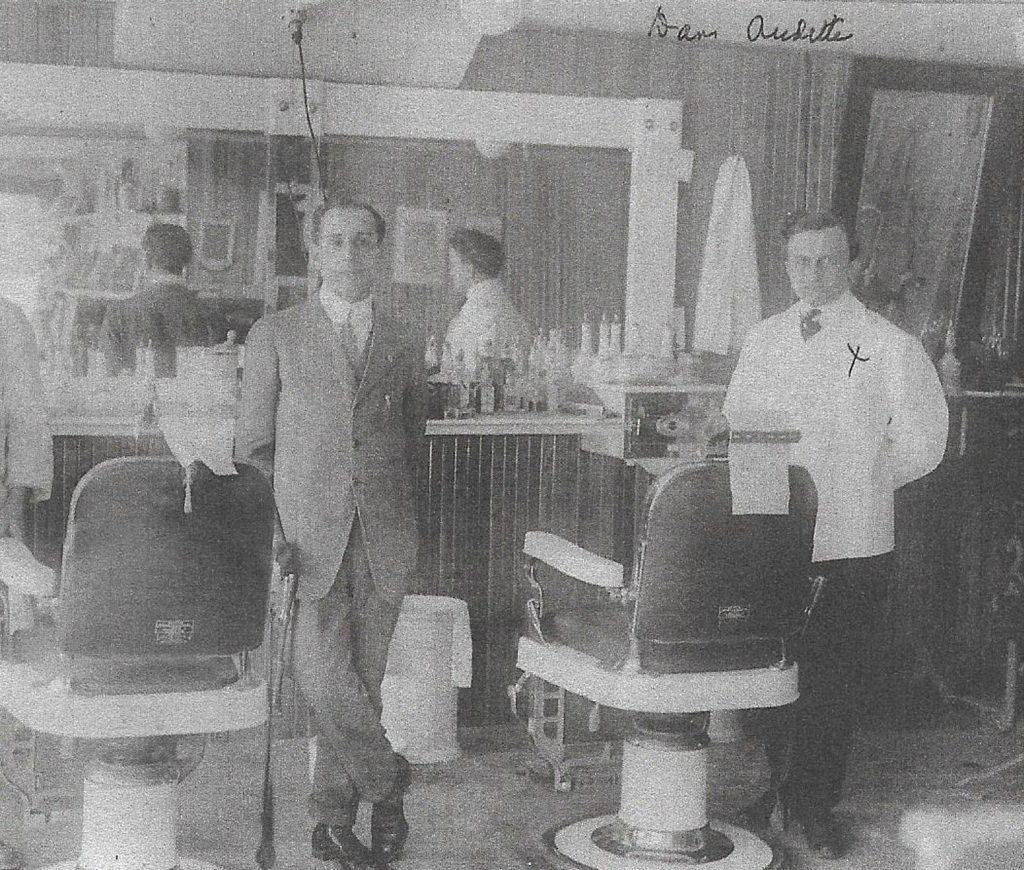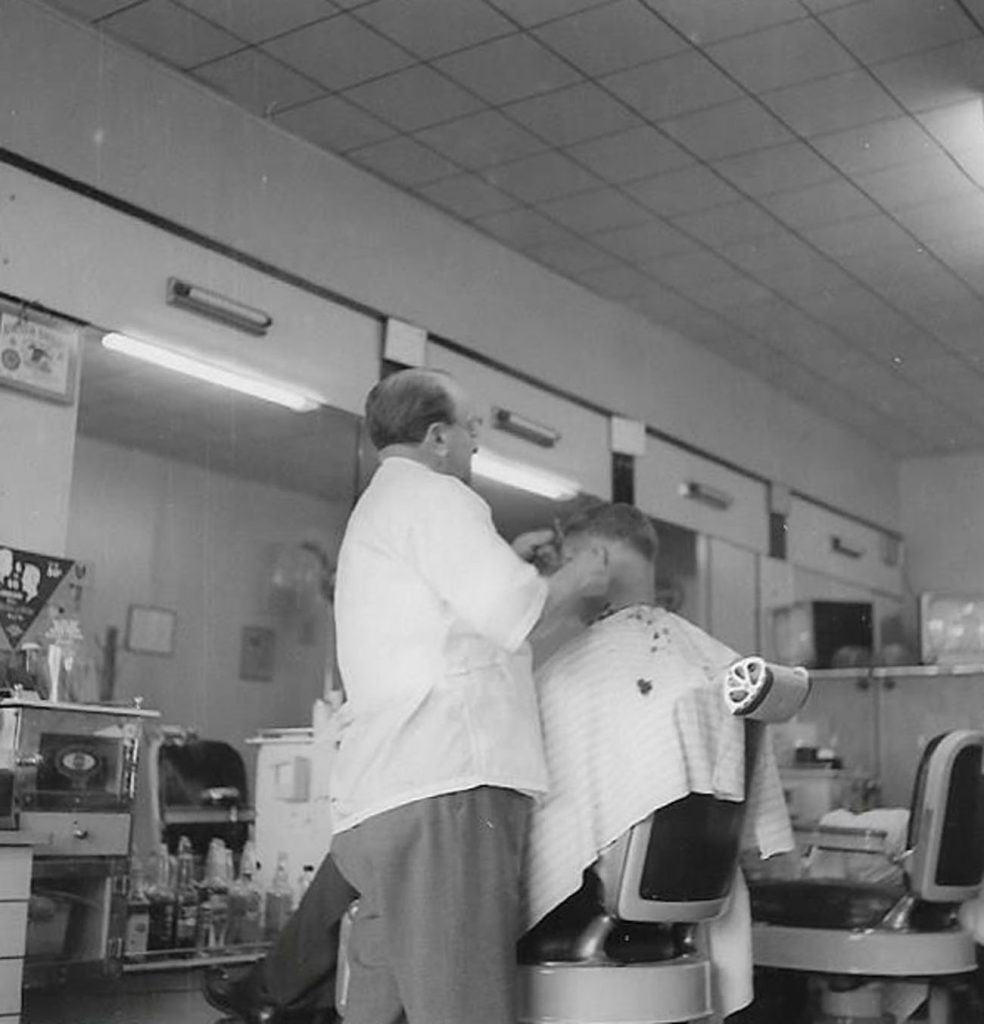 JM: I found a 1933 article in the Burlington Free Press about him opening a barbershop on Bank Street.
YC: I didn't know about that one. Prior to that, he was working on North Winooski Avenue. He did open a shop on Bank Street in 1947.
JM: The article referred to him as Dan.
YC: He was always called Dan. His middle name was Adonias.
JM: When did he get married?
YC: In 1916. He married Blanche Pepin. Between the time he worked in the mills and the time he got married, he was delivering milk for a dairy.
JM: How many children did your parents have?
YC: I was the youngest of 10 children. I was born in 1933. All my brothers have died in the past 10 years, except for my oldest brother, who died when he was 43 years old. I still have three older sisters living.
JM: Did your parents speak French at home?
YC: Yes, when they didn't want us to know what they were talking about. My father didn't speak English until he got married. My older brothers and sisters couldn't speak English until they went to school.
JM: Did you or any of your siblings go to college?
YC: Only my oldest brother John. He went to college for a couple of years when he got out of the Air Force.
JM: Did you have a career?
YC: I stayed home for the first 18 years. My husband worked for Sears. Then in 1968, he was transferred to Pennsylvania, so we moved. I went to work at a local grocery store, first as a clerk, then an office manager, and then as the store manager. Later, I worked as a buyer for a grocery store chain. We retired to Florida in 1989.
JM: Where were your parents living when you were born?
YC: When I was born, we lived in a brick house at 406 North Street. My father had a big brown Packard. The back seat could seat four people. I remember that he would take all 10 of us to North Beach. We looked like the Keystone Kops.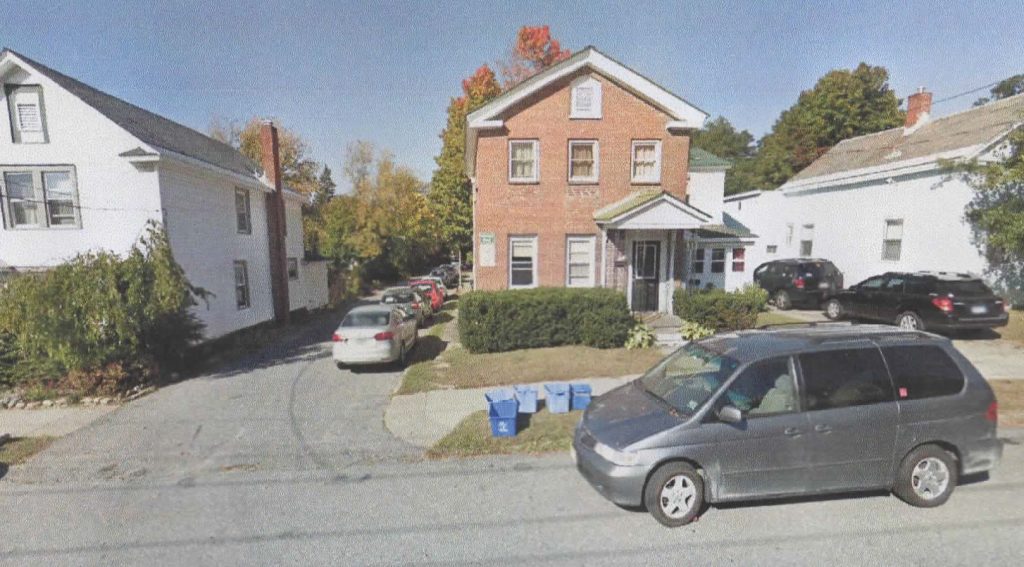 In the 1940s, my father built a new road off North Street, right behind where our brick house was. He built three houses on that new street and called it Dan's Court. Those houses were for each of my brothers when they came home from the service. This is a man who went to school only as far as the third grade. He could barely read or write, but he could follow blueprints. And in order to build the houses, the City required him to build the street and the sidewalk and the curbs. There is a news article about it in my scrapbook.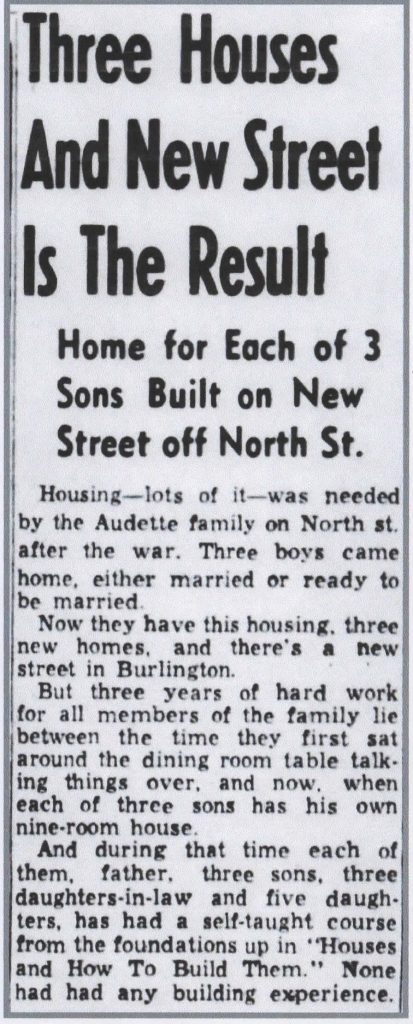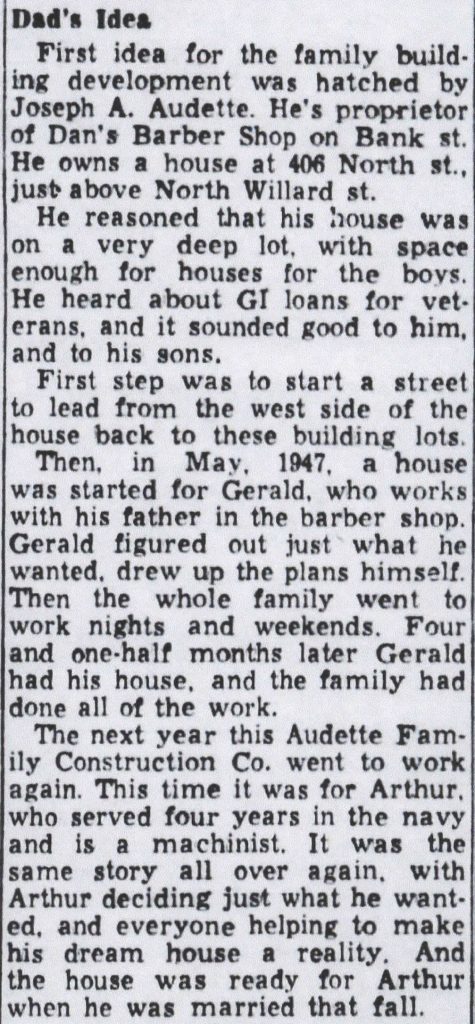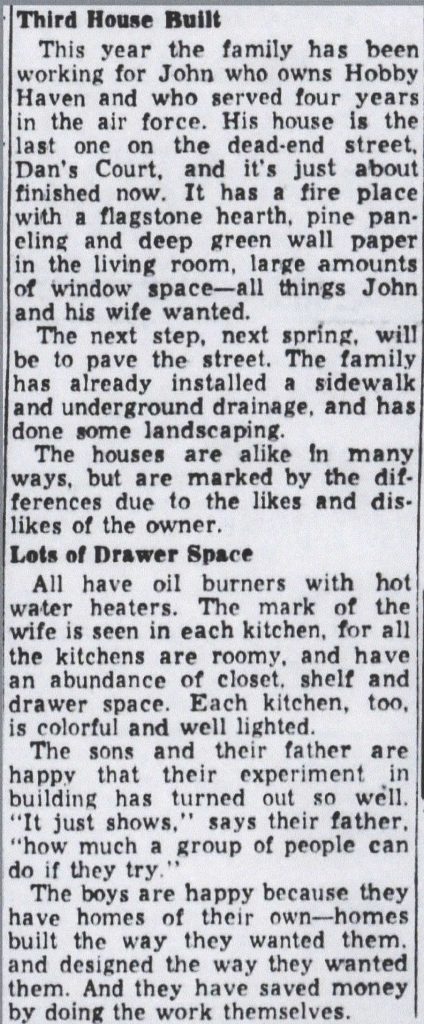 JM: Where do you suppose he learned all these skills?
YC: I don't know, but he also made furniture out of Birdseye Maple, which is very hard wood. He built bedroom furniture for all of us children. He loved to work. He played in the military band and the Vermont Symphony Orchestra. He could play any instrument and repair any instrument. When he got his own barbershop, the back door went to Bailey's Music Room, and he did all the instrument repair for them. He carved and made his own violins. He displayed some of them in his barbershop window. All our lives, every Sunday in the summer, the Burlington Military Band played a concert at Battery Park. He played the French horn. He also could play the violin. We would have New Year's parties. He played the jig, and we square danced. There was always a piano in our house.
You have no idea of the accomplishments of my father. He carved banjo wall clocks. He carved one for each of us children. I make all my own clothes, and when I was making my wedding gown, I can still see my father sitting at the dining room table helping me by carefully cutting all around the lace. I made wedding gowns for my sisters, too, and my father helped me with those.
In 1936, my father applied for a patent for an invention that he created. He applied both in Canada and the U.S. It was called a Deposit Eliminator. It eliminated creosote that was forming deposits in stovepipes, which could cause fires.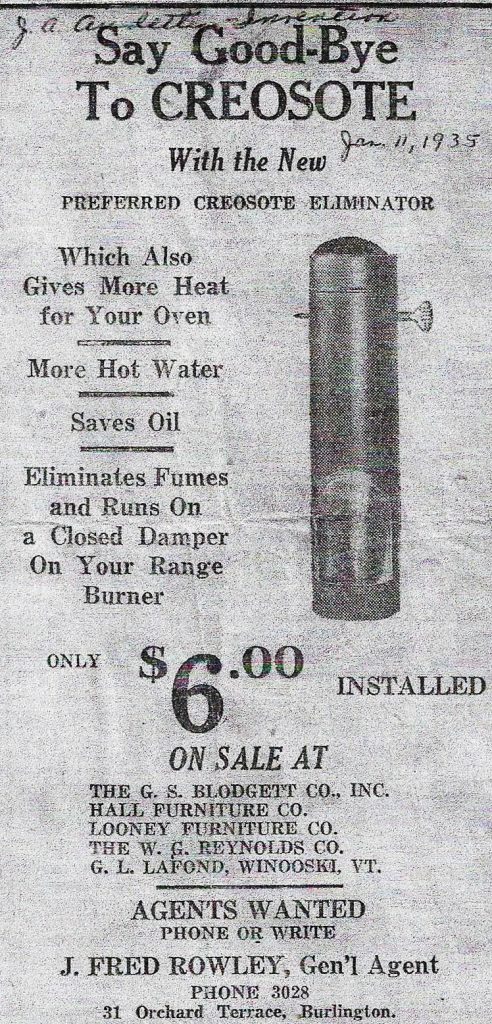 During the Depression, Boynton's had a shoe store on Church Street. It was "the" shoe store in Burlington. We were poor, but we got our shoes from there. Some of the wealthy people would buy shoes there, and then they would return them because they didn't feel right. Mr. Boynton couldn't sell them as new, so my father would trade haircuts and shaves to Mr. Boynton for shoes for us kids. I remember wearing a pair of burgundy oxfords, and I thought I was Queen of England. My father would barter and trade everything.
From 1941 to 1947, he had a shop on Main Street right next to the Flynn Theater. There was a pawn shop on the other side of the Flynn. My father bartered and traded with them, so all six girls in our family had a diamond sapphire dinner ring. I still have mine, and I am wearing it right now. He was the head usher at St. Joseph's Church, and he was in charge of Midnight Mass. I can still see him in his tuxedo.
JM: Tell me about his brother Arthur, who was standing next to him in the Lewis Hine photo.
YC: He lived in Essex Junction, and had 11 children. We kept close with them back and forth over the years. They would always come over for a party at our house on New Year's Day. My father would play the violin, and Uncle Arthur would play the violin, too, and also the spoons. Everyone would dance. I assume he continued to work at the mills. Most of his children have died except for one, but I don't where she lives. At some point, they moved to Hollywood, Florida, and retired. That was probably in the early 1960s. He died quite a while after that. (He died in 1967 at the age of 73.)
When my father was 63, he collapsed and died at his barbershop, while he was cutting a man's hair. My oldest brother took over the shop. My mother died 12 days after my husband and I retired to Florida. She was 94.
My father had two very important sayings: 'Want what you got. Not that you couldn't strive for more. But if this is all you can have, be happy with it.' The other was, 'Eat in your own plate,' which meant, 'Mind your own business.' You have to know that when my father entered a room, he made his presence known. We called him our French patriarch.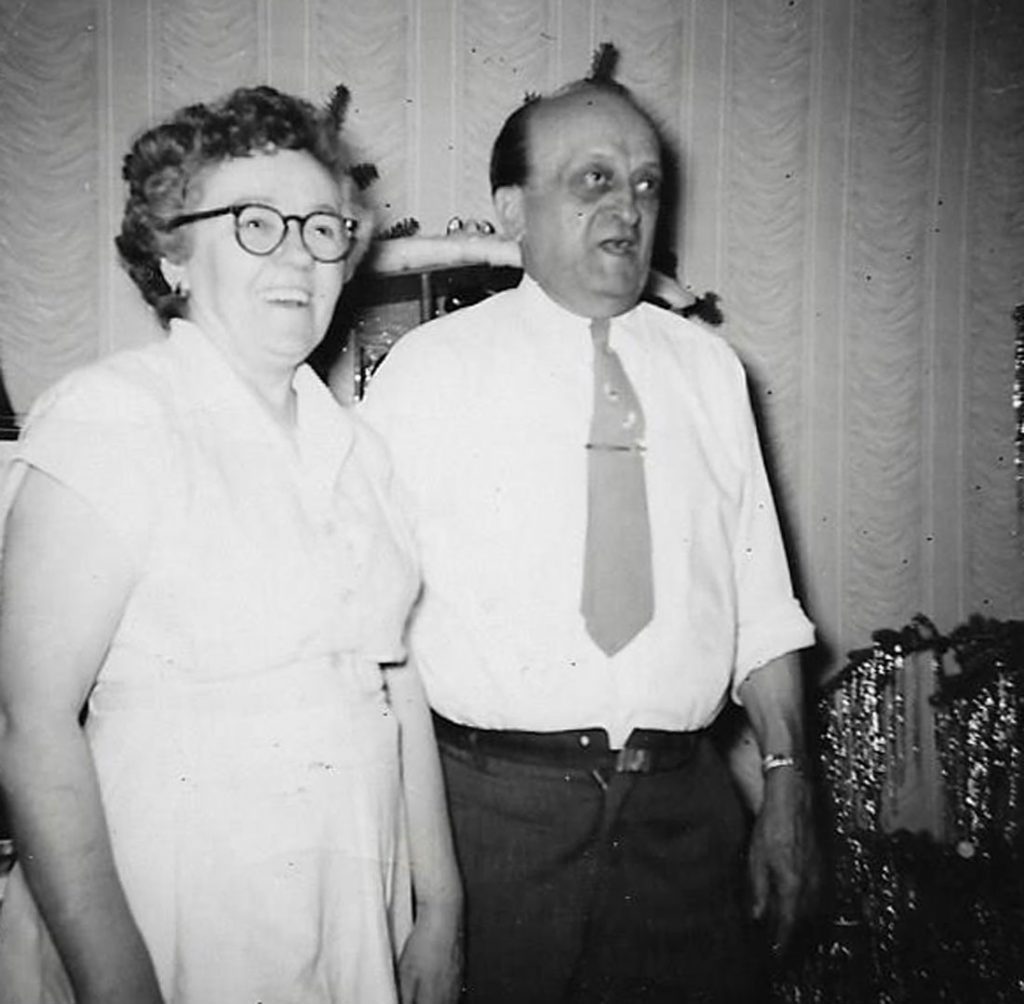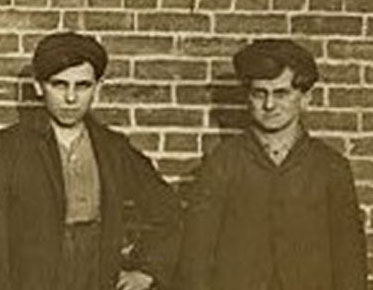 *Story published in 2019.