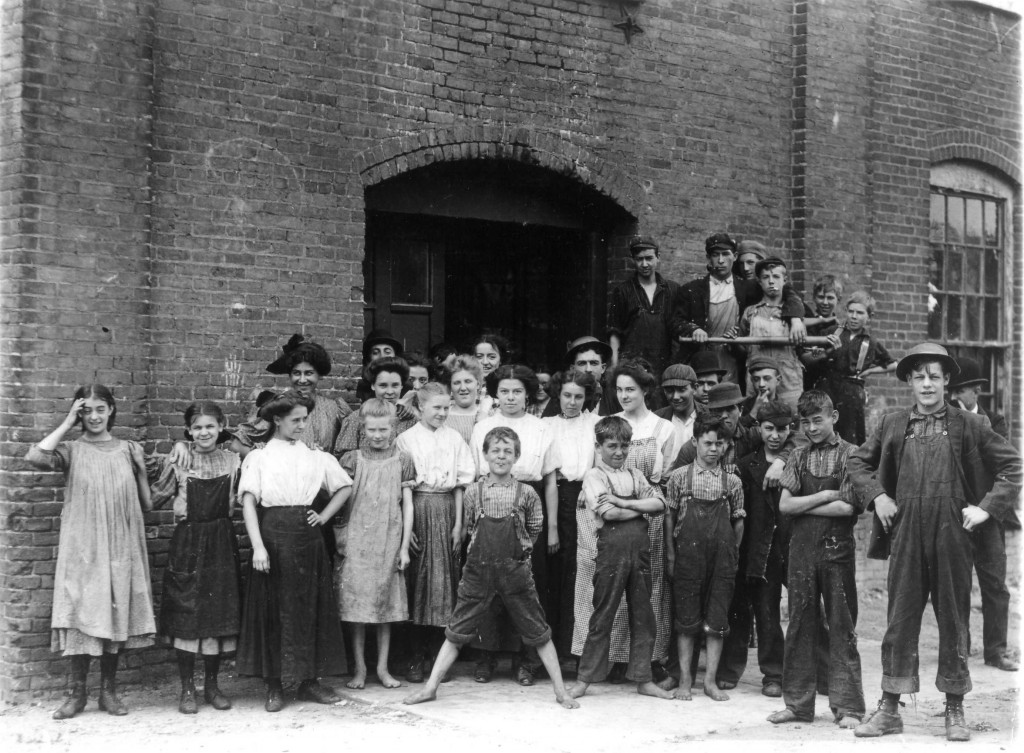 Lewis Hine caption: Every one of these was working in the cotton mill at North Pormal [i.e., Pownal], Vt. and they were running a small force. Rosie Lapiare, 15 years; Jane Sylvester, 15 years; Runie[?] Cird, 12 years; R. Sylvester, 12 years; E. [H.?] Willett, 13 years; Nat. Sylvester, 13 years; John King, 14 years; Z. Lapear, 13 years. Standing on step. Clarence Noel 11 years old, David Noel 14 years old. Location: No[rth] Pownal, Vermont, August 1910.
Chapter Two: "Addie, Tell Me Where You Are."
The next morning, I was up before sunrise searching the 1930 census. I put in only Hatch as a last name, Vermont as the state, and 1915 to 1930 as the birth year. I found a 10-year-old girl named Ruth Hatch, in Bennington, living with her aunt, a Mrs. Remington. The name was familiar, and I thought I knew why. I looked again at Margaret Harris's obituary. Mrs. Remington was another one of Edward Hatch's sisters. Ruth had to be Addie's daughter, unless one of Edward's brothers had fathered a daughter and placed it in the Remington home. But if Ruth was Addie's daughter, where was Addie? Had she died before 1930?
On Friday, the 28th, I was scheduled to go to North Adams. As I do at least once a week, I met my friend Carl Robare for breakfast, and I updated him on Addie. He was already emotionally involved with the search, getting teary-eyed every time he looked at her photo. I told him about finding the possible daughter. He said: "You know that general store up in Pownal, across from the old racetrack? That's been owned for a long time by a family named Remington. You ought to go up and see them. They might be related to the other Remingtons."
I had brought all my notes with me, figuring that I would wind up in Pownal sometime that day, if only to sit by the river again and think about Addie. At this point, I wasn't sure what to do next. "Go to Bennington," said Carl. "When you get there, you'll think of something." A few minutes later, I was talking to a middle-aged man behind the counter at the general store in Pownal.
"I want to speak to someone in the Remington family. A friend of mine said they're the owners."
"Oh, the Remingtons don't own the store anymore. We're the Winchesters, and we own it now."
"How do I contact the Remingtons?"
"I guess you don't understand the joke."
"I guess I don't."
"You'd better tell your friend to get his rifles straight. We're the Winchesters, not the Remingtons. We've owned the store for 27 years."
So I thanked him, walked out, and remembered Carl's advice: "Go to Bennington." Twenty minutes later, I was in the town clerk's office, feeling like I might be on the verge of making a slew of discoveries.
The town clerk allowed me to park myself at a table and search their files, which included birth, death and marriage records for Bennington County, all catalogued alphabetically by name, on index cards, plus an incomplete collection of annual directories, which listed all residents by name of head of household, and by street address. I started with the directories.
Mrs. Remington was in the directories in 1920, but since only heads of household and single adults were listed, there was no way to verify what children lived in the home. In 1937, Ruth Hatch was listed, still living with her aunt. I thought, "She probably turned 18, and earned her own listing as an adult." Same for 1939, but in 1941, she was no longer listed.
"I'll bet she got married," I mused, and looked in the marriage records. There she was, married in 1940 to a man from Hoosick Falls, New York, a town just across the border from Bennington. Her parents were listed, Edward Hatch and Addie Card, and it was noted that they were divorced. So now I knew that the Ruth was Addie's child, and that her placement in her aunt's home wasn't because Addie had died. Had Addie somehow lost custody of Ruth?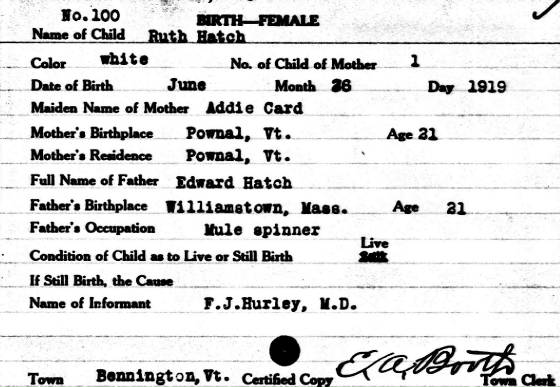 A few minutes later, I had a copy of Ruth's birth certificate, born June 26, 1919. But I could find no records for any other Hatch children after 1919, so it appeared that Addie and Edward had only one child. Then I checked birth records to see if any children had been born to Ruth and her husband. Sure enough, a daughter had been born in Bennington in 1944 — Addie's granddaughter! If living, she would be 61 years old. Great news, but what if she had married? How would I find her if I didn't know her last name?
I wanted to see Addie's divorce record. The clerk sent me over to the Bennington County Family Court. They looked it up and gave me a copy of the decree. I raced back to my car and read it. Edward Hatch had sued Addie for divorce, charged her with desertion, and won custody of Ruth who, of course, remained with Edward's sister. But the decree noted that Addie did not appear at the hearing. I wondered about that. What really happened?
I was so excited, I could barely contain myself. On my way back home, I took a quick detour to North Pownal. I wanted to sit on that bench, watch the river, and calm down. About two miles from North Pownal, my favorite Nat King Cole song, "Mona Lisa," came on the radio. It's a beautiful arrangement, and I sometimes get choked up when I hear it. As I rounded the corner near the mill, Nat closed out the song: "Are you warm, are you real, Mona Lisa/Or just a cold and lonely, lovely work of art?" I stared at Addie's photo, my constant companion on the passenger seat.
I sat down on the bench, looked back at the mountain and the row of tiny houses on French Hill, where Addie might have lived. Then I stared at the river and shouted out, "Addie, tell me where you are."