Chapter Three: Discovering Addie's First Family
All the way home, I held out the hope that Addie's granddaughter had the same last name — the one she was born with. As soon as I walked in the door, I headed for the computer and Googled her. I got a hit! A person with that name was listed on FreeGarageSale.com. She was selling something, and her phone number and email address were listed. The phone number was in the Hoosick Falls area, so that was encouraging. I emailed her, explaining about Elizabeth's book and Addie's famous photo. I held my breath. Was she the right person – Addie's granddaughter? If so, was she interested? Would she have any information?
The next day, my brother and his wife came from Burlington, Vermont, to spend part of the weekend with us. That evening, we were sitting around talking about Addie, and I was running up and down the stairs to my computer every 15 minutes to check my email. I finally got a reply. The subject heading was just, "YES." I opened it. She was, indeed, Addie's granddaughter, and she wanted me to call her.
When she answered the phone Sunday afternoon, I wasn't sure how to begin. I remember saying something like, "I don't know whether I should be asking you questions or you should be asking me questions." She had been unaware of Addie's photo.
She said she saw her grandmother only once in her life, when Addie was very old. She told me that her mother Ruth died in 2002, and that she and Addie were estranged all their lives because of Addie's apparent abandonment of her as a baby. She also mentioned that Addie was buried in Cohoes, New York, a town near Albany, but she didn't remember which cemetery. And she added one final important piece of information: Addie married again and had a child with her second husband, but she didn't remember the husband's name or the child's name.
Thirteen days after my dinner with Elizabeth, I had just talked to Addie Card's granddaughter. I couldn't believe it had happened so fast.
The next day, I received Edward Hatch's obituary. It said he joined the Navy just after WWI ended, was an assembly worker for General Motors, retired in 1948, and moved to Millerton. He was survived by wife Elvina, and a daughter (Ruth), of Hoosick Falls. Ruth's last name indicated that she must have married a second time.
I checked the archives in the Troy Record and found a 2002 obituary for Ruth. She was buried in Schuylerville, New York. It named her husband as a survivor, plus two daughters — one in California, and the one I had just talked to.
I also checked the Social Security Death Index for Addie's sister, Annie Leroy, and learned that she died in Cohoes in 1954, so I requested her obituary from the New York State Library in Albany. I figured that if Addie had been listed as a survivor, I might find out where she was living then, and what her second married name was.
On Friday, November 4, I drove to Millerton to photograph Edward Hatch's headstone. Millerton is a tiny town just across the border from the northwest corner of Connecticut. I found the Irondale Cemetery right away, but I had no idea where the grave was. I pulled into the dirt road off Route 22, parked on the grass near the east edge, grabbed my camera, and started walking. On the first headstone I came to, the name, carved out in large letters, was Addie B. Card. I froze in amazement. "Addie Card? It can't be. That's just too weird."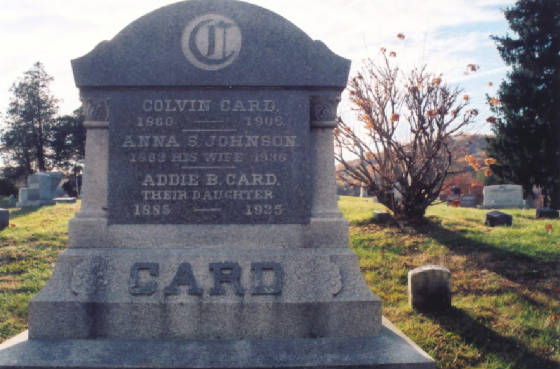 When I recovered my senses, I noticed that she was born in the 1885. Of course, she wasn't my Addie. But what were the chances of another Addie Card being buried in the same cemetery as Edward Hatch? I found the grave of Addie's former husband in the section reserved for veterans. I wondered if during his years in Millerton, he had ever walked through the cemetery and discovered Addie B. Card's headstone.
I asked around town if anyone remembered Edward Hatch, and a young lady behind the counter at an old clothing store told me her mother would know. She told me to call her at the store the next morning. At the public library, another strange and serendipitous event was about to happen.
I found a small exhibition and reading area sponsored by the historical society. I pulled out a large binder full of old newspaper clippings, opened it to a random page, and there, looking back at me, was a 100-year-old photo of Addie B. Card, with her mother and father. Included was a detailed history of the family. There was no apparent connection to the Cards in Vermont.
I called the store the next day, and the woman remembered the Hatches, Eddie and Elvina. She said that they had a small chicken farm and sold eggs. I thought to myself, "With the name like Hatch, what else would you do?"
Two days later, I received Annie's obituary, and it named Addie as a survivor — as Mrs. Ernest LaVigne, of New York City. I looked up Ernest in the census and found nothing. Next, I looked in RootsWeb.com, and found him listed as being buried in 1967 at St. Mary's Cemetery in Hoosick Falls. Then I looked up Addie LaVigne and Adeline LaVigne in Ancestry.com. Adeline M. LaVigne appeared in the Social Security Death Index. She had died in Cohoes, New York, on July 19, 1993. That "anemic little spinner" had lived to be 95 years old!
I used the Internet to get a list of all the funeral homes in Cohoes. There were seven of them. I started calling them, and strangely enough, the first one I called was the right one! Addie was buried in St. Agnes Cemetery in Cohoes. They gave me the section and plot number, and I got driving directions to the cemetery. Three weeks since my dinner with Elizabeth, I had established when and where Addie was buried, 83 years after Hine took her picture. Carole and I made plans to drive up there to photograph the gravesite.