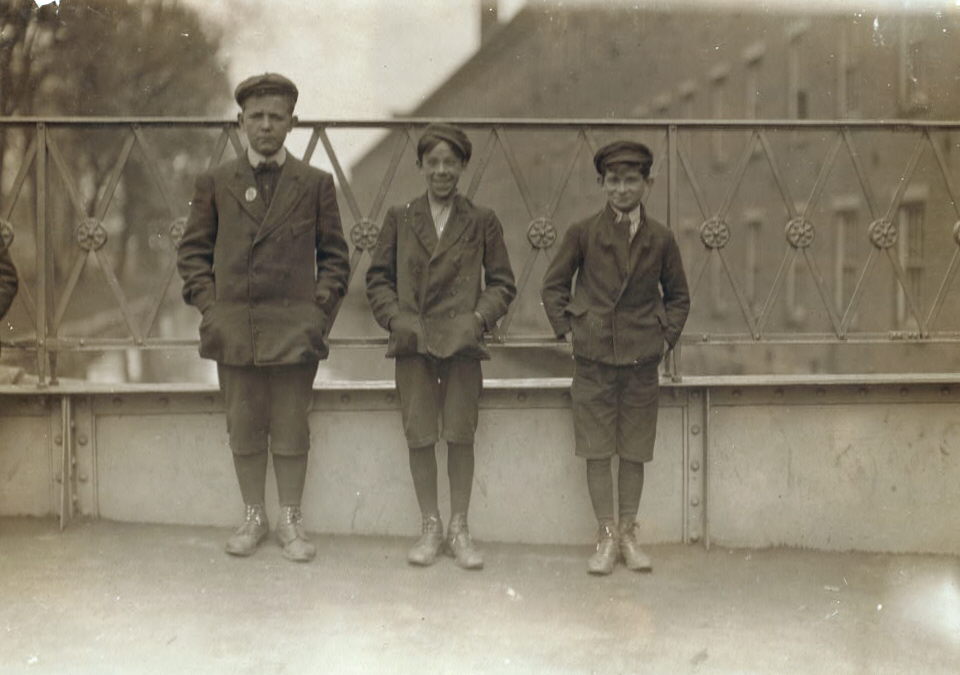 Lewis Hine caption: Boys working in Amoskeag Mills, Manchester, N.H. Smallest boy is Napoleon Cammery, 194 Merrimac St. Been in mill 1 year. Next boy is Jerry Moore, 352 Chestnut St. Martin Markey, 33 State St. Location: Manchester, New Hampshire, May 1909.
This is the second of my stories about the three boys in this photo. Links to the other two stories are at the bottom of this page.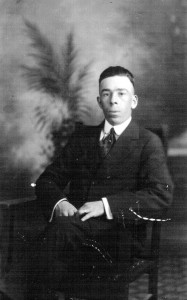 Jeremiah Moore was Martin Markey's first cousin. One of Martin's descendants that I contacted, Owen Markey, was Jeremiah's nephew, and in an interview, he told me that his Uncle Jerry lived with him for many years.
Jeremiah Henry Moore Jr. was born in Manchester on January 22, 1896. His parents were Jeremiah Henry Moore and Agnes (Lewis) Moore, who were married about 1889. His father was born in Ireland and came to the US in 1880. His mother was born in Canada. Both worked at the Amoskeag Mill.
According to the 1920 census, Jeremiah, a shoe factory worker, was living in Manchester with his wife, the former Grace Trull, whom he married about 1917. Their only child was Hazel, who was born in 1918. In the 1930 census, Jeremiah was working in a casket factory and living in Goffstown, a suburb of Manchester, with his second wife, Lucy, whom he had married about a year earlier. Daughter Hazel was not living with them, so she was apparently living with her mother, Grace.
Jeremiah continued to work in a casket factory (Fellows & Son) until his retirement. He died in Manchester on July 7, 1972, at the age of 76. Daughter Hazel died in 2001, and apparently had no children.

Edited interview with Owen Markey, nephew of Jeremiah Moore. Interview conducted by Joe Manning (JM) on July 7, 2010.

JM: When were you born?
Owen: I was born in Manchester in 1935.
JM: How are you related to Jeremiah?
Owen: He was my mother's brother. His full name was Jeremiah Henry Moore. He was a junior. Their parents' names were Jeremiah Henry Moore and Agnes Lewis Moore.
JM: What was your Uncle Jeremiah like?
Owen: Uncle Jerry was always a very sharp dresser. When I was a kid, I used to buckle up his spats before he went out at night. He lived in our house, first on Bell Street, and then on Manchester Street for about 40 years. After his second divorce, he moved in with us. That was probably in the late 1930s, when I was just a little kid.
JM: Did he have any children?
Owen: He had a daughter, Hazel. Jerry got divorced shortly after she was born. After that, he never had much contact with her, until a couple of years before he died.
JM: What did he do for a living?
Owen: He worked for Fellows & Son, in Manchester. They made caskets. He was in charge of what they called the rough mill. They had all their own saws and planers. They were pretty much self-sufficient. He worked there most of his life. He owned a camp (cottage) over on Glen Lake, in Goffstown. I used to work with him over there. I built all the stone walls for him. He liked to get other people to do the work. He sort of supervised them. He would talk about doing things, but he would never do them himself.
JM: Did you live in the house the whole 40 years or so that Jerry did?
Owen: When I got married, I moved out for about five months, and then I moved back in on the first floor. My wife and I have lived here for 55 years.
JM: Was Jerry home a lot?
Owen: He worked all day, but he slept most nights with us. But after work, he was out most nights with his girlfriends. And he would go to his camp in Glen Lake on the weekends. When he retired, he used to go down to the city and hang out on Elm Street with a bunch of guys who were retired. He would go down wearing a shirt and tie. He always dressed well. He and his friends used to go down to the courthouse. Some of the lawyers would take them to different court trials around the state. They knew all the judges and so on.
JM: Did you know that he worked at Amoskeag when he was a boy?
Owen: He might have told me, but I don't remember.
JM: Were you surprised by the photograph?
Owen: Yes, but I recognized him.
JM: Was Jerry sick a long time before he died?
Owen: Maybe a few years. I remember carrying him down the stairs to take him to the hospital. He didn't want to go. After that, he was mostly in the hospital.
JM: Did his daughter Hazel know he died?
Owen: Oh, yes. About a year or so before he died, they made contact again and reconciled. She was at his wake and funeral, and his second wife was there, too.
JM: How tall was he?
Owen: About 5′ 6″ or so.
JM: Was he good looking?
Owen: Well, I don't know. Evidently, he was good looking to the ladies.
*Story published in 2010