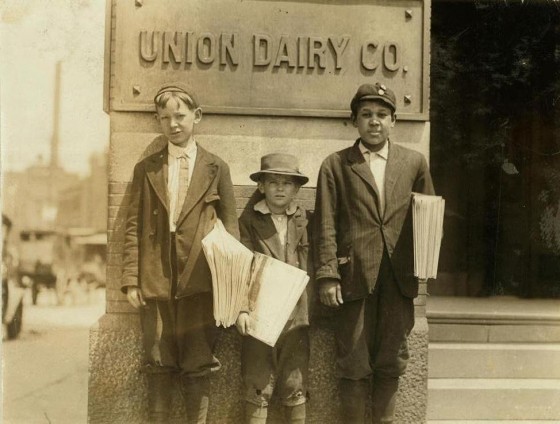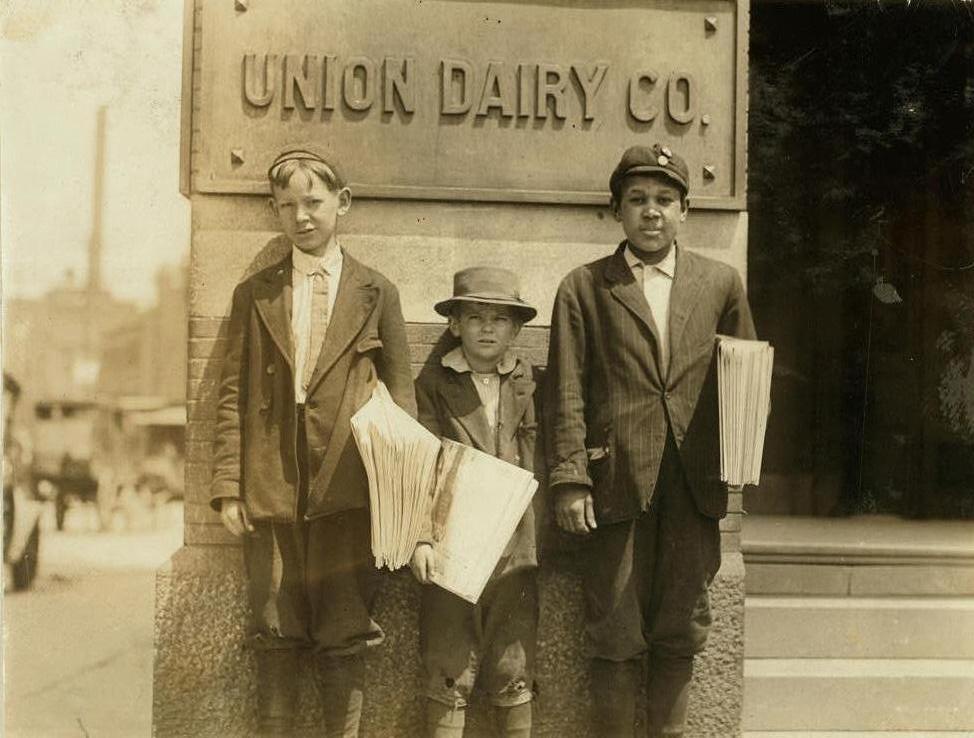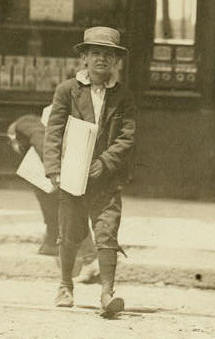 Marvin Adams was apparently eight years old when he was photographed. His pants have holes in the knees, but otherwise, he looks okay. His sporty hat might cause some viewers to believe that he was already streetwise, which was one of the fears about young newsboys at the time. The seedy urban environment and competitive nature of hustling newspapers on street corners, together with the truancy issue, was justifiably perceived as a threat to their safety and well being, which is why Hine was out there with his camera.
Joseph Andrew Adams and Nellie Cook, natives of Tennessee, married in Houston County, Tennessee, in 1894. Six years later, they were still living in Houston County, and had two children: Nora (born in Tennessee) and William (born in Kentucky). Called Andrew, the father was working as a janitor. According to the St. Louis directories, the family moved to that city sometime before 1910, and boarded at 2639 Washington Avenue as early as 1908. By that time, they had two more children: Marvin, born in Tennessee in about 1901, and Mabel, born in Illinois about 1905. But in the 1909 directory, Nellie was listed as the widow of Andrew, who had died when Marvin was about seven.
According to the 1910 census, Mrs. Nellie Adams and the four children were still boarding at 2639 Washington Avenue, but she was now married to George York, who had been living at the same boarding home in 1908. He was seven years younger than she, and he worked for the fire department. Nellie's father also lived there. About 1913, Nellie, George, and the children moved up the street to 2651 Washington Avenue. But after 1917, I could find no trace of either Nellie or George, not in the census, and not in any death records.
During that period, Marvin got into trouble, because in the 1920 census, he was listed as an inmate at the Missouri State Penitentiary, in Jefferson City, where he worked as a seamster in the shirt shop. According to a history of the penitentiary posted online, infamous bank robber Charles Arthur "Pretty Boy" Floyd was an inmate there from 1925 to 1930.
I contacted the Missouri State Archives, and learned that I could obtain at least some of Marvin's prison records, so I made a request. A few weeks later, I received all of his available prison records.
In those records, his date of birth was listed as December 28, 1900, and his parents were listed as Andrew and Nellie. His first name was incorrectly spelled "Marion" in one record. He was convicted of an unspecified offense, and sent to the Missouri State Training School for Boys, in Booneville, on December 3, 1914. He had only a third grade education. He was released on October 5, 1916, returned for another stay at the school on February 22, 1917, and was paroled on May 21, 1918.
According to a 2003 article published in the Southeast Missourian, a major daily newspaper based in Cape Girardeau, the State Training School was established in 1889, and had a college-like campus with brick dormitories, but with barred windows, and barbed wire surrounding the campus. In the early 1900s, there was substantial evidence of beatings and sexual assaults, and the school often housed runaways, petty thieves, and the mentally retarded.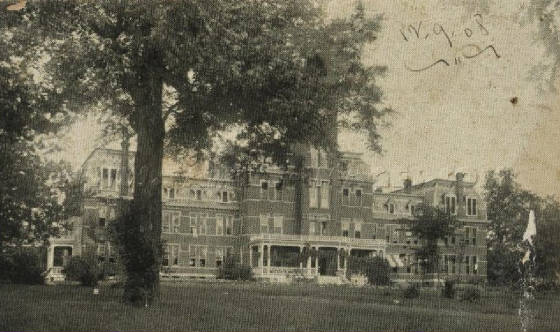 In 1919, Marvin was convicted of larceny, and as an adult, he was sent to the Missouri State Penitentiary, in Jefferson City, on April 4, 1919. His sentence was commuted on June 14, 1920.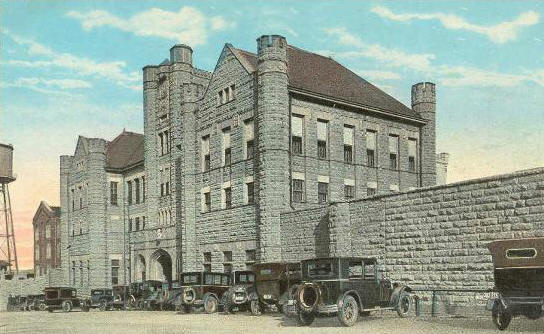 Ten years later, Marvin was an inmate at the State House of Correction, in Marquette, Michigan, according to the 1930 census. He was working in the kitchen. He was still there in 1940. That census noted that he had left school after finishing the 6th grade, so it appears that he may have had additional schooling at the State Training School. I was unable to determine when he left the Missouri State Penitentiary, when he went to Michigan, what crime he committed in Michigan, and when he left the prison in Marquette.
I searched death records available online for persons named Marvin Adams who had been born about 1900 in Tennessee. I found only one, Marvin M. Adams, born in Tennessee on December 28, 1901 (not 1900). He died in Santa Barbara, California, on December 25, 1974. His Social Security number had been issued in Michigan, a notable fact, since Marvin was in prison in Michigan after 1935, when Social Security numbers started being issued. I requested Marvin's obituary from the Santa Barbara library, but they could not locate one. I also found a Marvin Adams in the Santa Barbara directories in the early 1950s, living with a spouse, Barbara Adams. Both worked at the Dixie Dew Baking Co. Unfortunately, the Santa Barbara directories are not online after the late 1950s.
A few weeks later, I obtained Marvin's death certificate, which gave his middle name as Mc Calvin (or McAlvin), his parents as Andrew and Nellie, and his wife as Barbara, thereby confirming that he was the same person who was photographed by Lewis Hine, served time in several prisons, and appeared in the Santa Barbara directories. His death certificate further indicates that he was still married to Barbara, that his last job was custodian at Santa Barbara County Hospital, and that he had been living in Santa Barbara since 1944.
Based on all the information, it appears likely that Marvin was born in 1901, not 1900. He died three days short of his 73rd birthday. Barbara (maiden name Barbara Elizabeth Kingsbury) died in Santa Barbara in 2001. Her obituary is not available. They are buried in different cemeteries.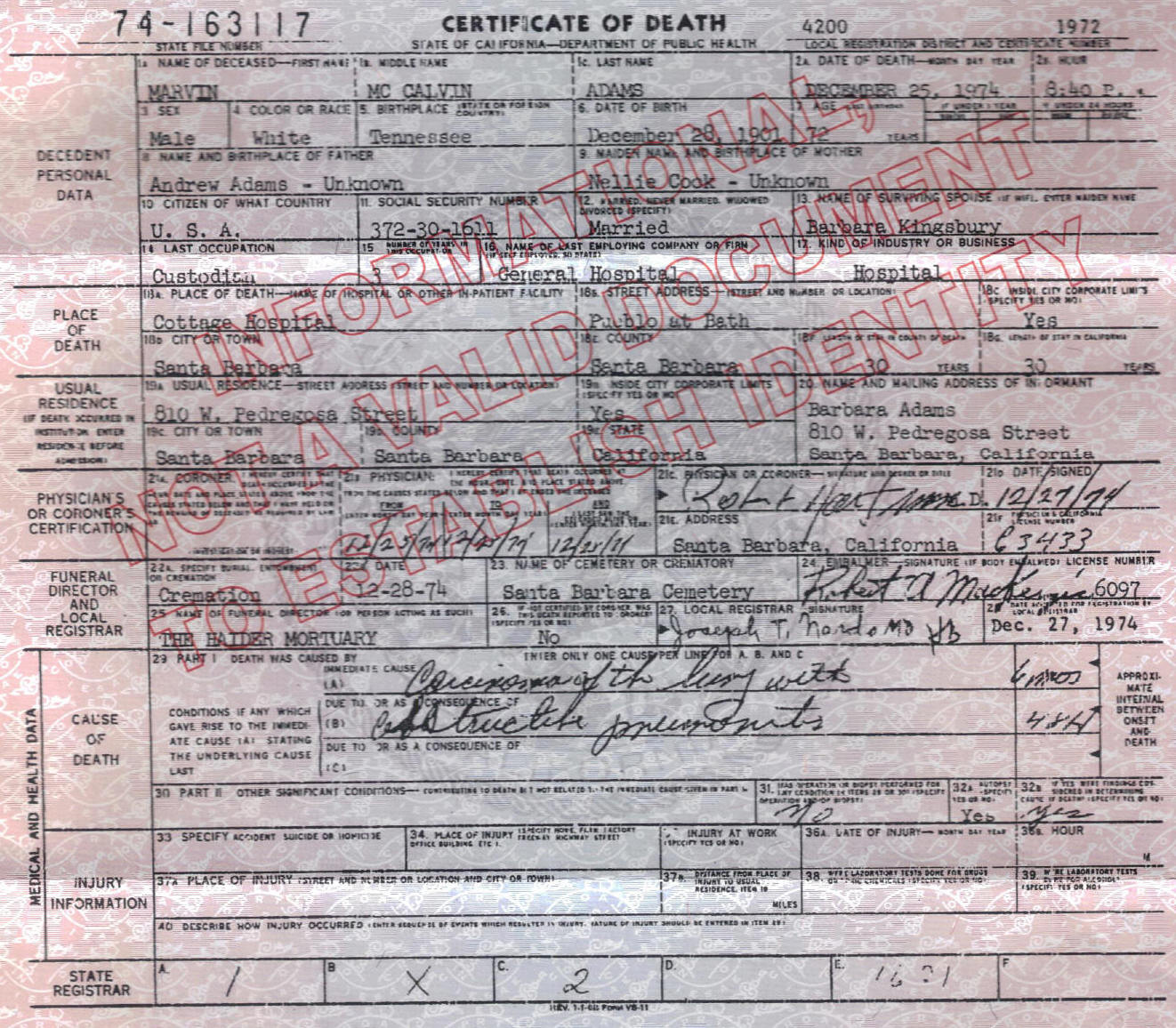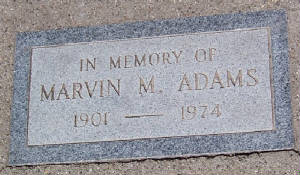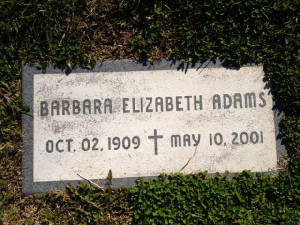 Introduction to story of three St. Louis newsboys