While searching for articles about the Dowlin Block, I ran across this account of an accident at its construction site. I immediately wanted to know if young Evelyn sufficiently recovered from the mishap, and how her life turned out.
According her official birth record, Helene Eveline (later called Evelyn) Langlois was born in North Adams on October 10, 1892, the last of four children born to Alfred and Philomine (called Phoebe) Langlois (maiden name Regnier), a native of Quebec. They married in 1885, but divorced a short time after Evelyn was born. Phoebe remarried in 1898, to Joseph Elliott. They later had one child of their own.
About 1910, the family moved to Holyoke, where Evelyn got a job as a spinner in the silk mills. Her stepfather worked in a brickyard. On December 2, 1911, Evelyn, then 19 years old, married Joseph Annino, then 21 years old. They settled in nearby Chicopee, and later bought a house in West Springfield. He worked in a tire shop, and then owned a confectionery store. They had a total of seven children.
Joseph Annino died in West Springfield, in 1960. Evelyn died 28 years later, on June 22, 1988, at the age of 95. She was buried at St. Thomas Cemetery in West Springfield. I talked to one of her grandsons, who had not seen the article about his grandmother's childhood accident. His mother told him that she did not remember it ever being mentioned.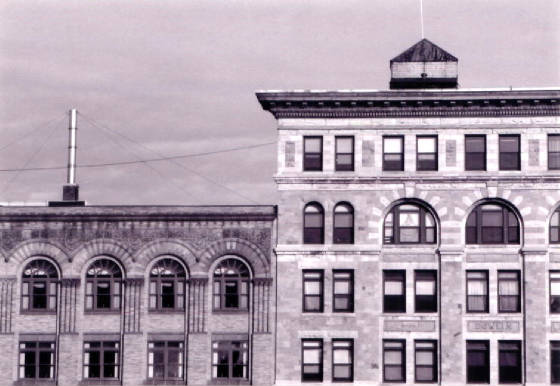 William and Hattie Alderman
Five or six days a week, from 1917 to 1931 (14 years), William and Hattie Alderman left their apartment at the Dowlin Block early in the morning, and headed to the Eclipse Mill on Union Street, where they worked for the Hoosac Cotton Company. They probably walked the three-quarter-mile trip, even on the coldest, snowiest days. When the Dowlin Block opened in 1902, they were living at 19 Olds Street, in the west end. William worked at the Greylock Mill, and Hattie worked at a shoe mill. They had married in 1895, and they never had any children. At the Dowlin, they first lived in Apartment 427 (soon to be demolished). Two years later, they moved to 600 (in the section that will survive).
William George Alderman was born in Williamstown, Massachusetts in 1873, the son of Francis and Delia (Russell) Alderman. Harriet, known as Hattie, was born in North Adams in 1875, to William and Mary (Grundy) Alderman.
In the early 1930s, they bought a home, with three acres, on Luce Road in neighboring Williamstown and lived there the rest of their lives, where they tended to a small farm. When William retired from the Hoosac Cotton mill in 1938, he had been a finishing room foreman for a number of years . Hattie worked there as a bookkeeper.
Hattie died in 1955, at the age of 80. William died three years later, at the age of 84. I was unable to locate any descendants. In accordance with their will, their house and property were deeded to the Town of Williamstown.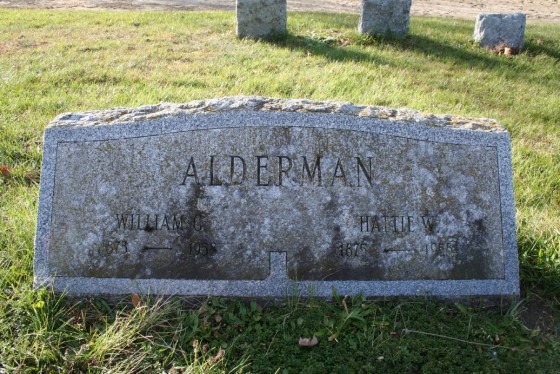 Chapter Five: Leo Frisby, WWI veteran, city fireman, and former resident of the Dowlin Block