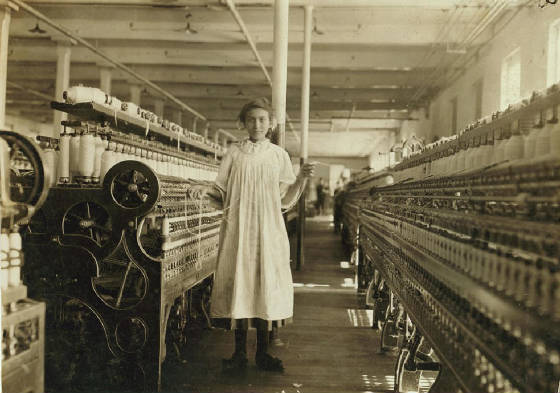 Lewis Hine caption: Mamie La Barge at her machine. Under legal age. Location: Winchendon, Massachusetts, September 1911, Lewis Hine.
In September of 1911, Lewis Hine took at least 40 child labor photographs in Winchendon, Massachusetts, a town in northern Worcester County. Ninety-seven years later, in September of 2008, I made a presentation about my project at the Springfield (Mass) Museums. After the event, a woman in the audience showed me copies of a few of these photos, all of them picturing a girl identified by Hine as Mamie La Barge (later identified as Mamie Laberge). The woman said that she believed that Mamie was her great aunt, and asked me to check into it.
Despite browsing through the Library of Congress photos many times, I didn't remember seeing any in Winchendon, nor did I know where the town was located. I agreed to help and started right away when I got home. Quickly, I found the photos on the Library's website, and then I discovered that Winchendon is only about 60 miles from my home. Excited about the prospect of doing research "on site" rather than on the Web, I printed all the photos and captions and put them in a binder. Several days later, I drove to Winchendon and poured through birth, marriage and death records at the town hall, town directories at the library, and took an eerie walk around one of the mills, now closed, windowless and empty.
See important links below:
Click on Stories Of The Winchendon Children to see all of my completed stories of the children.  Click on History of White Brothers mills, where Hine took his photos. See Interview with Eric White, the great-great-grandson of the original owner. Glenallan Mill Gallery includes more than 20 of my recent photos of the historic mill where many of Hine's photos were taken. And check out the great article in Yankee Magazine about my work in Winchendon.
Stories Of The Winchendon Children
History of White Brothers mills (Spring Village Mill and Glenallan Mill)
Interview with Eric White, member of first generation that did not own the White Brothers mills
Lewis Hine Project in Winchendon in March/April 2011 issue of Yankee Magazine!
Special announcement! I am pleased to announce Child Labor in Winchendon, an exhibit of my stories of the Winchendon children. The exhibit is at the Winchendon History & Cultural Center, 151 Front Street, in Winchendon. The exhibit officially opened on June 24, 2017, and is expected be there for the foreseeable future. Museum hours are normally Wednesdays from 10:00 am till noon, and 1:00 pm till 4:00 pm; and on Sundays from 1:00 pm till 4:00 pm. Or by appointment. Call 978-297-2421.
************************
On June 11, 2011, a huge crowd, including dozens of descendants of Winchendon child laborers, attended an exhibition of the 40 photos that Lewis Hine took in this town 100 years ago. I gave a slideshow presentation about the stories of some of these children. The event took place at the Winchendon Senior Center, located in the historic building once occupied by Murdock High School, where some of the child laborers and many of their descendants attended school. The event was sponsored by the Winchendon Historical Society and the Winchendon Courier.