Below is a list of my stories under various categories, based on common locations and/or type work (such as Cannery Workers, Eastport, Maine). Click on a category and you will see thumbnail photos linking you to all the stories in that category (such as Byron Hamilton, Eastport, Maine).
Underneath each category, you will see a list of all children and adults that are included in the stories (such as the parents and siblings of Byron Hamilton).
I will continue to add new stories when they are completed, so please check back regularly for updates.
Cannery Workers, Eastport, Maine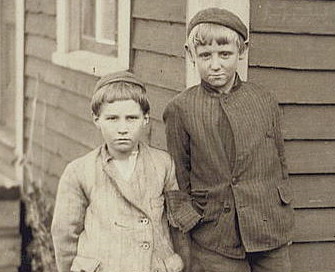 Allen Chaffey, Wilford Clark Jr., Daniel Collins, Robert Collins, Grayson Forsyth, Anna J. Gallant, Clarence Goodeill, George Goodeill, Mildred Griffith, Byron Hamilton, George Hamilton, Irma Hamilton, Susan Hamilton, William Hamilton, Preston Knowlton, James McCutcheon, Richard Mills, Walter Omar, Hiram Polk, Elsie Shaw, Minnie Thomas, Phoebe Thomas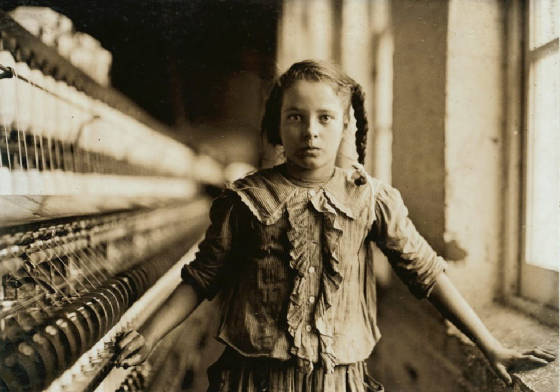 Lavator Arnette, Nettie Arnette, Myrtle Bagwell, Lacy Ballard, Lonnie Ballard, Savannah Ballard, Emma Barnhill, Jerry Barnhill, Ruth Barnhill, Sadie Barton, Charlie Baxley, Daisy Baxley, Hattie Baxley, Inez Baxley, Maude Baxley, Minnie Baxley, Simon Birdsong, Ellen Blanton, Lalar Blanton, Susie Blanton, Minnie Carpenter, Mattie Carpenter, Lonnie Cole, Nannie Coleson, Fred Crocker, William Crocker, Cora Estes, Daisy Estes, Etta Fuqua, Florine Fuqua, James Fuqua, Jerry Fuqua, Mattie Fuqua, Pearl Fuqua, John Ghent, Cora Lee Griffin, Roy Hammett, Bessie Hicks, Camilla Hicks, Joseph Hicks, Hattie Hunter, Emma Kuyrkendall (mother & daughter), Hazel Kuyrkendall, Inez Kuyrkendall, Jessie Kuyrkendall (father & son), Mildred Kuyrkendall, Ralph Kuyrkendall, Roy Kuyrkendall, James Leazer, Mary Leazer, Ruby Leazer, Archie Love, Lizzie McKenzie, Barney Newsom, Giles Newsom, Furman Owens, Alice Padgett, Annie Padgett, John Padgett, Mary Ann Elizabeth Padgett, Richard Padgett, William Padgett, Sadie Phifer, Agatha Purdie, Edward Purdie, Joseph Early Purdie, Hessie Mae Purdie, Lawrence Purdie, Otto Shelton, Fannie Sweeney, Pearl Turner, Viola Turner, Selena Wall, Fred Willingham, Alex Young, Catherine Young, Eddie Lou Young, Elizabeth Young, Elzy Young, Jesse Young, Mary Young, Mattie Young, Mell Young, Seaborn Young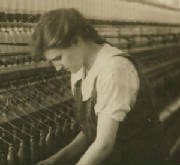 Arthur Asselin, Arthur Audette, Joseph Audette, Joseph Beaudoine, Alfred Benoit, Alberta Bonneau, Napoleon Camire, Addie Card, Annie Card, Evelyn Casey, John Dempsey, Adelard Gagnon, Joseph Magano, Sylva Marcil, Martin Markey, Jeremiah Moore, John Ostafin, Rhea Quintin
Eclipse Mill, North Adams, Massachusetts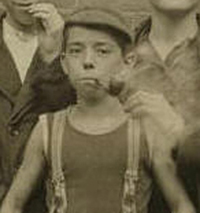 Josephat Adams, Joseph Allard, Arthur Chalifoux, Idas Joseph Crepeau, Albert Duquette, Richard Fitzgerald
Lewis Hine In Winchendon, Massachusetts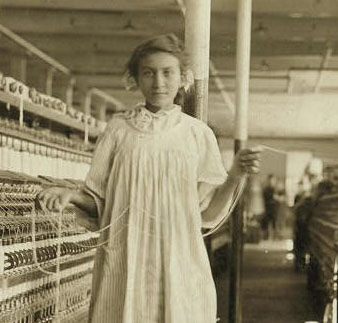 Eva Caouette, Edgar Charbonneau, Frank Charbonneau, Marion Deschenes, Mary Rose Deschenes, Elizabeth Desmarais, Lumina Desmarais, Alice Dugas, Anna Dugas, Alcide Gauthier, Rosina Goyette, Mildred Greenwood, Anatole Grenon, Elias Joseph, Julia Joseph, Agnes Laberge, Alfred Laberge, Eglantine Laberge, Francis (Frank) Laberge, Henry Laberge, Josephine Laberge, LaRose Laberge, Louise Laberge, Mamie Laberge, Odella Laberge, Irenee Laprise, Clarinda Morin, Frank Morin, Adrienne Paquet, Anna Paquet, Francis Paquet, Dora Roberts, Mary Roberts, Henry Smith
Lawrence, Massachusetts Textile Mills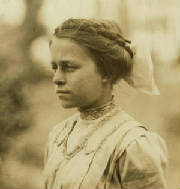 Leo Andreoli, Jacob Black, Michael Devine, George Driscoll, John Endyke, Thomas Levesque, Anita Pothier, Antoinette Pothier, Blanche Pothier, Irene Pothier, Joseph Pothier, Leda Pothier, Yvonne Pothier, Eva Tanguay, Leon Valcourt, Wilfred Valliere
Newsboys, Newsgirls & Other Street Trades
Marvin Adams, David April, Israel April, Samuel April, Sidney Ashcraft, Phares Beville, Joseph Bishop, Meyer Bishop, Isaac Boyett, Bessie Brownstein, Albert Buecher, Emma Buecher, Guy Casaceli, Guido Centola, Willie Cheatham, Michael Fernicola, Gus (Frank A.) Hodges, Julius Hodges, John Howell, Raymond Klose, Marshall Knox, Morris Levine, James Logullo, Eli Marks, Morris Marks, Owen McCormack, Michael McNelis, Dante Mercurio, Jeff Miller, Dora Nevins, George Okertich, Meyer Rome, Harvey Schneider, Solomon Sickle, Matthew Stavola, William Tear, William Tobias, Tony Valenti, Anthony Zazzaro, Paul Zazzaro, Carmine Zizza, Edward Zizza
Newsboys & Cotton Mill Workers In Dallas, Texas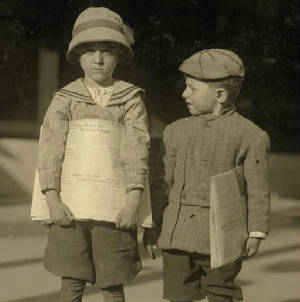 Louis Kartous, Rudolph Kartous, Odell McDuffey, Exie Phillips, Jefferson Phillips, Mamie Phillips, Rosa Phillips, Leila Prater, Louis Shuman, Morris Shuman, Sam Stillman

Arthur Albicker, Joe Beafore, Ashby Corbin, Frank Dwyer, Joseph Dwyer, Neil Gallagher, Arthur Havard, Henry Sharp Higginbotham, Robert Kidd, Otha Porter Martin, Henry Maul, Vance Palmer, Joseph Puma, Pasquale Salvo

Alma Frakes, Clara Frakes, Lula Frakes, Velma Frakes, Warren Frakes, Orie Fugate, William Fugate, Angie Hazel, Bessie Hazel, Blanche Hazel, Carl Hazel, Elwood Hazel, James Hazel, Nell Hazel, Ruth Hazel, Sam Hazel, Elbert Hollingsworth, Ruby Hollingsworth, Edward Kirkpatrick, Elijah "Lige" Kirkpatrick, Ertle Kirkpatrick, Ida Kirkpatrick, Naomi "Dovey" Kirkpatrick, Otis Kirkpatrick, Vonnie Kirkpatrick, Edgar Kitchens, Anthony Martina, Alberta McNatt, Eva McNatt, Madge McNatt, Oscar McNatt, Cyril Merrick, George Merrick, John Merrick, Lillie Merrick, Pauline Merrick, Laura Petty, Alice Rommel, Elizabeth Rommel, Jacob Rommel, Lydia Rommel, Martha Rommel, Molly Rommel, Anita Roy, Isabella Roy, Jeanette Roy, Malvina Roy, John Slebzak, Clara Umhoefer, Hugo Umhoefer, Isabella Umhoefer, Martha Umhoefer, Charles Walker, Claudia Walker, Harold Walker, Jewell Walker, William Walker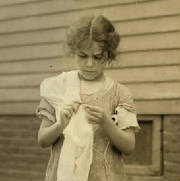 Carmina Caruso, Anna Finkelstein, Bessie Finkelstein, Henry Finkelstein, Sylvia Finkelstein, Yetta Finkelstein, Lena Helems, Leonard Helems, Earl Lampron, Lucy Lampron, Anthony Mauro, Fiore Mauro, Jessie Mauro, John Mauro, Maggie Mauro, Mary Mauro, Victoria Mauro, Camille Salvia, Joseph Salvia, Josephine Salvia, Lucy Salvia, Edward Weeks, Nellie Weeks (mother & daughter), Viola Weeks
Various Occupations & Other Situations Involving Children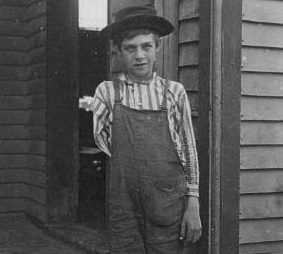 Alma Alves, Bertha Alves, Charles Alves, Jennie Alves, Joseph Alves, Wilhemina Alves, Rose Berdych, Ida Bielski, Lillian Bielski, Sadie Bielski, Lazaro Boney, Peter Boney, Bridget (Bee) Capps, Earl Capps, Edith Capps, Edward Capps, Edward Capps Jr., Kendall Capps, Orville Capps, Pearl Capps, George Cox, Alice Curtis, Austin Curtis, Glen Dungey, Lyman Frugia, Angelina Guinzali, Sadie Kelly, Marie Kriss, Gertrude Kron, Mildred Kron, Harry McShane, Betsy Price, Oscar Radnisky, Anna Subat, Gladys Subat, Olga Subat, Ramsey Summerford, Luther Watson, Anthony Velcich, John Velcich, Joseph Velcich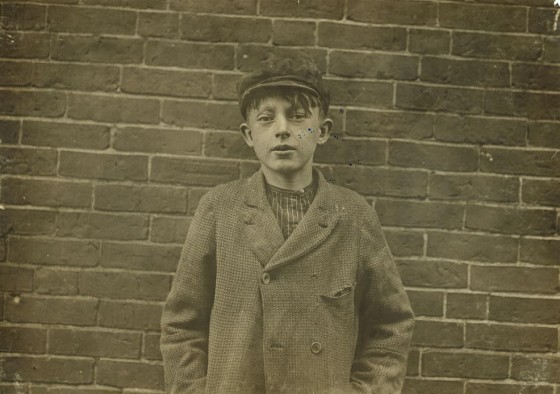 None of the children photographed in Lewiston, Maine were identified by Lewis Hine, so I am trying to find out who they were. Are you from Lewiston? Do you recognize any of these children? Read about my work in this historic city of former textile mills.